1,100-Ton Crane Builds Wind Turbines in Hawaii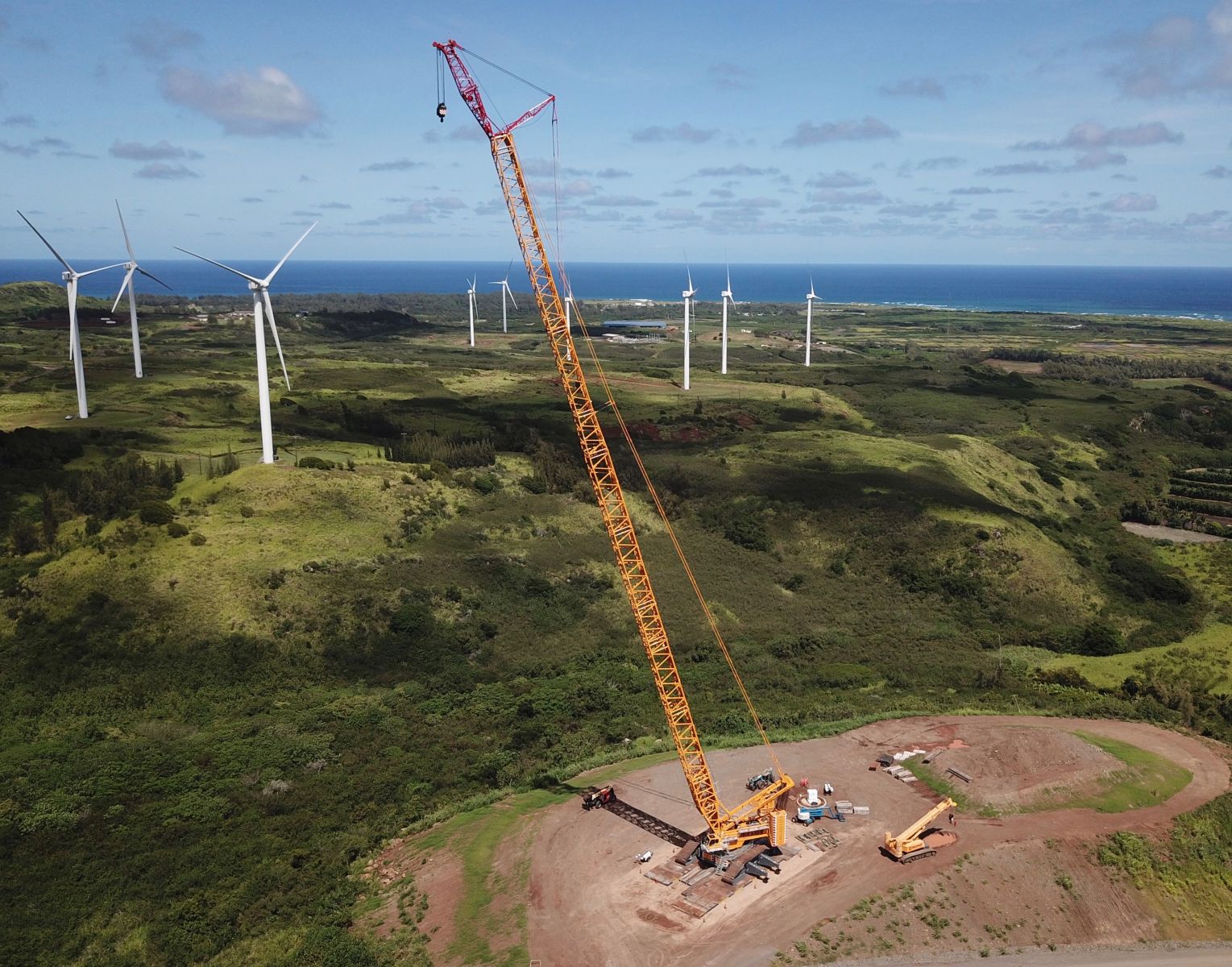 A Liebherr LR 11000 crawler crane from Buckner HeavyLift Cranes, Graham, North Carolina, is currently being used in Hawaii, where new Vestas wind turbines with a hub height of 344' have been under construction for over three months.
The LR 11000, which has been used on the Hawaiian island of O'ahu since the beginning of October, is the biggest crawler crane that has ever worked in Hawaii. Buckner's 1,102-U.S.-tonner will be in use until the end of December, erecting a total of eight new wind turbines on the island's north shore. They form part of the Hawaiian energy supplier's plan to expand the proportion of renewable energy from 18% to over 65% in the year 2030.
For this deployment, the LR 11000 is set up in the SL3F configuration with a main jib of 354' and a fixed tip of 39'. In this configuration, the crane has a max load capacity of 190 U.S. tons. When erecting the new wind turbines, the heaviest parts – the hub with motor casing and drive-train – weigh about 110 tons. The crawler crane has to lift this weight to the hub height of 344'. Equipped with 99 tons of central ballast and a slewing platform ballast of 275 tons, the crane can be used without a derrick. This was an important consideration for selecting the right crane for this job, as the wind farm sits in extremely hilly terrain on which the crane has to be frequently moved and occasionally converted. Deployments without a derrick can take place much more easily and faster too.
In addition to the LR 11000, other auxiliary cranes are being used, including a Liebherr LR 1350/1 crawler crane. The biggest challenge on the island is the supply of spare parts. Buckner and Liebherr have made provisions for this, as Kevin C. Long, director of sales at Buckner, explains, "Our construction site is supplied from the new Liebherr warehouse in Lodi, California, but for safety's sake, we also have various tools and spare parts available locally for this job. So far, however, we have managed to do entirely without spare parts and erection engineers."

Buckner HeavyLift Cranes is a fan of the Liebherr brand, particularly when it comes to heavy-duty cranes. Long says, "We prefer Liebherr cranes simply because of their quality. Both their design and production quality are better than other manufacturers."