440-USt LR 1400 SX Makes Official North American Debut at Liebherr USA Event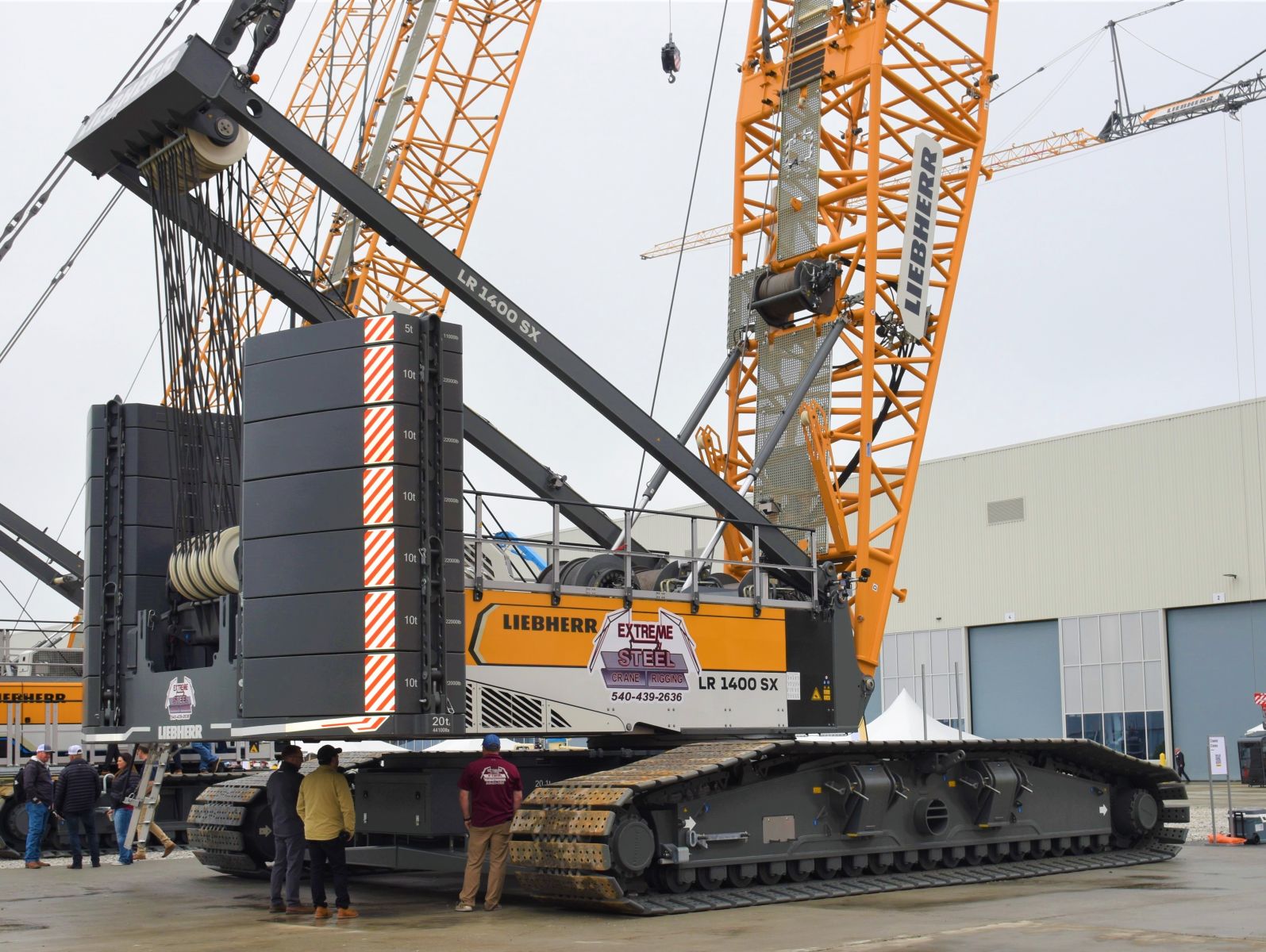 June 1, 2022 – Liebherr's new 440-USt LR 1400 SX made its official North American debut in mid May at the Liebherr USA customer-day event at the company's facility in Newport News, Virginia.
The unit on display at the event belongs to Extreme Steel Crane - Rigging, Manassas, Virginia.
The LR 1400 SX's main transport load weighs 50 USt, and it can be hauled with its platform and railings simply folded down.
The self-assembly system enables quick setup.
"You can operate the whole crane with the remote control," noted Paul Belcher, owner and managing director of Mountain Crane Service, Salt Lake City, Utah, another owner of an LR 1400 SX. The feature allows better overview and increased safety.
The versatile crane can work in a wide range of applications and has already won over the first German customer, Depenbrock, with its flexibility. "For barge operation, the available barge load charts for any configuration and any possible counterweight combination are crucial. The modular counterweight system is very good. If a smaller counterweight is sufficient, the unit can also be used on a correspondingly smaller barge. This makes the use of the LR 1400 SX very flexible," said Andreas Handel, head of mechanical engineering, hydro construction.
The four crawler drives make it easier to maneuver on job sites where space is tight, and its adjustable track width enables travel on narrow roads.
Highest Level of Safety
Liebherr designers paid particular attention to safety. The "Gradient Travel Aid" helps navigate slopes. It displays the crane's center of gravity and warns the operator before the crane exceeds the safe area.
Also, the Ground Pressure Visualization system calculates the current ground pressure of the crane in real time and compares it with the specified safety limits. The ground pressure is displayed in the operator's cab and the operator can always can be aware of whether the machine is situated in, or is approaching, a critical area. "This is a super feature. We have to constantly observe and monitor the ground conditions," says Mountain Crane's Belcher.
The ground pressure of the crane can also be reduced using ground pressure reduction plates. "Specifically, the wide crawlers and the ground pressure reduction plates convinced us," says Ludger Holtmann, technical director at Depenbrock. He added, "The free-fall winches, which are required for some applications, were also decisive for the purchase."
To see a video animation of the LR 1400 SX from transportation to lifting operation, visit
Liebherr - Crawler Crane LR 1400 SX - YouTube.