ALL Adds 15 Liebherr All-Terrain Cranes to Fleet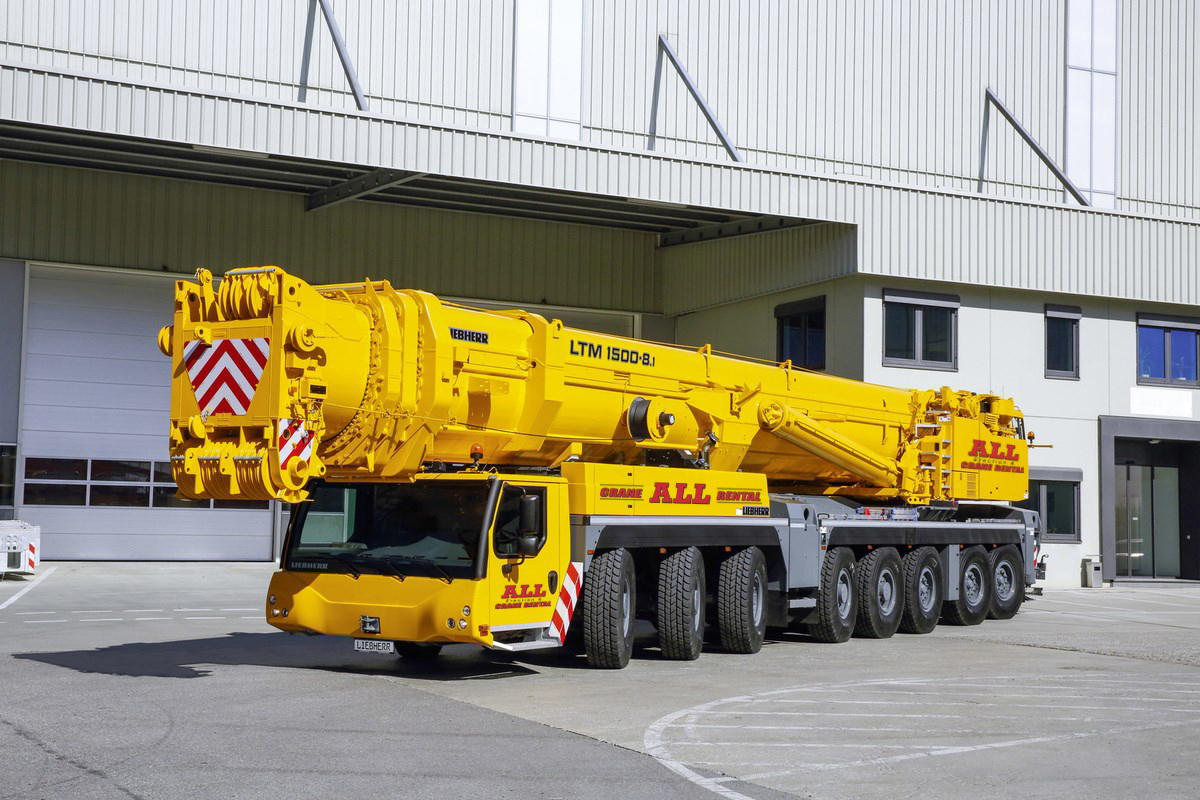 October 24, 2018 - The ALL Family of Companies, Cleveland, has strengthened its all-terrain crane fleet for 2019 by buying six Liebherr AT models with capacities from 70 to 600 U.S. tons.
The package bolsters ALL's workhorse taxi fleet with 14 units in the low- to medium-capacity range. On top of that, it adds a huge capacity boost with a 600-U.S.-ton LTM 1500-8.1 eight-axle AT, the fourth one in the ALL Family's AT fleet.
The new Liebherr machines combine capacity with on-site mobility, roadability, and technical features to strengthen an already solid stable of lifting equipment for infrastructure work, commercial construction, and more.
The 600-ton LTM 1500-8.1 is Liebherr's third-largest AT. It features a seven-section boom that extends to 276' and, with a luffing jib, can reach a height of 476' or a radius of 354'. Its capacity, reach, and agility make it ideal both for on- and off-road construction and industrial applications, including bridges and highways, power plants, and refineries. The 1500-8.1 is also a workhorse for erecting and disassembling tower cranes, and wind-tower work.
"A prime reason for adding this group of machines for 2019 is that Liebherr equipment offers many thoughtfully designed technologies that help meet our customers' everyday challenges," said Michael L. Liptak, president of the ALL Family of Companies.
One of those is Liebherr's innovative VarioBase support system. It lets the operator customize each of the crane's outrigger positions independently to take advantage of every inch of available working space. That greatly reduces site prep while increasing stability and lifting capacity.
"The VarioBase feature is proving really valuable to our customers, particularly in urban construction, where we are seeing a huge uptick," added Liptak. "But whether these ATs are working on an urban core renewal project or a tight power plant site, VarioBase allows them to fit where cranes of similar capacity never could before. Our operators love it, but it also makes the machines safer and more cost effective as bare rentals," he said.
Besides the LTM 1500-8.1, the package also includes two 70-U.S.-ton LTM 1060-3.1, featuring high load capacities, a long boom system, and compact dimensions; four of the new 100-U.S.-ton LTM 1090-4.2, with environmentally friendly technology that reduces fuel consumption and noise; four 143-U.S.-ton LTM 1130-5.1 cranes offering a long, variable boom system with outstanding load capacities in a compact size and state-of-the-art chassis and drive technology; a compact five-axle LTM 1100-5.2; and three 220-U.S.-ton LTM 1200-5.1 cranes, providing outstanding lifting capacities and reach with a seven-section, 236' telescopic boom and 23' lattice jib up to 118' long.
"This purchase extends the range and strength of our all-terrain fleet, and the high demand for these types of machines at all our locations can be more readily fulfilled," said Liptak. "As a group, these ATs are versatile, economical, and efficient machines."