A1A Software Announces Award-Winning Lift Plans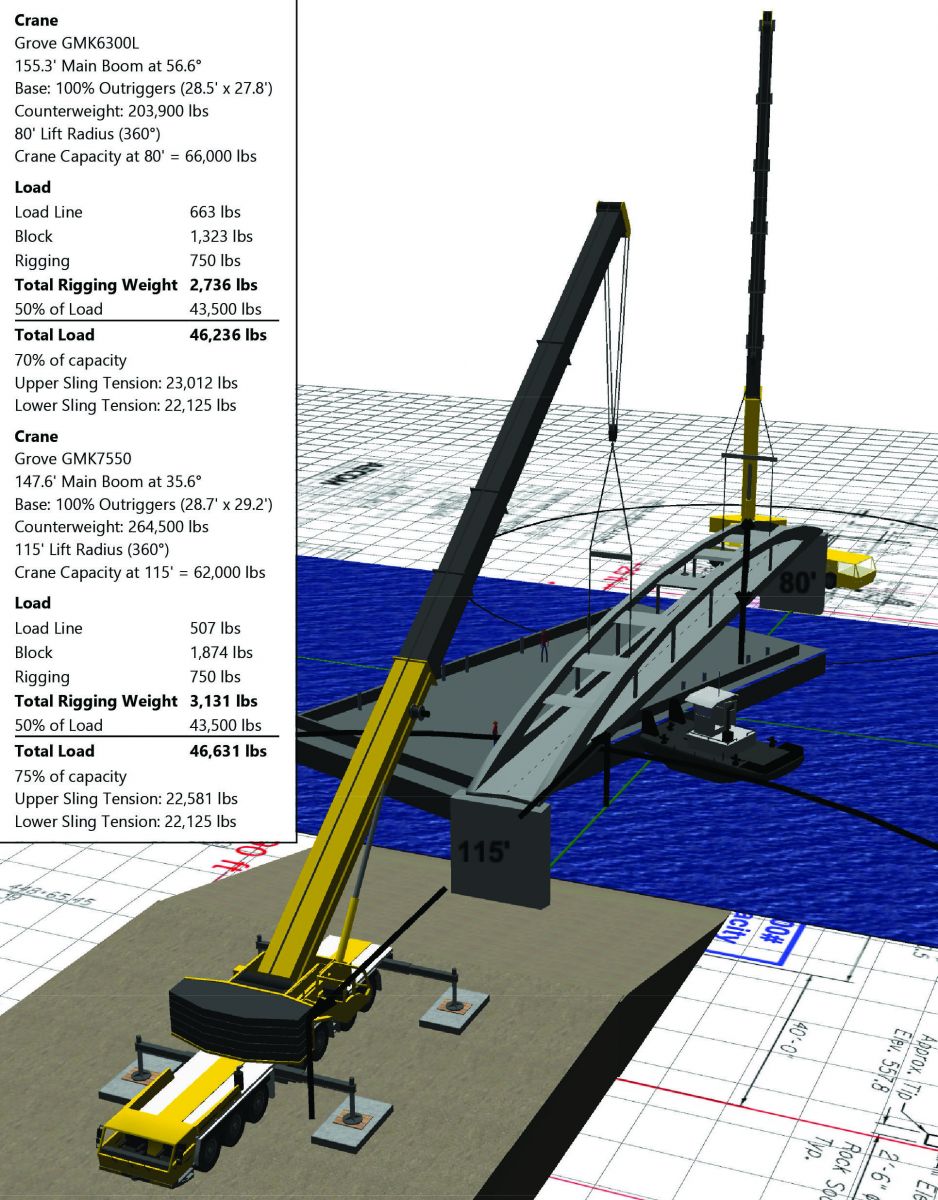 The test of a good 3D Lift Plan is how well the plan matches what actually happened in the field, says Joe Mollo, sales operations manager for La Grange Crane Service.
July 17, 2019 – A1A Software LLC has released the winners of its 2018 Lift Plan of the Year Competition. The awards program is for companies that use A1A Software's 3D Lift Plan as a sales tool, for bid proposals, crane selection and setup, lift planning, and documentation. Project submissions were for jobs that were completed last year.
Six entries were selected as finalists, then voting was opened to the public. "More than 1,000 crane industry professionals voted for the best lift plans," said Tawnia Weiss, president of A1A Software. The competition focused on creative and practical use of 3D Lift Plan to solve challenges on the jobsite.
Riley Pettrone, a project manager for La Grange Crane Service, La Grange, Illinois, received first place for his lift plan detailing a two-crane lift of a 120,000 lb. steel bridge section over the Calumet River. The project was conducted for Copenhaver Construction and the Illinois Department of Transportation.
Second place went to Brent Genseke, project manager for Rockford, Illinois-based Area Erectors; and Jose Sosa, while employed by Ed Bell Construction Co., Dallas, received third place for his use of 3D Lift Plan on a Texas Department of Transportation state high improvement project.
Award-Winning Lift Plans
For the bridge project, La Grange Crane Service assembled the bridge sections off-site and barged them to the location. The lift plan involved positioning each crane on opposite sides of the river. The company used their 550-t. Grove GMK 7550 and 350-t. Grove GMK 6300L to make the pick.
Riley Pettrone, project manager, devised the pick plan using 3D Lift Plan and engaged with all bidding contractors early to accurately bid the project's crane scope. "Using 3D Lift Plan to correctly scale the cranes and jobsite allowed us to accurately bid the project and allowed us to price accordingly," said Pettrone.
According to Judi Mooncotch Jr., president, 3D Lift Plan is integral to bidding, budgeting, communications, and safety. "Using 3D Lift Plan early in the process reduces changes to logistics and the chance of going over budget." She explained that it also streamlines communication through the lifecycle of the job, which can extend many months and involve lots of different people. "But most importantly, 3D Lift Plan is integral to communicating with the crane operator, so that he or she is fully informed and has confidence that the lifting scenario was well planned."
When building a plan in 3D Lift Plan, Pettrone typically starts by working off blueprints and information gathered from site visits. Then he overlays Google Earth images and imports crane data and site data. "It enables customers and contractors to envision not only the crane, but how a crane will interact with all the other obstacles a construction site imposes," said Pettrone "A fully informed field team ensures that all working parties are on the same page come pick day."
More information about this project can be found at:
https://lagrangecrane.com/projects/dueling-cranes-with-copenhaver/.
Brent Genseke, project manager for Area Erectors, was awarded second place for his use of 3D Lift Plan to select the right crane for the job. His winning lift plan was for the construction of Kishwaukee Health & Wellness Center.
He explains that the structural steel and precast concrete erection company uses 3D Lift Plan in a variety of ways. "It starts in visual sequencing, identifying the heaviest/longest reach lifts, and ends in the transfer of information to the operator and field foreman," he says.
"In this scenario, the miscellaneous metals scope was delayed in fabrication, so we had to come up with a creative way to set a monumental stair." After considering and eliminating several other options, the only plan that remained was to scope the crane boom through a window opening. The challenge became finding a crane with necessary capacity and reach to work in the confined space and deliver precise load handling. "Using 3D Lift Plan in conjunction with erection drawings and actual field measurements gave me the tool to see if the Grove TMS500E-2 could handle the job."
Finally, Jose Sosa received third place for his use of 3D Lift Plan on a Texas Department of Transportation state high improvement project. In all, eight structures required critical lift planning.
"3D Lift Plan was the primary tool used to aid us in deciding to utilize internal crawler cranes or outside hydraulic cranes," he says. "We referenced the extensive library of cranes to check the various outside vendors' different setups, which can affect overall cost of the lift. And the software was used to determine placement and setup, which drives many factors such as the building of pads, diversion of drainage and traffic, beam access, rigging needs, and manpower volume and skillset."
The remaining finalists were:
Matthew Brady, Extreme Steel Crane and Rigging Inc., Warrenton, Virginia, for replacement of limestone steps on the South Portico of the White House.

Tom Robinson, Ohio-based PSC Crane and Rigging, for a hospital construction project.

Trapper Wyman, Mansfield Crane Service Corp., Mansfield, Pennsylvania, for removal of a reciprocating compressor skid from an oil and gas production facility.
More information about all six 3D Lift Plan finalists can be found here:
https://www.3dliftplan.com/LPOTY18/.