A1A Software Names Lift Plan of Year Winners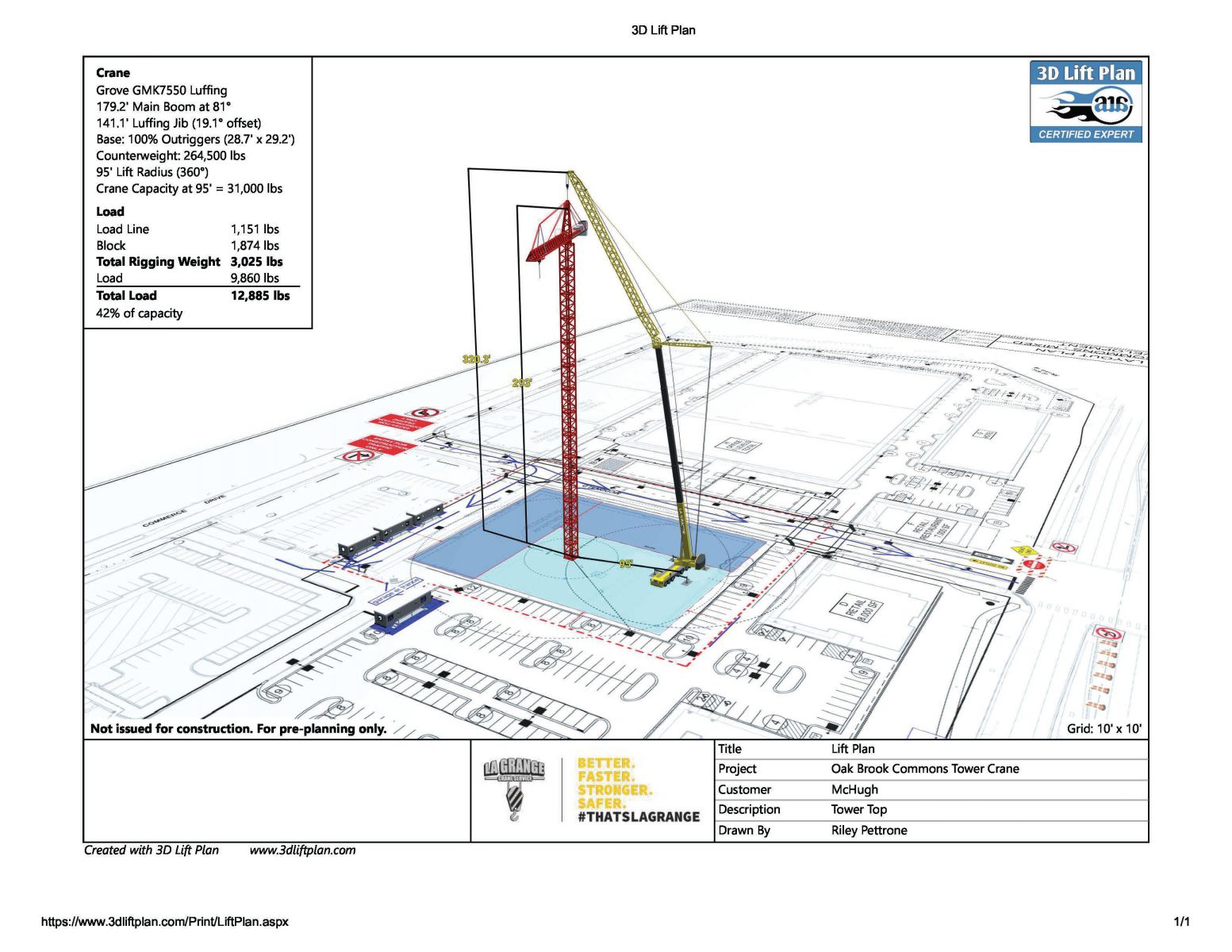 First Place, La Grange
April 20, 2021 – A1A Software LLC has announced the winners with the best lift plans of 2020 in its Lift Plan of the Year competition. The three winners were selected from among five finalists by popular online voting.
"Ironically, all three companies are based in Illinois and serve the Chicago metropolitan area, despite the fact that 3D Lift Plan is used by lift planners all over the world," said Tawnia Weiss, president of A1A Software.
First Place: Riley Pettrone of La Grange Crane Service for Oak Brook Commons Tower Crane Erection in Chicago.
Second Place: Michael Havlicek of Stevenson Crane Service Inc. for Crawford Generating Station in Chicago.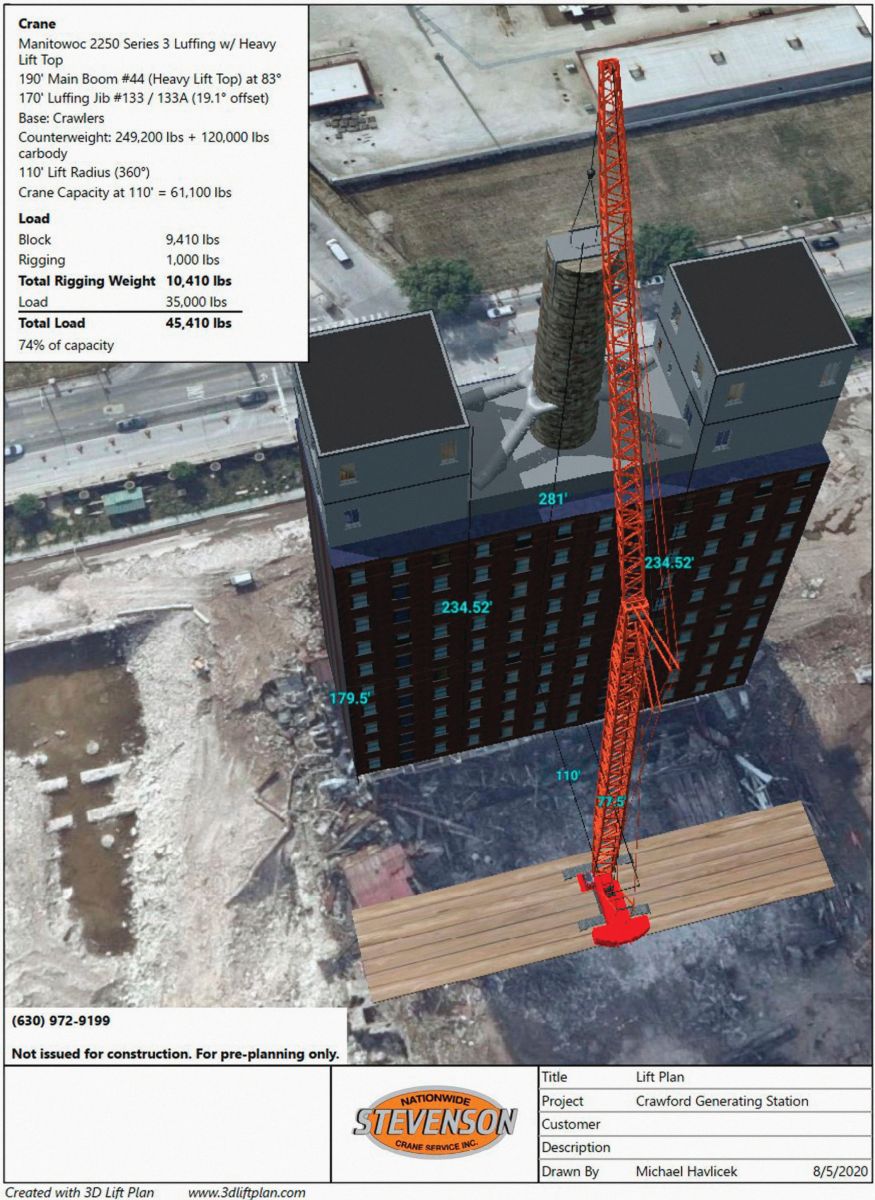 Second Place, Stevenson
Third Place: Brent Genseke of Area Erectors Inc. for Downers Grove, Illinois, North High School.
La Grange Crane's and Stevenson Crane's entries represent contrasting construction scenarios.
Hired to erect a tower crane on site of the future Oak Brook Commons 17-story apartment building, La Grange used 3D Lift Plan as part of a comprehensive plan before construction began. "3D Lift Plan utilization in the early stages of construction cannot be overstated," said Riley Pettrone, project manager.
Stevenson Crane was tasked with the opposite job — dismantling the nearly 100-year-old Crawford Generating Station, a coal-fired power plant. "A good lift plan takes out all of the guess work and identifies any potential/costly issues before the crane even arrives on site," said Michael Havlicek, lift planning specialist.
In both cases, 3D Lift Plan was a critical visualization and communication tool.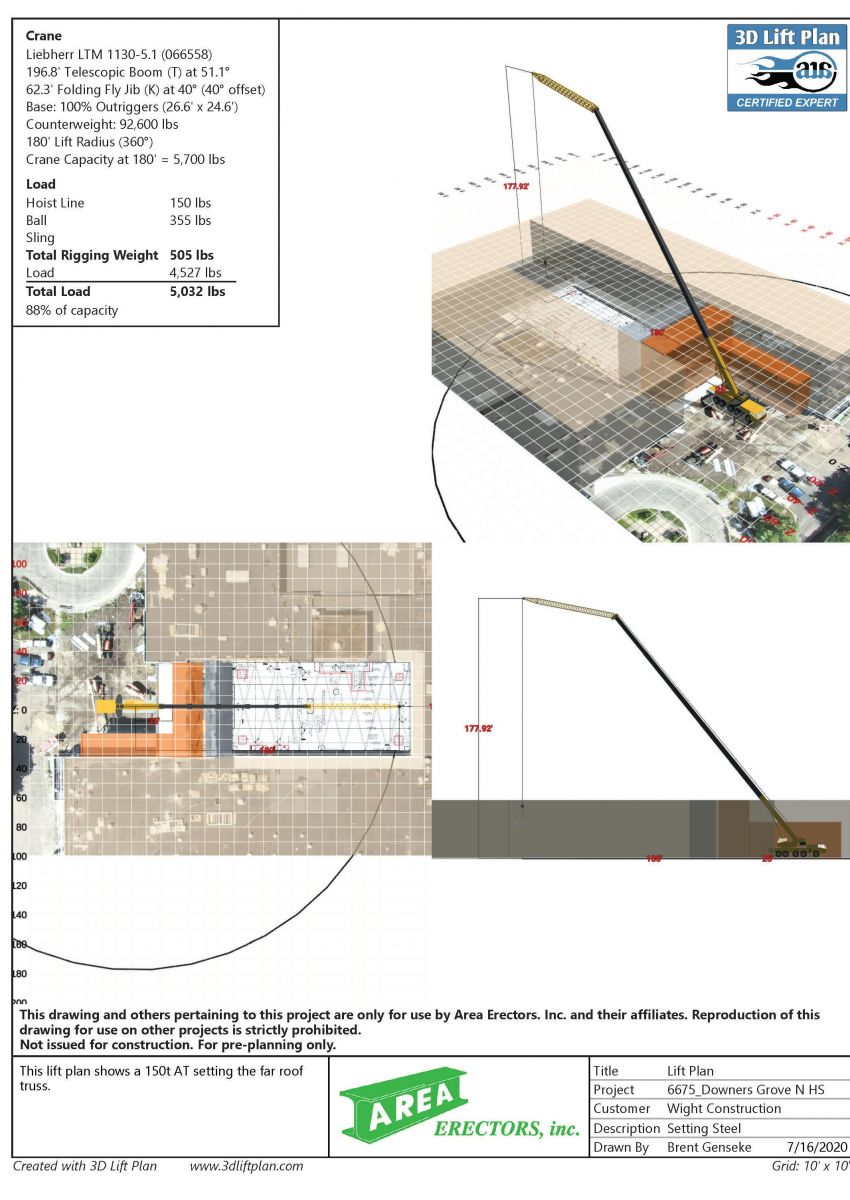 Third Place, Area Erectors
For the Oak Brook Commons project, La Grange's Pettrone explained: "Tower crane erection is, in a sense, a construction site groundbreaking ceremony for all subcontractors. The tower crane is what enables all trades to safely do their jobs in accordance with a site schedule. By marrying 3D Lift Plan with a blueprint, La Grange Crane provided an accurate description of what the job site would look like, and how team members across many trades would coordinate," said Pettrone.
Stevenson's Havlicek said: "One of my favorite things about 3D Lift Plan is just how easy it is to overlay a scaled satellite image of a jobsite into the project. This gives the owner, GC, and customer a visual aid for how a crane will look on their jobsite. It also gives the project manager from the crane company the ability to show the operator and crew where a crane (and necessary matting) will need to be set up for a successful lift."
3D Lift Plan is also handy for contractors who need to work closely with a crane vendor, as Area Erectors did with Nichols Crane Rental at Downers Grove North High School.
The school is in a residential neighborhood, so crane placement options were limited. The job required a shop-fabricated steel truss to be placed in a courtyard. Area Erectors initially used 3D Lift Plan to help select a crane and to determine where to place it. Later, 3D Lift Plan helped review the rigging and lifting plan, which required offloading the truss, standing it up, and then laying it over to rig. "The standing and rolling process was reviewed with the crane rental company and the operator tasked with the job," said Brent Genseke, project manager and structural steel estimator.
To see these winning lift plans and the other finalists, visit https://www.3dliftplan.com/LPOTY20/.