Absolute Crane Adds 190-Ton Liebherr LTM 1160-5.2 to Fleet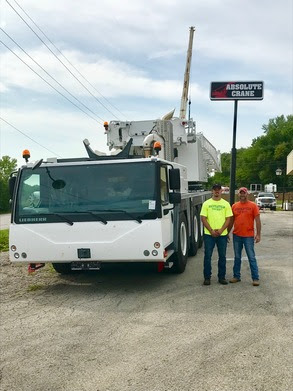 October 9, 2018 - Absolute Crane, LLC, Platte City, Missouri, has taken delivery of its first Liebherr crane, a 190-U.S.-ton-capacity LTM 1160-5.2 all-terrain crane.
Established in 2006 by Chad and Tiffanee Shoemaker, Absolute Crane serves customers with crane rentals throughout the region, from Kansas City to the border with Iowa.
Key features of the versatile, five-axle all-terrain LTM 1160-5.2 include the VarioBase system, which provides the best possible capacities for infinitely variable asymmetric outrigger setups; a swing-away jib that can be hydraulically offset at any angle from 0° to 40°; a 203' telescopic boom; and an overall width of 9' for easier travel on public roads and maneuvering on confined job sites.
Absolute's owner Chad Shoemaker said, "We pride ourselves on our strong customer service and have now partnered with the industry leader, with a reputation for quality and support, to help our customers."