ACT Research: U.S. Trailer Net Orders Dropped 97% in April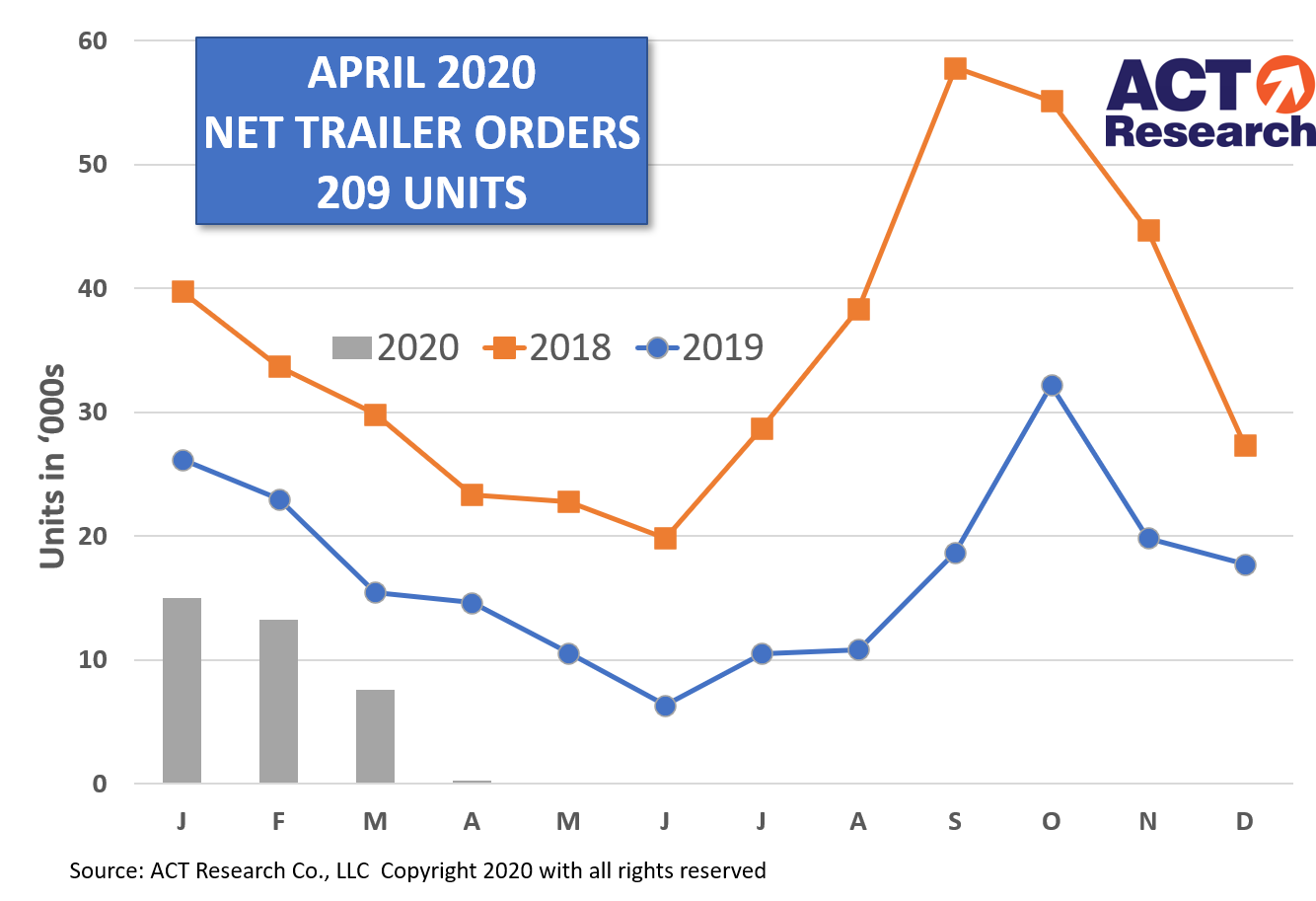 May 27, 2020 - April net U.S. trailer orders stood at 209 units. That's down 97% month over month and down 99% from the previous year.
Before accounting for cancellations, new orders of 5,700 units were down 57% versus March, according to this month's issue of ACT Research's State of the Industry: U.S. Trailer Report.
ACT Research's State of the Industry: U.S. Trailers report provides a monthly review of current U.S. trailer market statistics as well as trailer OEM build plans and market indicators, segmented by all major trailer types, including backlogs, build, inventory, new orders, cancellations, net orders, and factory shipments.
It is accompanied by a database that gives historical information from 1996 to the present, as well as a ready-to-use graph packet, to allow organizations in the trailer production supply chain, and those following the investment value of trailers and trailer OEMs and suppliers, to better understand the market.
"It is difficult to comprehend a report of 209 net total trailer orders in April," said Frank Maly, director of CV Transportation Analysis and Research at ACT Research. He added, "By far the weakest monthly net order volume in industry history, April was disturbingly close to a net negative order month, and even new order volume of just under 6,000 trailers was the fourth worst month since 1990."
Maly continued, "Several discussions regarding April included comments indicating that the shift in fleet investment plans was abrupt, and more concerning were the comments that fleet confidence continued to worsen in May, with recent descriptions depicting the market as the worst ever experienced."
He commented, "The surge in freight volumes that came from critical goods movement and what could easily be termed consumer 'panic buying' is done, and fleets perceive that shift." Maly concluded, "Large fleets remain on the sidelines, and financial pressures will likely push many small and medium fleets entirely off the playing field, leaving some very challenging months ahead."
Additionally, the report noted that ACT Research has created an easily accessible webpage to track noteworthy high frequency macroeconomic and transportation-specific market indicators, which can be found at https://pages.actresearch.net/covid-19.
ACT Research is recognized as the leading publisher of commercial veh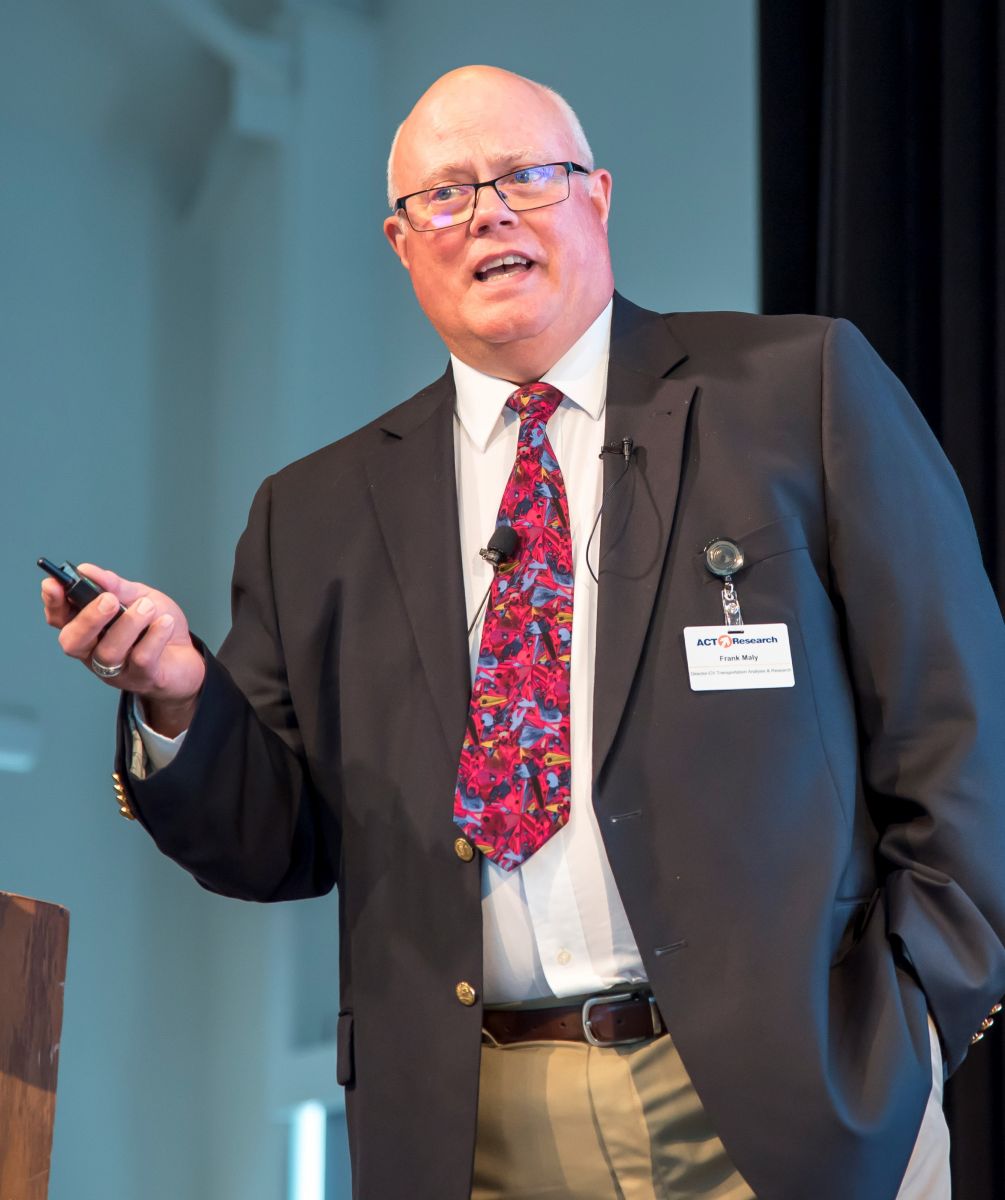 icle truck, trailer, and bus industry data, market analysis and forecasts for the North America and China markets. ACT's analytical services are used by all major North American truck and trailer manufacturers and their suppliers, as well as banking and investment companies.
More information can be found at www.actresearch.net.
ACT's 63rd seminar is scheduled for August 11-13, 2020. Focused on the road to recovery from the COVID-19 pandemic, the event will feature dealer, alternative power, and economic panels, as well as discussions on near-term demand of North American commercial vehicle markets and the pending impact of alternative power on the market in the near future. Both in-person and livestream options are available for those who wish to participate.