AEM Issues First ConExpo-Con/Agg 2020 Show Maps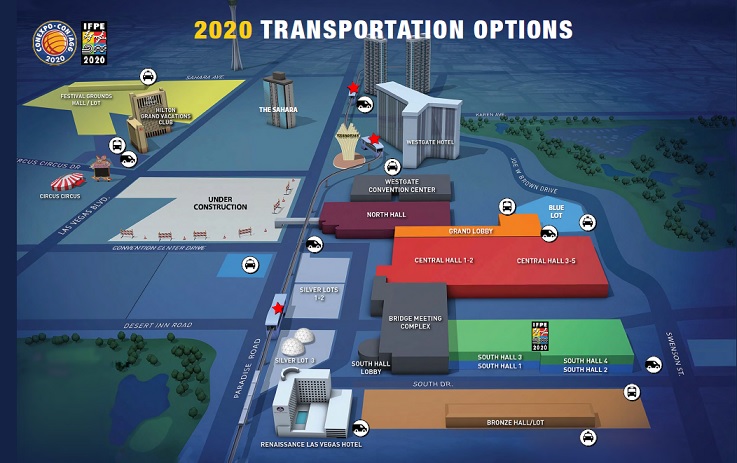 The Association of Equipment Manufacturers has issued the first official maps of the ConExpo-Con/Agg 2020 show layout and transportation plan. The maps also include the layout of the co-located International Fluid Power Exposition. Both events are scheduled to take place March 10-14 at the Las Vegas Convention Center and the Festival Grounds in Las Vegas.

AEM produces ConExpo, the largest construction related trade show in North America. This year's edition will cover more than 57 acres, including more than 28 acres of new products, says AEM. The show will also feature more than 2,800 exhibitors as well as 150 educational sessions.

The 2020 layout and transportation maps will be particularly useful even for veteran ConExpo attendees because construction at the Las Vegas Convention Center has caused the Gold Lot, where most cranes were displayed, to move to a new site, the Festival Grounds, which is farther north and west.

To help show-goers travel between the convention center and Festival Grounds, AEM has developed new transportation options. They are illustrated on the transportation map. It notes types of transportation and pick up and drop off locations for those that have designated areas.

AEM emphasized that although it expects there to be little change in the show layout over the next two months, the current maps are not final. It's possible that a few exhibitors may move, be added, or drop out, said AEM, but the organization is confident there won't be many.

AEM will update the show-layout map once more, about Feb. 6. We will update you when the final map is issued.

The maps can be found, and downloaded as pdf files, at these places on www.conexpoconagg.com.

Floor plan maps showing exhibitor names and booth numbers in each area of the show are available at https://directory.conexpoconagg.com/8_0/floorplan/.