ALL Family of Companies Adds Manitowoc Crawler Package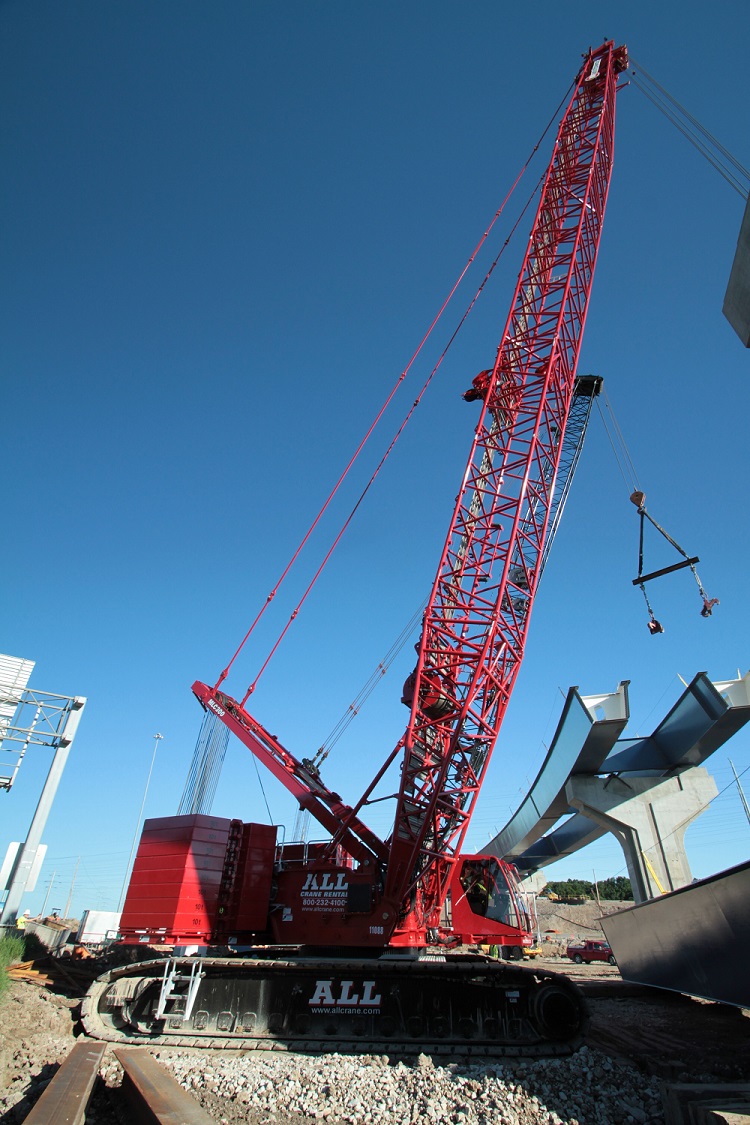 The crawler package includes eight cranes from Manitowoc.
May 3, 2019 — The ALL Family of Companies has expanded its fleet with a major crawler package comprising eight cranes from Manitowoc, three with its exclusive Variable Position Counterweight (VPC) technology.
The purchase includes one MLC650 VPC (716 U.S. ton) crawler, two MLC650 VPC-MAX attachments to boost capacity, and two MLC300 VPC (330 U.S. ton) crawlers. Other equipment in the deal includes three 999 Series 3 (275 U.S. ton) and two 14000 Series 3 (220 U.S. ton) crawlers, one luffing jib, and one wind attachment.

ALL Crane has already invested heavily in Manitowoc cranes equipped with VPC technology. This most recent package purchase deepens that commitment.

"VPC enhances versatility and lifting capability," said Rick Mikut, crawler crane division manager. "Because of this technology, no counterweight needs to be added to the crane's carbody, minimizing its footprint and impact on the ground. Matting is minimal, and transport weight is reduced."

The addition of VPC-MAX attachments to the equipment package was no small move either, explained Mikut. "The attachment dramatically increases the options we deliver to a jobsite with a single crane."

VPC-MAX provides capacities similar to wagon- or tray-mounted attachments, but requires significantly fewer components and assembly steps, thus reducing setup time and transportation costs. "With the VPC-MAX attachment, the MLC650's capacity bumps to 770 U.S. tons, an increase of 55 U.S. tons over its standard configuration," said Mikut.

The 14000 Series 3 is upgraded from the Series 2 to make it the strongest crane in its class. "Manitowoc worked with us to add capacity without changing the footprint, so the chart at 50' competes with a machine with a 230-U.S. ton capacity. It makes the 14000 more versatile," said Mikut.

Mikut expects the 14000 to be in high demand for a wide variety of project types including bridges, power and processing plants, road work, and more. Rounding out the package will be three Manitowoc 999 Series 3 crawlers. "The 999 is a solid machine and has been a workhorse for ALL, so new units are always welcome," said Mikut.

Upon receipt, the new cranes will be deployed across ALL Crane's network of branches, targeting markets where they are in the highest demand.

"We've seen an unyielding demand for crawlers for several cycles now, regardless of market. Across the board, we're already booking jobs into 2020," said Mikut. "So these additions to the fleet are coming at a good time."