ALL Family of Companies Takes Delivery of 1,000th Liebherr Mobile Crane Produced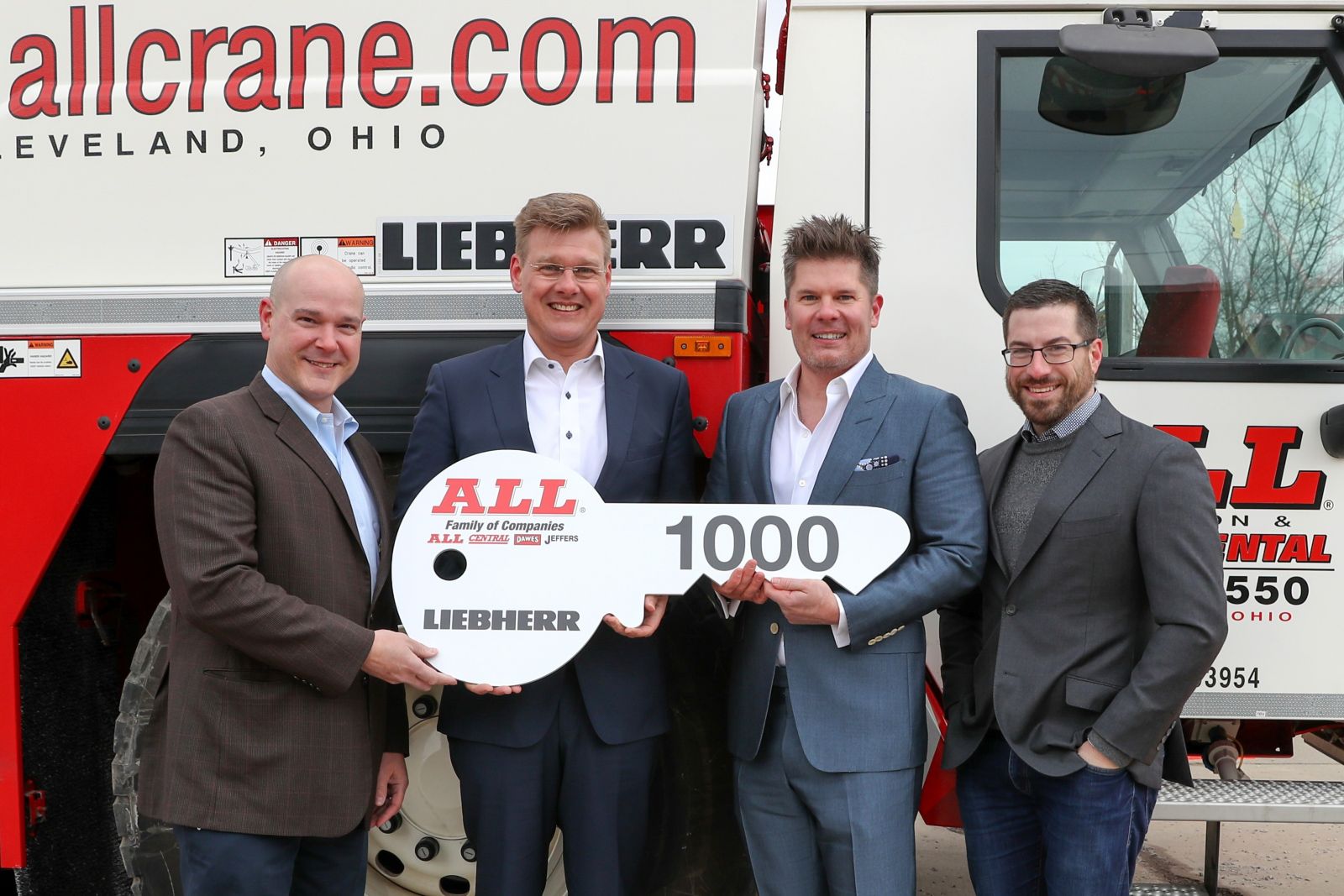 From left are Brian Peretin, Liebherr's general manager of sales for mobile and crawler cranes; Reinhold Breitenmoser, regional sales manager for Liebherr Werk, Ehingen, Germany; Michael Liptak, CEO and president of ALL Crane; and Lawrence Liptak, corporate controller, ALL Crane.
May 3, 2019 – Representatives from Liebherr and the ALL Family of Companies celebrated a milestone: the handover of the 1,000th LTM 1200-5.1 mobile crane ever produced.
Based in Cleveland, Ohio, the ALL Family of Companies is the largest privately-owned crane rental and sales organization in North America, with 36 branches operating under multiple names – ALL, Central, Dawes, Jeffers, and ALT. The safety, product quality, and flexibility of the LTM 1200-5.1 were major criteria behind ALL's purchasing decision.
In 2005, Liebherr launched a mobile crane with the longest telescopic boom in the five-axle class in the form of the LTM 1200-5.1. It is 236' long and can also be extended with lattice booms. This means that the 430,000 lb. crane can reach hook heights of up to 331' and radii of up to 263'.
At its launch, the LTM 1200-5.1 was the first mobile crane in the world to feature pneumatic disc brakes. The pneumatic disc brake was installed in the crane axles after joint development between Liebherr and its system partners. Disc brakes delivered improved braking performance and also enhanced braking control and the track stability of the vehicle. Longer maintenance intervals and shorter working times for changing the pads also meant improved economy.
"We're honoured to be receiving the 1,000th LTM 1200 and pleased to celebrate the moment with Liebherr," said Michael Liptak, president and CEO of the ALL Family of Companies.