ANSI Presents NCCCO with Inaugural Workforce Development Award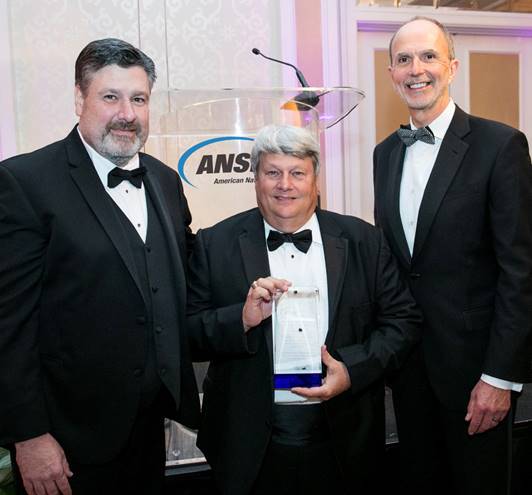 The National Commission for the Certification of Crane Operators (NCCCO) has received the newly created ANSI Workforce Development and Innovation Award at the 2019 ANSI Leadership and Service Awards Banquet and Ceremony in Washington, D.C. The award recognizes an accredited credentialing body that significantly impacts workforce development in the United States.
"The work of the honorees represents a tremendous scope of impact and requires true commitment – a willingness to put in long hours, traveling for days or weeks at a time, to get the work done," said Russ Chaney, chair of the ANSI board of directors. "We pay tribute to the outstanding accomplishments of leaders in standards and conformance with the presentation of [these] awards."
NCCCO CEO, Thom Sicklesteel, and NCCCO Foundation CEO, Graham Brent, jointly accepted the award.
Sicklesteel said, "Conferring of this award on NCCCO is a recognition of the efforts this organization has made over recent years to expand its activities into workforce development activities, as well as to engage entities already prominent in this field," he said.
"Although the primary vision of NCCCO has been to help establish a global lifting environment in which crane and crane-related risks are reduced and overall safety enhanced," said Brent. "NCCCO has always shouldered a secondary (but no less important) responsibility: to improve the overall professionalism of the crane and rigging industry." This translated, he said, into a desire to elevate the regard for the skill and knowledge required of a crane operator to the point where crane operation is considered not just a job, but a profession and, by extension, a career.
Joining NCCCO in the award celebration were representatives from several prominent industry groups including: ACE Mentor Program; American National Standards Institute (ANSI); Associated Equipment Manufacturers (AEM); Association of Equipment Maintenance Professionals (AEMP); Associated General Contractors of America (AGC); Specialized Carriers & Rigging Foundation (SC&RF); and YouthBuild Philadelphia.
The ceremony was held in conjunction with World Standards Week 2019, where Brent participated as a panelist on The Future of the Standards Workforce, which showcased the innovative ways in which the standards community is responding to various workforce challenges.