Armored Dome on HoistCam HC180 Camera Enhances Tower Crane Operator's Line of Sight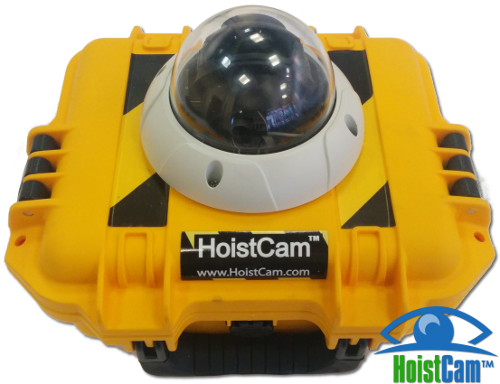 HC180
March 19, 2018 - Netarus LLC, maker of the HoistCam™ remote camera monitoring systems, will showcase the HC180 rugged wireless camera system at the Annual Conference of the Specialized Carriers & Rigging Association (SC&RA), April 17-21, 2018 at the Boca Raton Resort & Club
Boca Raton, Fla. Designed for environments demanding visibility, durability, and reliability, the HC180 wireless camera system, accessed via a screen in the tower crane operator's cab, makes an ideal operator aid.
"The armored dome design of the HoistCam HC180 is an excellent solution for tower crane applications, where line-of-sight for the operator is critical," said Chris Machut, Chief Technology Officer. "The HC180 armored dome camera lens protector features day and night vision for improved visibility in changing light conditions." The dome is made from impact-resistant polycarbonate and provides added camera protection during repetitive lifting, common in tower-crane applications. The armored dome design facilitates high-cycle, repetitive picking and placing of materials with tower cranes by providing the crane operator with a view of activity below the hook.
The HC180 has a magnetic mounting system, a rechargeable battery (with a run time of 8 to 24 hours), and a wirelesss transmitter. Video is displayed in the tower crane cab on a 9.7-inch display with heavy-duty RAM suction-cup mount. Optional remote monitoring and recording are possible with Netarus's HoistCam Director, which enables construction managers to view and manage the jobsite remotely. Information about current real-time tower-crane job progression improves communication with other contractors and work flow.
At the same time, HoistCam Director is useful specifically to tower crane rental companies for risk management and accident prevention/investigation, as it transfers video and images to a mobile digital video recorder (MDVR), which captures and stores data from up to eight HoistCam cameras. The MDVR can be configured to automatically upload to the cloud for analysis or archive.