Associated Builders' Backlog Indicator Unchanged in February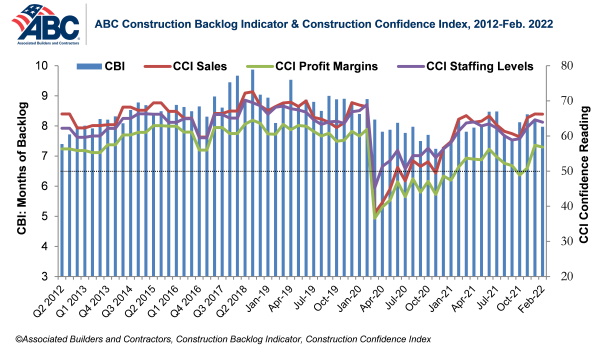 March 15 — The Associated Builders and Contractors has reported that its Construction Backlog Indicator remained unchanged at 8.0 months in February, according to an ABC member survey conducted Feb. 21 to March 8. The reading is down 0.2 months from February 2021.
View ABC's Construction Backlog Indicator and Construction Confidence Index tables for February 2022.
Survey respondents in all four regions cited labor and material availability and costs as the factors chipping away at their backlog, while a few respondents in the Midwest cited winter weather as a frustrating factor.
ABC's Construction Confidence Index readings for sales and staffing increased in February, while the reading for profit margins inched lower. All three indices remain above the threshold of 50, indicating expectations of growth over the next six months.
"The level of demand for construction services is simply staggering," said ABC Chief Economist Anirban Basu. "Despite sky-high materials prices, surging compensation costs and attendant impacts on bids, many project owners continue to move forward with projects because they recognize construction costs could rise even further. There is also significant investment capital flowing through the economy in search of yield. Real estate projects often satisfy the need to deploy considerable capital quickly, but only if construction is permitted to move forward.
"Accordingly, despite elevated costs and workforce challenges, construction backlog remains stable," said Basu. "Backlog would likely be rising rapidly if costs were more stable. Nonetheless, construction confidence indicators continue to improve. Collectively, contractors expect sales and employment to expand over the next six months. But what is far more remarkable is the expectation that profit margins will expand, indicating that demand for construction services remains elevated enough to countervail cost increases as we head into the heart of 2022."