BAC Inc. Awarded Project Honors for Silver Sands Project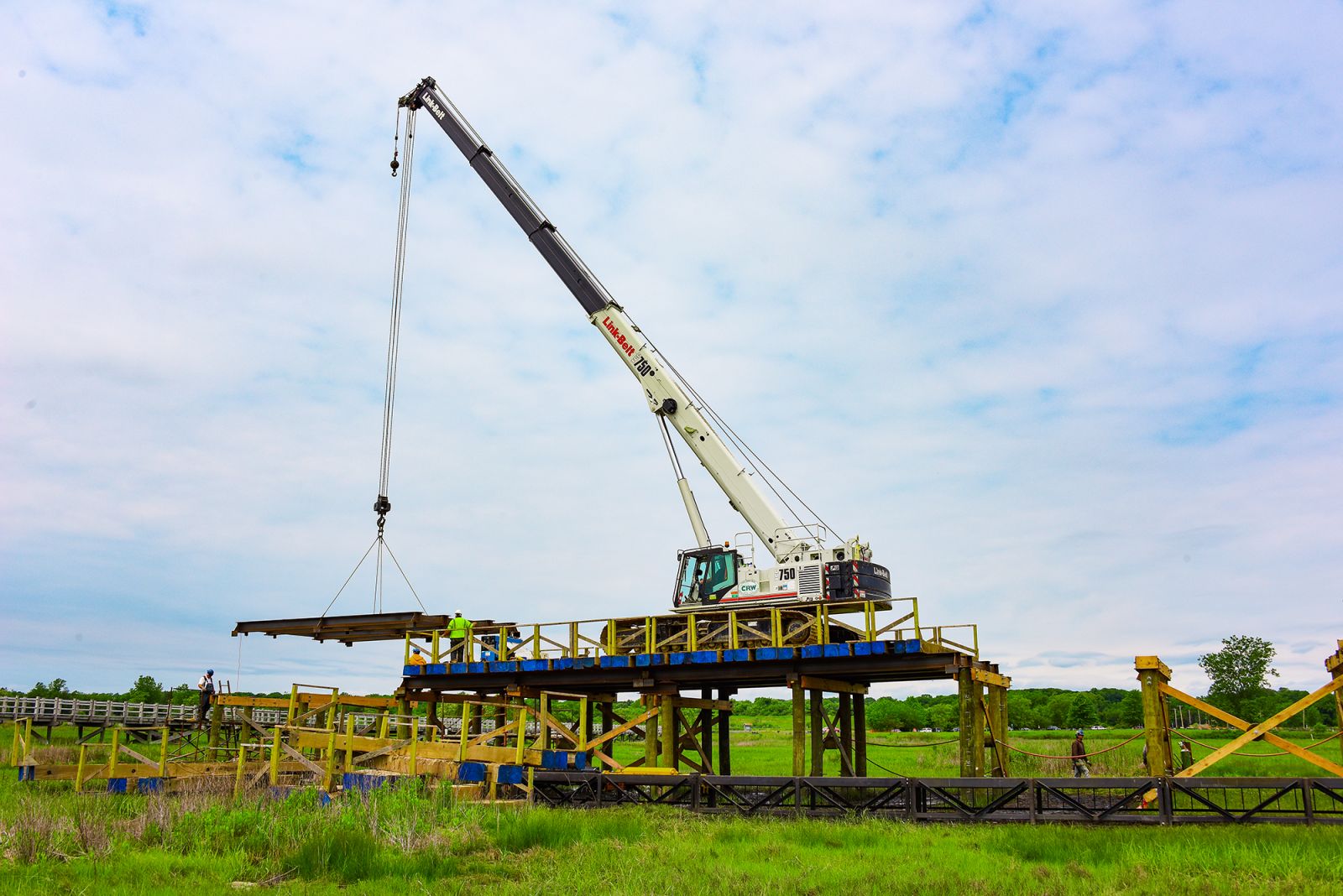 August 27, 2019 – Blakeslee, Arpaia, Chapman Inc. (BAC Inc.) of Branford, Connecticut, was hired as the subcontractor to complete 300' (91.4 m.) of elevated boardwalk at Silver Sands State Park in Milford, Connecticut.
In order to build a 10' (3.04 m.) high, elevated trestle, BAC rented a 75-U.S.-ton (70-mt) Link-Belt TCC-750 telescopic crawler crane from Wood's CRW Corp. The elevated boardwalk goes across restored saltwater marsh, requiring the contractor to make as small a footprint as possible. The project was awarded job of the year honors by Pile Driving Contractors Association in the land category $500,000 to $2 million.
"We drive timber pile with 84' long (25.6 m.) leads encasing a diesel-fired Berminghammer with a single cylinder diesel engine," BAC Superintendent Joe Delvecchio explained. "It's a clean running impact hammer that suits our needs here. The trestle width is made to match the TCC-750 while the tracks are fully extended to 17' (5.18 m.) wide, plus room to work and maneuver around it."
The TCC-750 also drove shorter pile up to 50' (15.2 m.) long on leveled sand dunes where offices will eventually be built.
"We have used the 75-ton Link-Belt for several years now and really like it. The trestle is designed to match the crane footprint because we knew we would be using the 750. It's a nice weight for that size crane; that's what we like about it, plus the hydraulic boom. Since our other crane is on rubber, the 750 has a smaller footprint. After I saw this type of crane working in Branford, Connecticut, I knew it would work well for us and we never have problems with these cranes," Delvecchio said.
Operator Bill Tweed has over 300 piles to place for the trestle and public bathroom being constructed. Leads, timber pile, and hammer weigh 22,500 lbs. (10,205 kg.) rigged for each pile and are being driven at up to a 42' (12.8 m.) radius.
"I'm constantly feathering the levers, and I'm by the open water where it is windy. That's where the parking brake button comes into play. I get it right where I want it, push it in, and I'm locked into position. A lot of machines have it located at other places, but I can stay focused on the task at hand and be able to lock myself in at all times, just by hitting it where my hand is already. It's a good design; that's what I like about this machine," said Delvecchio.
On site, friction pile is driven to a blow count of six blows per inch for 6 in., giving BAC a 25-U.S.-ton pile. The TCC-750 is supported on the trestle by two spans, or 12 driven piles. The TCC-750 with full counterweight is 145,470 lbs. (65,984 kg.), 20,000 lbs. (9,071 kg.) for the leads and hammer, frame is 10,500 lbs. (4,762.7 kg.), and the crane mats are 6,200 lbs. (2,812 kg.) each. Each pile weighs about 2,500 lbs. (1,133 kg.).
"The leap frog procedure creates minimal disruption to the ground conditions. The driven pile are then cross braced to reduce lateral movement, then there is the removal of the seven in-place mats of oak, which is made of 12-in. square timbers, locked-in 4' wide, and 24' long, and placed by the trestle," Delvecchio said. "We then move the frame from behind, swing it 180° to the front, and set it on the piling. The frame is secured, mats replaced with railings, the crane moves to get more timber hoisted by another crane, and the process starts again."
Complete crane specifications are available at www.linkbelt.com.