Bigge Continues Valued Tadano Partnership with Crane Purchases at Bauma 2022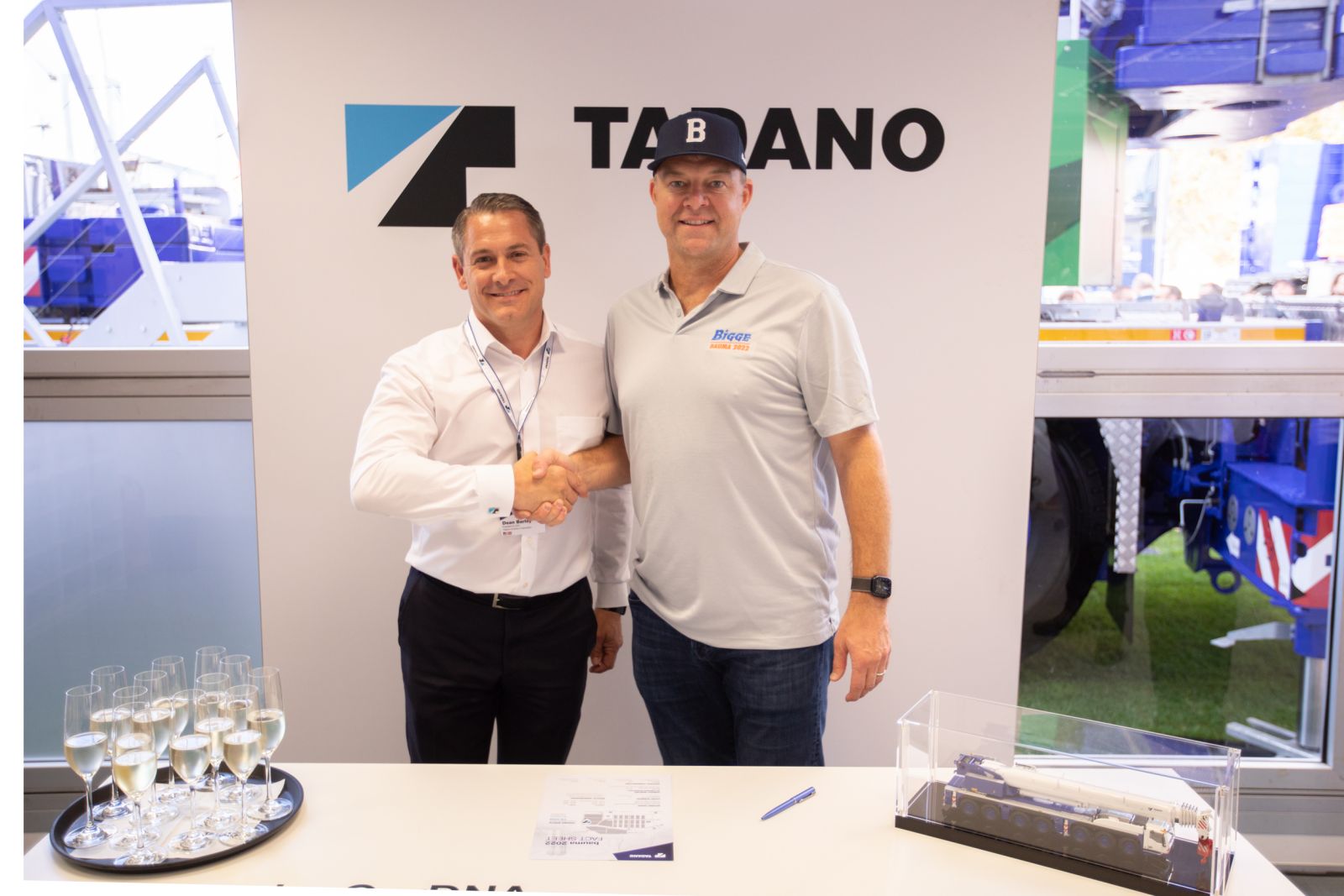 Oct. 26, 2022 - Bigge Crane and Rigging's partnership with Tadano has been one of growth and mutual respect. Bigge is one of the largest Tadano fleet owners. It's rental fleet includes more than 600 Tadano cranes and can service various industries with the many different crane offerings.
Bigge has expanded its fleet by ordering a large quantity of Tadano rough-terrain, all-terrain, and telescopic-boom crawler cranes.
A special signing at Bauma 2022 in Germany will further Bigge's goal of the Perfect Fleet. Some highlights of the new Tadano additions for Bigge are larger ATs like the AC 8.500-1, 7.450-1, and AC 6.300-1; RTs like the GR-1300XL-4, and teleboom crawlers like the GTC-1600, and GTC-2000.
Tadano America Regional Business Manager Dave Kuhlman says the 130- to 600-ton all-terrain machines are seeing more demand, "They all feature excellent lift capacities and longer boom lengths as well compact carrier designs that are highly roadable, fuel-efficient and require less overall maintenance," said Kuhlman. "Bigge has been increasingly successful with Tadano AT retail sales and is continuing to increase orders for these models based on their overall success on the combined fronts of both retail and rental fleet additions."
Other new additions include the GR-1300XL-4 from Tadano's highly-respected rough-terrain line, as well as longer-reach teleboom crawlers like the GTC-2000 and GTC-1600.
James Land, teleboom crawler sales director at Tadano America, says Bigge has been able to fill a gap in their rental fleet with the versatile 150- to 200-ton TBCs. "The GTCs compete quite nicely and even outperform some larger competitors' cranes, especially when considering the out-of-level charts," said Land. "And a crane you can count on is a Bigge key as well. I believe similarities and shared components with the proven GR line helped move the needle for Bigge's recent GTC purchases, as they always demand a reliable product."
As Bigge continues to play a vital role in American construction and lifting, it is always looking cranes that are best in class, reliable and cost effective.
"Bigge is always working to build and maintain the Perfect Fleet of cranes to serve our customers' job site demands," said Joe Nelms, vice president of Bigge. "Tadano has been a trusted partner in this effort by producing equipment that is highly reliable, easy to operate, and has a low cost to maintain. We appreciate Tadano's collaborative approach and open lines of communication throughout the development, production, and post-sale process."
Kuhlman has known several of Bigge's senior management for many years and says "It continues to be a professional, respectful and enjoyable experience with everyone at Bigge. I believe our growing success with their organization is due to the mutual respect within both of our companies and our current offering of impressive crane vice president of asset management, over the years. Mike is very knowledgeable of the TBC market, product offerings, and what Bigge needs to maximize the potential of its fleet. You know that dealing with Mike is going to present a logical process and consistent communication which makes them an exceptional customer to do business with."
Tadano and Bigge have a multigenerational partnership built on shared core values like safety, teamwork and innovation. This week's Bauma signing is just the latest highlight for these two leaders as they continue to elevate the crane industry.
In photo, from left: Dean Barley of Tadano and Weston Settlemier of Bigge Crane & Rigging.