Boomtrux Inc. Brings New Brand of Boom Trucks to North America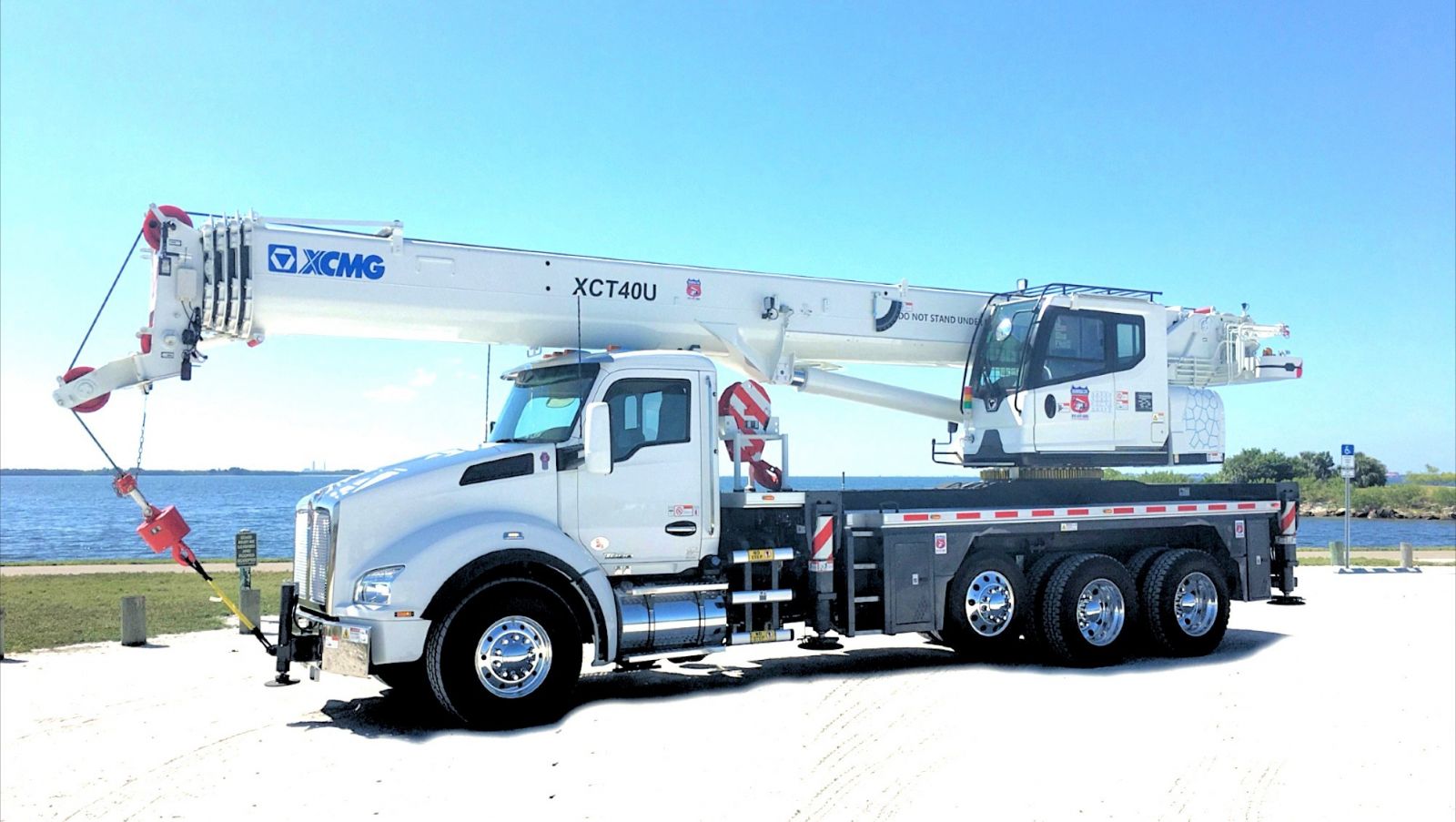 The XTC40U
July 2, 2019 – Boomtrux Inc., Tampa, Florida, is now North America's exclusive importer and distributor of XCMG brand boom trucks.
Although the XCMG brand is new to the United States, the company has been in business for more than 70 years. It ranks among the world's top 10 heavy equipment manufacturers and top five crane manufacturers.

Boomtrux is leading off the new lineup of boom trucks by introducing the model XCT40U, which delivers 40-U.S.-ton maximum capacity, a 142' telescopic boom, and 195.5' maximum boom-and-jib length.

XCMG and Boomtrux have selected the Kenworth T-880 as the initial chassis offering. Standard equipment includes a 450-hp Cummins engine and an automatic transmission – an industry first, according to Erik Mikkelsen, general manager of Boomtrux. The XCT40U can travel at up to 65 mph and turn in as little as 39.4'. Mikkelsen says the company is discussing substituting a Peterbilt or Freightliner chassis if a customer requests it.

Boomtrux founder and president Carlton Calfee, Jr., listed some of XCMG boom trucks' key features. "The list is long, but the highlights include U-shaped booms that are stronger and stiffer; a two-stage luffing jib; the boom-tip camera standard; an auto-retract front bumper stabilizer; a custom Hirschmann LMI system with load-chart assist; a large-diameter rotation gear; positive and momentary free swing; and advanced hydraulic pumps and controls." Calfee adds that the control is so precise that he has seen an operator flick a stone on the ground with the weight-ball hook.

Mikkelsen says that XCT40U's reach is similar to its competitors', but that it will out pick competitors by 500 lbs. or more.

The XTC40U comes with a swing cab, and the crane's hydraulic system isolates functions such as boom hoist and swing to enable better control of each. The LMI gets signals through internal wiring, and the anti-two-block is wireless.

Currently, the main attachment is the two-stage lattice luffing jib, which Calfee, Jr. says is helpful for up-and-over picks and unique in the boom-truck industry. Other options include an auxiliary winch, remote control for the winch, and multiple load-block options.

Easy Roading, Fast Setup
Calfee, Jr. says that roading the XCT40U is reasonably easy. "States sometimes have unique requirements, but this is a boom truck at heart," he says. "It is a little heavier than most, but it is not over length, over width, or over height."

It is also not over the GVW of the chassis (80,000 lbs. with a 12,000-lb. drop axle, 22,000-lb. steering axle, 46,000-lb. rear tandem). It likely is overweight for the federal bridge law rating of 34,000 lbs. on the rear tandem, even with the drop axle. However, says Calfee, Jr., the permit required for meeting the federal bridge law costs less than $300 per year, can be bought online, and be printed right away.

The set-up time is like most boom trucks. Although the outriggers do not level themselves automatically, set up time was a design consideration. So XCMG engineers made sure the outrigger remote control includes a button to boost the truck-engine rpm to speed up outrigger placement.

Expert Mounting and Testing
One key to excellent boom truck performance and life is proper mating of the crane and truck chassis.
XCMG ships the cranes nearly fully assembled to Boomtrux's facility in Florida, where Boomtrux's XCMG-trained technicians mount them onto the Kenworth chassis following XCMG installation procedures. Load testing and pre-delivery inspection are also performed following factory procedures.
Parts and service support initially come through XCMG's U.S. parts hub in Las Vegas, which is well established and supporting other XCMG equipment, such as excavators. Plans call for Boomtrux to be an eastern parts hub for XCMG boom trucks.

Product Availability
According to Calfee, Jr., Boomtrux will initially sell XCMG boom trucks anywhere east of the Mississippi River, then expand westward as it develops its dealer network. He adds that Boomtrux is now selling units and taking pre-orders for the XCT40U, and has financing partners that can help customers with a variety of lease and lease-to-own plans.

A second XCMG model is already in the works. It is a 30-35-ton machine with a four-section boom.

Field Tested
Boomtrux's official introduction of the new brand follows about a year of field testing pre-production units with selected potential customers in the southeastern United States.

Boomtrux put the prototype through its paces in Florida with several customers who used it in a range of applications, including cell tower work, HVAC picks, truss work, tree work, and even building a roller coaster – anything a large boom truck or small truck crane might do.

"They all loved the unit and provided feedback to XCMG to make improvements," said Mikkelsen. "There were almost 40 changes made based on their input. The suggestions ran from widening the seat to adding a "thumper" drum-rotation indicator to the winch controls."

Mikkelsen said that tester nicknamed it "the Beast" for its strength and stability, and another user said the XCT40U's capacities rivaled those of a 45-ton boom truck it owns. "Smooth and stable was a common comment," he says.

Knowledgeable Veterans
The staff of Boomtrux Inc. has more than 75 years of combined experience in the boom truck business, making the company a knowledgeable buyer and seller of new and certified pre-owned boom trucks.

Owner Carlton Calfee, Jr., founded the company in 2008, after more than 40 years in the boom truck business. Calfee began working with equipment as a boy when his father opened a Grove dealership in Florida. He's been in the business ever since.
His industry experience includes being trained by the legendary Ray Pitman, and Calfee's experience lets him quickly and accurately evaluate a customer's equipment needs and find the best solution.

To find out more about XCMG boom trucks or Boomtrux, Inc., visit www.boomtrux.com.