Caldwell Beam Lifts 46,000-Lb. Rebar Cages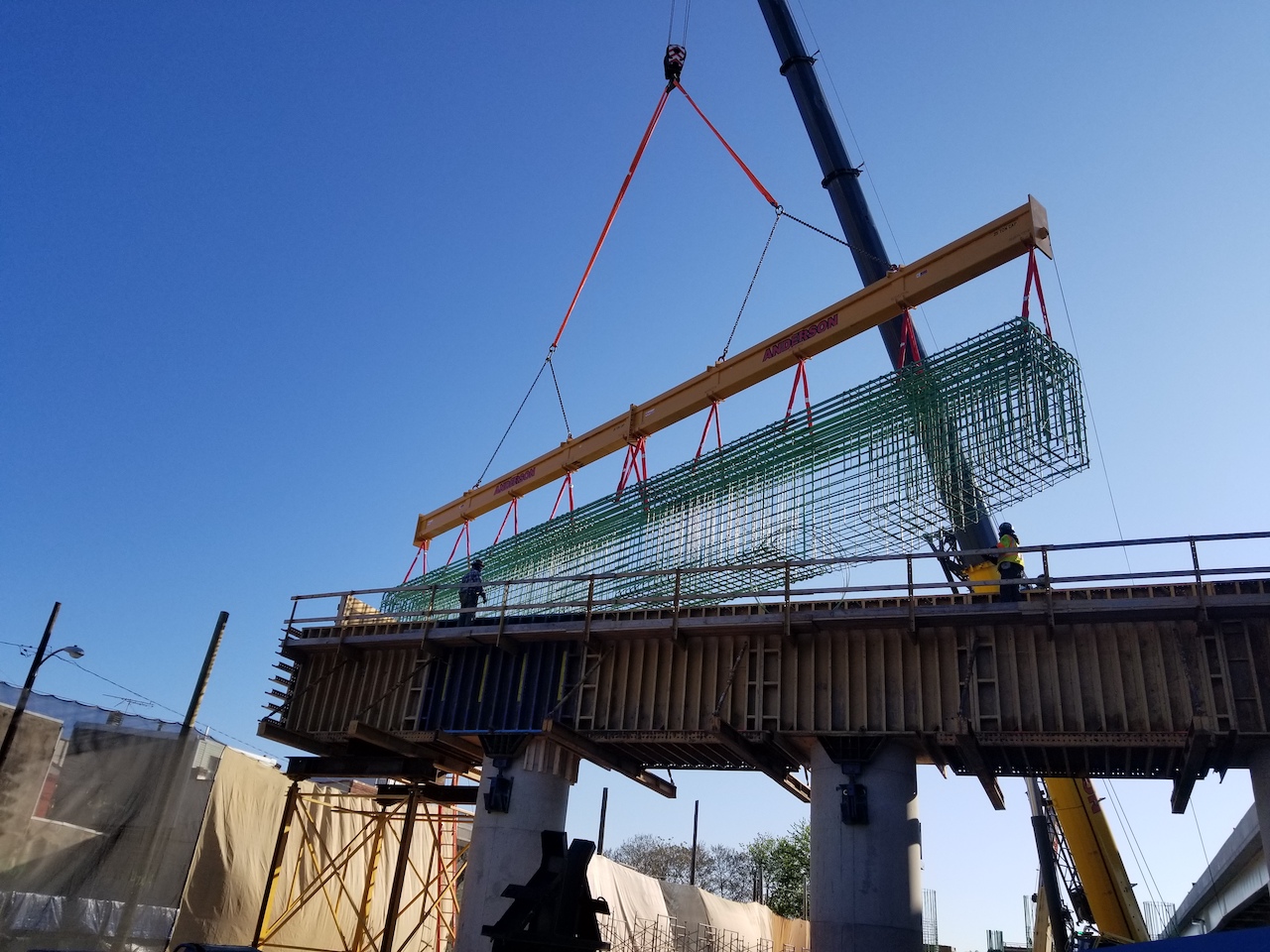 June 3, 2020 - The Caldwell Group Inc. supplied a custom 75'-long, 50,000-lb. capacity beam for lifting 60 rebar cages at a highway project in Philadelphia.
The two-piece beam is currently being used beneath the hook of a 275-ton capacity Grove mobile crane to lift the large pier cap rebar cages required for concrete reinforcement during rebuilding of an 8,500'-long, 100'-wide overpass. The cages weigh up to 46,000 lbs. and stand up to 85' long.
The beam was delivered to James J. Anderson Construction Co. Inc., which helping build a 2-mile elevated roadway, with ramps, drainage, and associated utilities and civil engineering works for the Commonwealth of Pennsylvania Department of Transportation. On the project, Anderson using its own fleet of cranes.
Tom Eicher, director of engineering at Caldwell, said the beam was designed, manufactured, and built in two sections, due to the overall length required. It can be used both bolted together at its full 75' length or in individual sections.
"The rebar cages require support at multiple points from the lifting beam by means of the lower rigging," said Eicher. "Multiple lower rigging lugs allow riggers to distribute the weight of the cage to minimize cage deformation. This allows for proper control while handling the lifted load when positioning the rebar cage."
He added that the upper rigging arrangement helps further support the lifting beam. The lower lugs are sized for a minimum of three points used to pick up the load. There are 10 lower lug lift points on the full 75 ft.-long assembly, while Anderson can use any combination as needed to distribute the load as per their lift plans.
Caldwell supplied the two two-leg chain slings above the beam that are rigged at angles to share the load when both sections of the lifting beam are bolted together and used as an assembly. The synthetic slings above (connected to the crane's hook) and beneath the beam (connected to the cages), are supplied by Anderson. Sling angles were determined during the design process.
"The end hooks are able to attach rigging at a maximum of a 30° angle," Eicher said. "Note that the end hooks are de-rated for that 30° angle if required to be used. Ultimately the span beyond 75 ft. depends on the rigging length employed."
The beam was painted in standard Caldwell paint and Anderson manages storage onsite between lifts. Eicher added that the end user has established an in-service inspection program that is based on the amount of use and complies with ASME B30.20 recommendations.
The project continues and is scheduled for completion next year.