CM Labs Delivers New Edition of Training Simulators to Manitowoc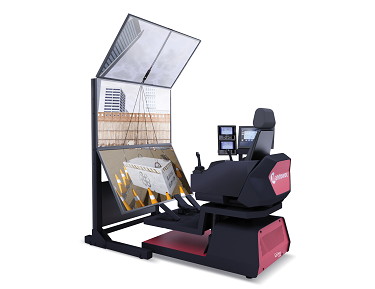 CM Labs' CCS-driven Vortex simulators
May 17, 2019 — CM Labs has developed the second in a series of groundbreaking simulators showcasing the intuitive Crane Control System (CCS) from Manitowoc Cranes.

CM Labs' CCS-driven Vortex simulators provide operator training and drive adoption of Manitowoc cranes by providing crane operators with direct experience of the benefits and capabilities of CCS equipped cranes.

Manitowoc's CCS operating platform provides a common human-machine interface across multiple crane product lines. Each CCS unit features the same control layout, with standardized symbols, and is made up of several common components (crane controller, safety controller, small IO (input/output), large IO, joysticks, jog-dial and display).

Manitowoc engaged CM Labs to integrate the new control technology into simulators, with the goal of allowing dealers and customers to experience and train with the CCS on a true-to-life worksite. "Our design starts with a relationship with the machine, so that the user interface feels very close to the real thing. This was important for Manitowoc in order for the end product to both look and act like their brand," said Drew Carruthers, product line manager for construction equipment.

"We selected CM Labs because they are the leader in crane simulation with their top-quality solutions already widely deployed at training organizations," said John Alexander, director of all-terrain crane service, mobile training, and telematics at Manitowoc. "Many of our own clients are already using CM Labs simulators every day."

The first simulators delivered by CM Labs replicated the functionality and behavior of Manitowoc's 35-ton (40-U.S.-ton) Grove RT540E crane. CM Labs' second series of simulators is designed to replicate the behavior of a 165-ton (182-U.S.-ton) MLC165 lattice boom crawler crane by Manitowoc. Both simulators are under the control of an actual CCS user interface.

Vortex simulators are powered by Vortex Studio, the high-fidelity physics-based real-time simulation platform that delivers unparalleled realism and immersion. This means that the simulation includes actual on-board crane computers and load moment indicators, different boom configurations, accurate simulation of machine behavior, plus cable physical property simulation for winch line, slings, load, and multiple rigging options.

As with all Vortex simulators, high quality visuals and sound effects complete the immersive experience. This overarching accuracy ensures skills learned on the simulator will transfer better to the live equipment.

"CM Labs is an ideal partner for OEMs like Manitowoc because of our ability to provide turnkey development services that leverage authentic OEM control sets and programmable logic controllers and control systems," said Arnold Free, chief commercial officer of CM Labs.

Dealers and operators of Manitowoc Cranes who are interested in purchasing a Vortex Crane Simulator enhanced with CCS to use for customer training can do so through Manitowoc Crane Care.