CM Labs Demonstrates Virtual Training Can Work for Crane Operator Certification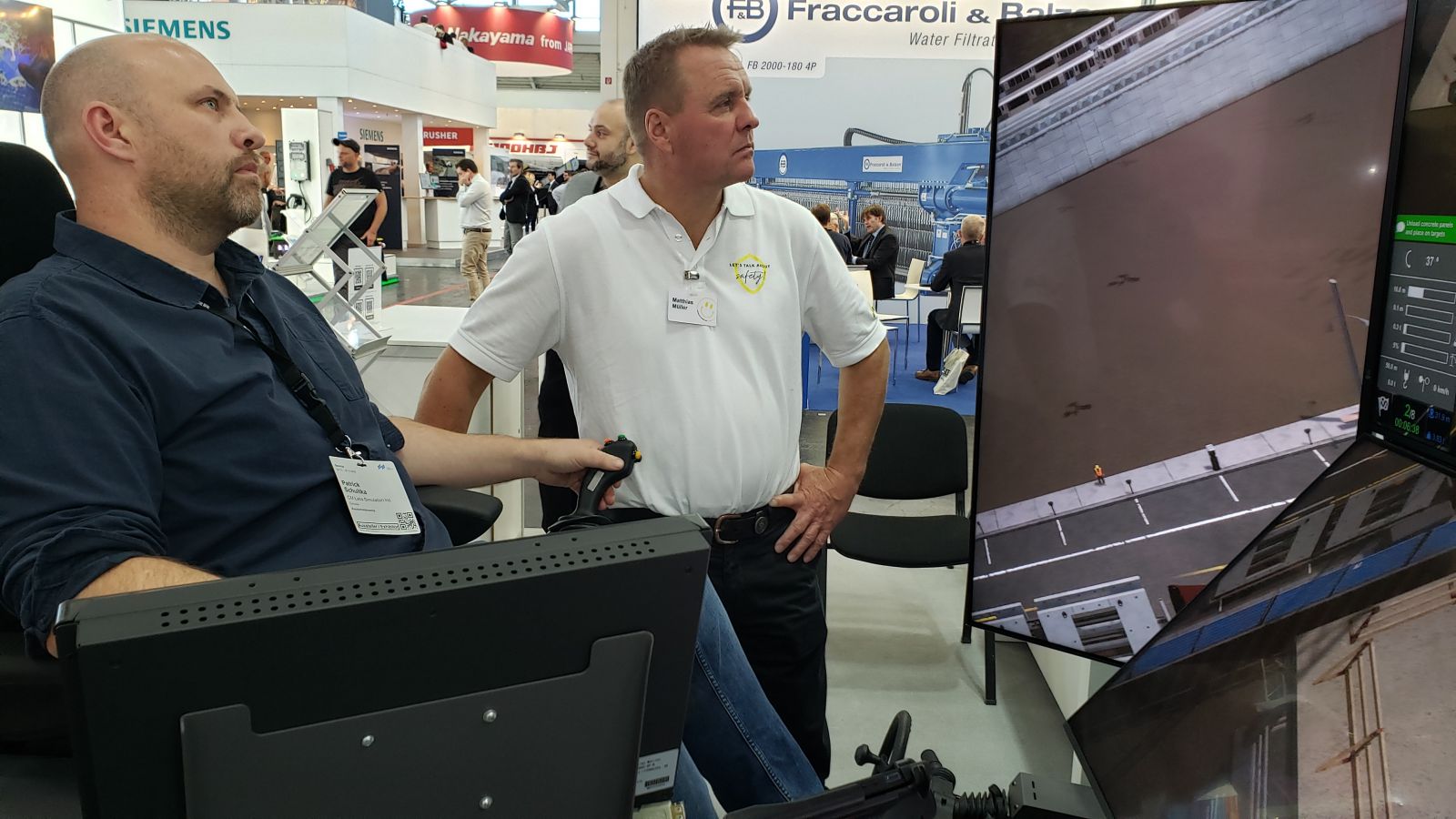 Dec. 8, 2022 - CM Labs Simulations has demonstrated that simulation training can prepare a crane operator to meet German requirements for certification.
The virtual training and qualification took place in Germany during October at Bauma 2022 using CM Labs simulators and programs.
Operator-in-training, Patrick Schultka, who had some prior experience in earthmoving equipment but no experience with cranes, spent eight hours over four days at the show, using the CM Labs' Tower Crane Simulation Training Pack on a Vortex 5-screen Advantage Simulator.
With self-guided practice and one-on-one coaching from a trainer, Schultka completed the written exam, followed by a 30-min. qualification test using a CM Labs Crane Training Pack that's based on the real-world CCO exam.
Approved by German DGUV
In September 2021, German Statutory Accident Insurance (DGUV – Deutsche Gesetzliche Unfallversicherung) began allowing use of simulation systems to qualify heavy equipment operators.
DGUV is the organization that oversees use of simulation for heavy equipment training in Germany. It helps companies and educational institutions with a broad range of prevention measures and services.
Matthias Mueller, management safety engineer and owner of AST (Arbeits Sicherheit & Technik, a recognized educational institution), supervised the live certification and documented the process.
AST has been using CM Labs simulators for the past two years to qualify operators in accordance with DGUV guidelines.
"Using simulation to certify crane operators offers the next level of training and development in the skilled trades," said Lisa Barbieri, CM Labs' VP of marketing and product management. "The requirements set by DGUV are essential to creating a unified objective standard of measure to use simulation for certification in Germany. CM Labs is positioned to provide the right solution as the industry evolves to take advantage of the benefits of simulation training in new ways."
The DGUV report requires simulated curriculum to include realistic use of the equipment, real-world scenarios to reinforce correct safe working interactions and habits, and problem-solving scenarios to establish good judgment for safe operation and avoiding near collisions and injuries.
Simulation for certification must meet five technical criteria in order to comply.
1. Realistic immersive display (such as curved or 5-sided case);
2. Acoustic feedback to reinforce audio queues common on the job site (engine, alarms, etc.);
3. Realistic motion system – such as 5° of freedom and motion platform;
4. Faithful replica of a typical worksite for operator context;
5. Realistic high-quality simulation model – real-time simulation, vehicle behavior, steering, vibrations, the behavior of objects and materials, graphics, and environmental scenarios (night/day/wind gusts, etc.).
CM Labs' accurate replication of real-world machine and materials behavior results in effective, efficient operator training.
The company's patented Smart Training Technology exceeds the technical criteria for German certification.
The high-fidelity STT provides real data accuracy and reporting insights.
Composed of proprietary and patented algorithms, the simulation delivers careful modeling and reproduction of machine data that interact with the environment and materials just as they do in the real world, says CM Labs.
Its precision is backed by more than 20,000 automated daily tests and ongoing research and development.
Trainees gain a better feel for engine, transmission, crane boom, and jib bending/torqueing, as well as wire rope and crane block spin and environmental factors like wind, precipitation, day and night.
By learning how to manage hook and load, and to reduce pendulums, snags, and collisions, operators improve cycle times, which can reduce production costs.
Use of Virtual Training and Certification in Construction
While other industries, like aviation, have approved the use of simulation for certification, the construction industry, except in Germany, has not.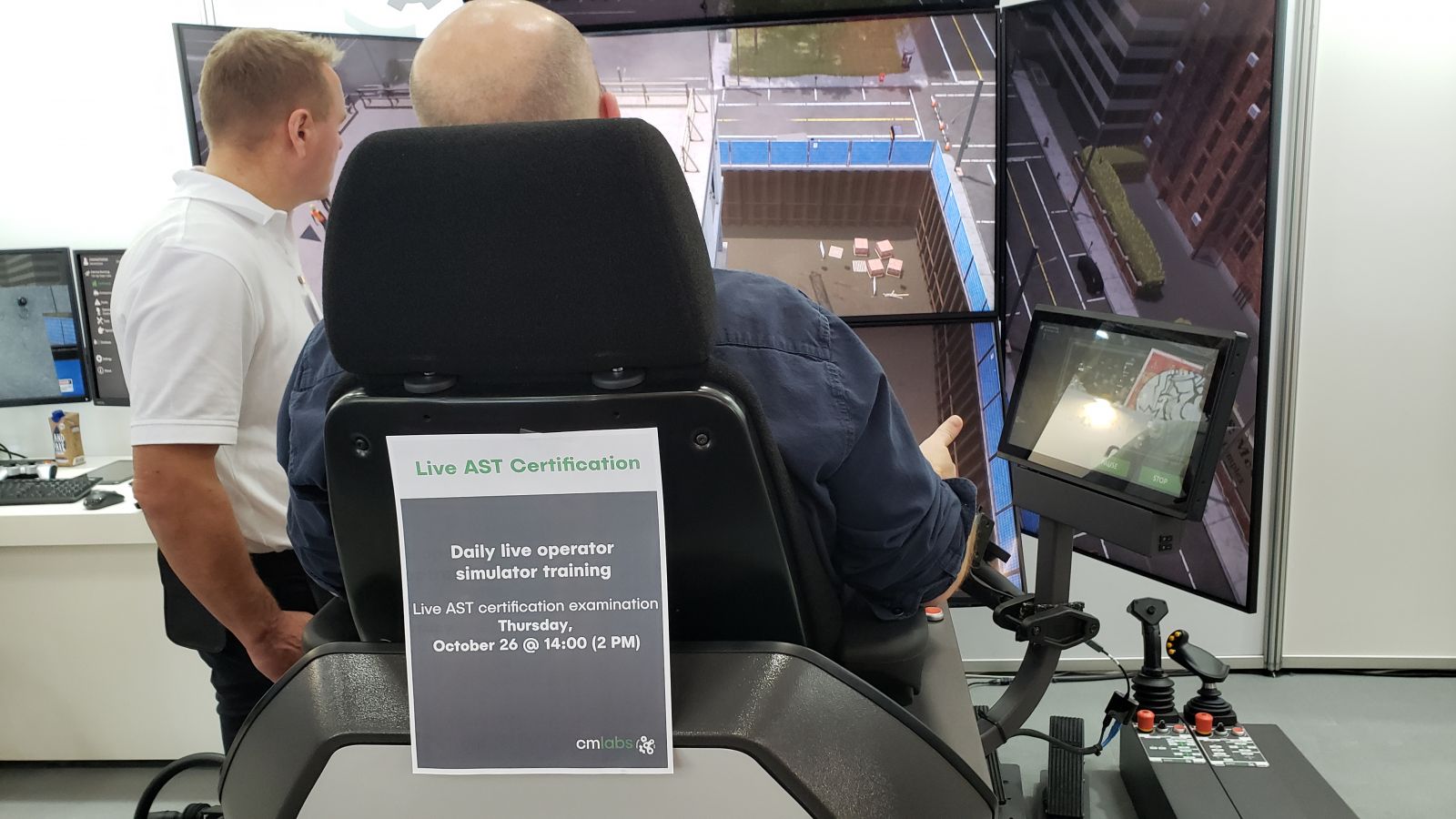 CM Labs solutions include simulation exercises to prepare for certifications for forklift, as well as the NCCER and NCCCO testing for cranes.
The Electrical Training Alliance (ETA), the curriculum arm for the International Brotherhood of Electrical Workers (IBEW), collaborated with CM Labs to add additional specialized training scenarios for boom truck and crane for utility industry certifications.
With the current labor shortages and energy costs, these latest developments in simulation certification look promising for health and safety governing bodies, such as OSHA, and other organized labor groups to consider as alternatives to measure the proficiency of operators.
A video about the use of simulators in because of their accurate replication of real-world machine and materials behavior for operator training in Germany is here.