CPWR Offers Two Free Webinars About Avoiding Struck-By Accidents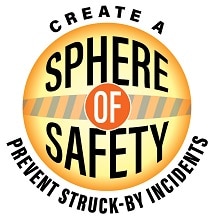 April 13, 2021 – On Monday, April 26, CPWR, the center for construction research, will offer two free webinars about avoiding under-hook struck-by accidents with cranes and lifting equipment.
The first webinar, Cranes & Lifting – Avoiding Struck-By Incidents Under the Hook, starts at 1:00 p.m. Eastern Time.

In it, listeners will hear from industry stakeholders about the responsibilities of a lift director and the basics to look out for in a lift zone, the most prevalent issues and accidents experienced, and best practices for lift safety.

It will be moderated by Michael Mills of Liberty Mutual Insurance and will feature a distinguished panel of experts, including:
Tom Gordon, International Union of Operating Engineers Local 14-14B
Jim Wiethorn, International Crane & Construction Safety Solutions, LLC
Mike Parnell, Industrial Training International
The second webinar, Preventing Struck-By Incidents: Learning by Experience, starts at 3:00 p.m. Eastern Time.
In it, the panel will talk about their own experiences facing struck-by incidents and identifying improvements and strategies to better avoid them.
The presentation will start with welcomes from:
G. Scott Earnest, associate director for construction, Office of Construction Safety & Health, NIOSH, and
Bradley Sant, senior vice president, safety and education, American Road and Transportation Builders Association
The panelists include:
Kevin Carnahan, regional safety manager, Granite Construction Co.
Emmett Russell, director of safety (retired), International Union of Operating Engineers; industry master instructor
Jacob Ladd, area director for the Wilmington Area Office, OSHA
To register for either or both webinars, visit cpwr.com.