Crosby's Rigging for the Troops Campaign Reaches $16,500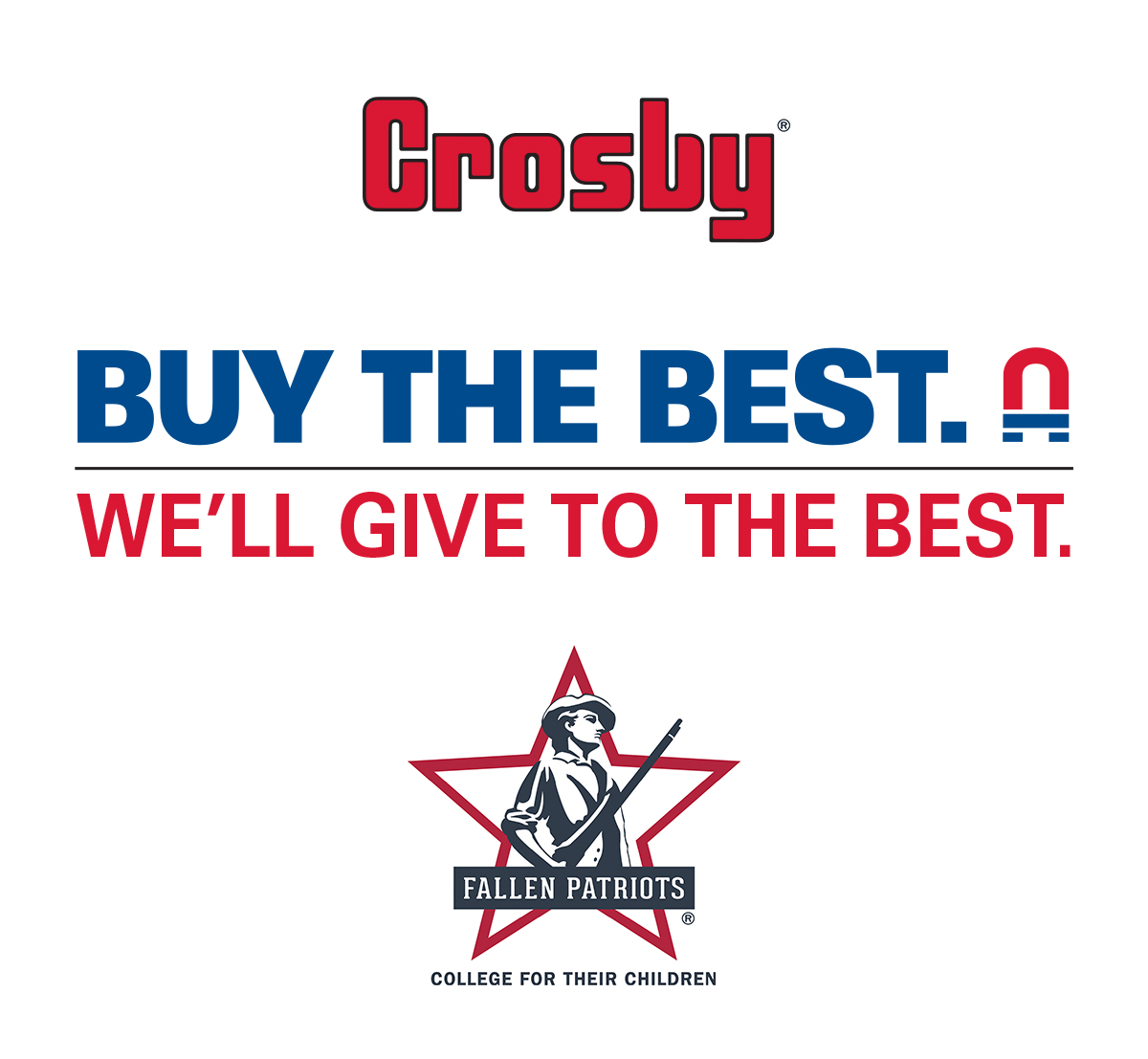 The Crosby Group's "Rigging for the Troops" campaign has reached $16,500.
June 4, 2019 – With just under a month left, The Crosby Group's "Rigging for the Troops" campaign has reached $16,500 of the $25,000 goal it aims to donate to the Children of Fallen Patriots Foundation.
Crosby is raising the money by donating a portion of every sale of wire rope clips during the second quarter of 2019. The program started April 1 and ends June 30.
The Children of Fallen Patriots Foundation charity provides college scholarships and educational counseling to children who have lost a military parent in the line of duty.
After government programs, the average shortfall in college funding for a child of a veteran killed or wounded in service is $25,000. Supported by its loyal distributors, Crosby will donate a portion of each clip sale to the honorable cause.
Approximately 20,000 children have lost an active duty parent in the military over the last 35 years. Of those, 97% of casualties are men, leaving behind single mothers to care for their families. Some 60% of those mothers report having trouble making ends meet. The foundation said that $500 million is needed nationwide to cover the gap between government assistance and the actual cost of a degree.
Headquartered in Dallas, the Crosby Group has a U.S. manufacturing footprint that includes plants in Texas, Oklahoma, and Arkansas. Crosby's involvement with the U.S. military goes back to the company's early days of supplying shackles and other hardware for vehicles. Today, more than 50 veterans work in the company's facilities, helping manufacture rigging equipment.
Ron Vanderslice, director of marketing communications at Crosby, said, "We have a long history of supporting non-profit organizations, from the United Way to hurricane relief funds. Together with our distributors, we are proud to partner with Fallen Patriots to help fulfill the funding requirements of young people affected by military casualties."
Vanderslice explained that the longevity and diversity of wire rope clips, which range from 1/8" to 3½", presented the product as a standout for the initiative. They clamp the loose end of a wire rope once it has been looped back to form an eye. They can also connect two separate pieces of wire rope.
To raise the profile of the campaign, Crosby has also launched a photo contest in which users can submit a photo of a wire-rope-clip application for the chance to be named as one of two weekly winners.
"There is great sincerity associated with the cause we're donating to, yet the photo contest is a fun way of involving the user community while further promoting the concept and driving sales," Vanderslice said. "Users might let the application speak for itself or perhaps involve personnel in a selfie-style submission."
Users can submit photos and find more information about the program, including a video message from retired general David Petraeus, online at www.riggingforthetroops.com.
Helping Crosby sponsor its Rigging for the Troops campaign to support the Children of Fallen Patriots Foundation are (in alphabetical order): Bishop Lifting Products Inc., Certified Slings & Supply, Commercial Group Lifting Products, Crane Hot Line, Fulcrum Lifting, Hanes Supply Inc., Holloway Houston Inc., Mazzella Companies, and Peak Trading Corp.