Cummins Invests More than $1 Billion in U.S. Manufacturing Plants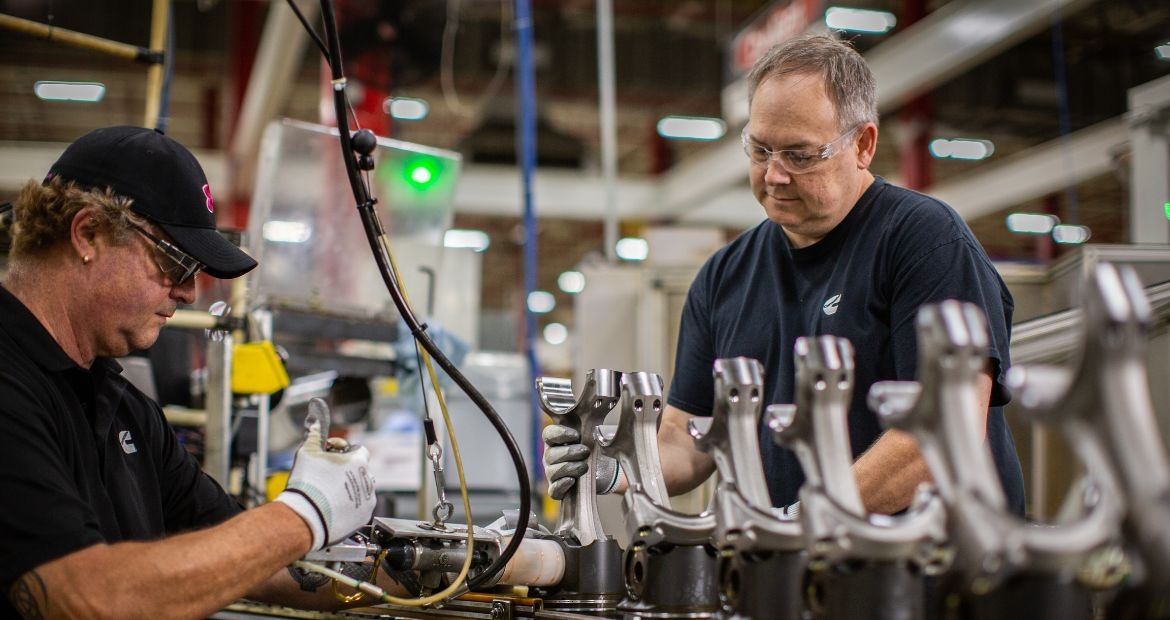 Apr. 12, 2023 – Cummins is investing more than $1 billion to upgrade its engine manufacturing plants in Indiana, North Carolina, and New York.
The improvements support the industry's first engines that will run on low carbon fuels, including natural gas, diesel, and eventually hydrogen, helping decarbonize the nation's truck fleets.
"In just a few weeks, we will begin manufacturing one of the key pieces of technology for green hydrogen production that will help decarbonize our economy and drive the clean energy transition – the electrolyzer," said Jennifer Rumsey, Cummins president and CEO.
"Support from the Biden Administration and Congress with legislation like the Bipartisan Infrastructure Law and Inflation Reduction Act are driving the clean energy economy forward in the United States and critical to our decarbonization efforts."
Rumsey added, "The historic investments included in those pieces of legislation played a key role in our decision to manufacture products here in the U.S., creating more clean-tech jobs and positively impacting our communities."
She said that the investments reflect Cummins' dual-path approach of advancing both engine-based and zero-emission solutions. "We can't do this alone and are grateful for the continued partnership and collaboration with congressional leaders and the Biden Administration," she said.
Over half of all medium- and heavy-duty trucks in the U.S. use Cummins engines.
This investment is intended to retain the thousands of current engineering and manufacturing jobs and support the creation of hundreds of new jobs across the company's New York, North Carolina, and Indiana footprint as Cummins invests in its people and facilities to grow innovation and manufacturing and accelerate our decarbonization efforts.
The following information highlights the company's plans to continue investments in its Jamestown Engine Plant in New York and information regarding recent investments in Fridley, Minnesota. Information on additional investment in Indiana and North Carolina will be made public later.
Jamestown Engine Plant
The announcement includes Cummins' plans to invest $452M in its Jamestown Engine Plant (JEP) to upgrade its 998,000-sq.-ft. facility in Western New York to produce the industry's first fuel-agnostic internal combustion engine platform that leverages a range of lower carbon fuel types. The X15N is part of the new fuel-agnostic 15-liter engine platform produced at JEP.
Cummins customers, including Walmart, Werner, Matheson, and National Ready Mix, among others, are beginning to test the very first engines of the fuel agnostic platform, the X15N. Walmart will receive the very first field test unit later in April to take part in the field test of this industry-first, 15-liter advanced engine platform running on renewable natural gas.
Cummins U.S. Electrolyzer Product in Fridley, Minnesota
At the Fridley facility, Accelera by Cummins -- Cummins' zero-emission technology brand – will soon manufacture electrolyzers, which are a critical piece of the green hydrogen economy.
Hydrogen produced by electrolyzers can power hydrogen fuel cell vehicles and is used in industrial processes like steel production.
Building electrolyzers in Fridley is helping to bring the supply chain for zero-emissions vehicles to the United States – particularly in heavy trucking industries - and employing hundreds of workers in the area with good-paying jobs.
The Cummins Power Systems factory is a 1.1 million-sq.-ft. full-service facility, concentrating on design, product, service engineering, and manufacturing just north of Minneapolis.
Established in 1969, Fridley employs over 900 and will plan to dedicate 89,000 sq. ft. of the existing facility to electrolyzer production starting April 24. This is a $10 million investment that will support 100 new jobs by 2024.