Custom Caldwell Beam Lifts Electricity Cable Reels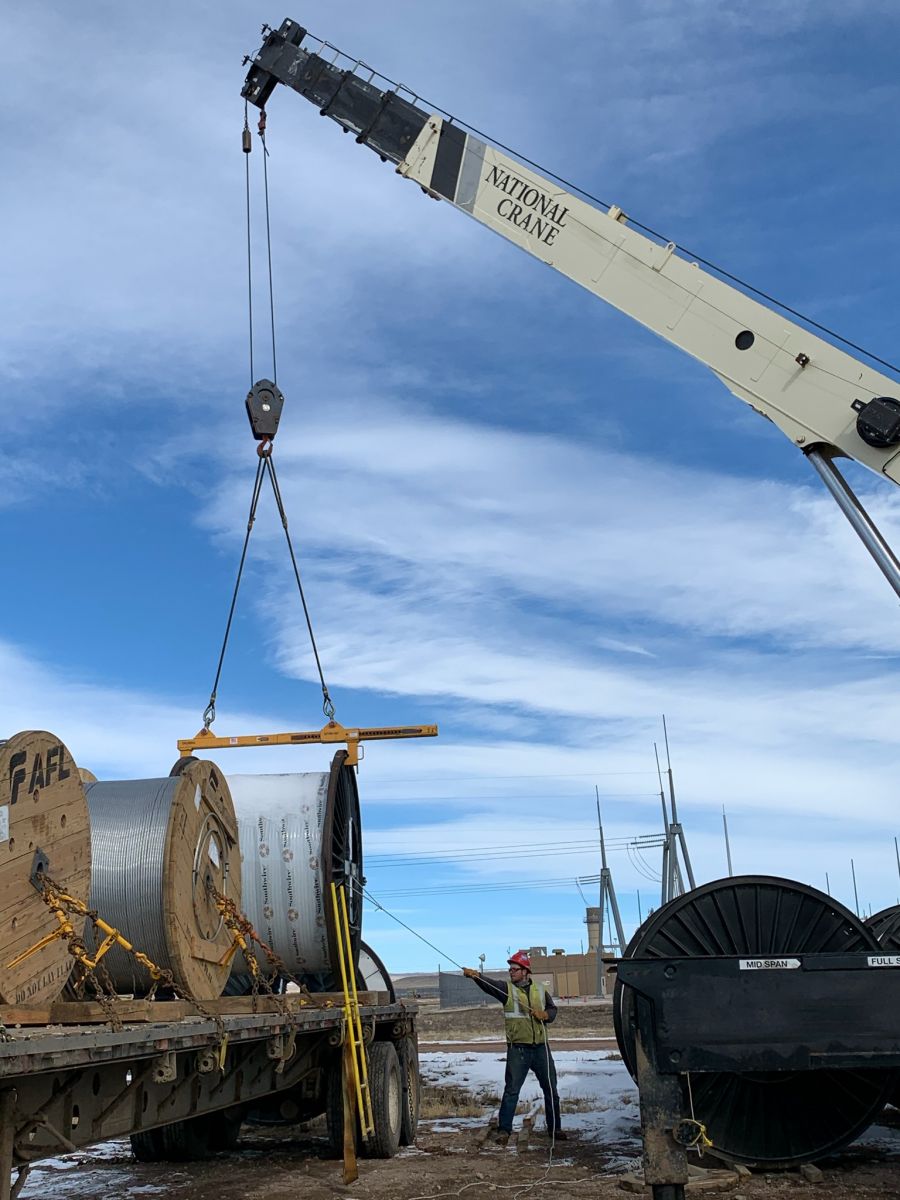 March 10, 2020 - A 26,000-lb. (13-ton) capacity custom lifting beam from Caldwell has been used to lift reels of electrical cable off flatbed trailers.
The adjustable beam, which spans 48" to 87", was recently delivered to a high voltage electrical transmission contractor by Caldwell distributor Western Sling. The provider of lifting and rigging equipment has facilities in Denver and Casper, Wyoming.
The end user was seeking a solution for repeated offload of reels of electrical line that arrive by semi-trailer, where the weight and dimensions can vary with each lift, depending on the type, size, and length of cable. The custom reel lifter met the specifications where a standard, fixed below-the-hook solution would have added time and complexity to each lift.
Joey Detrick, inside sales at Western Sling, said: "The bottom hook dimensions were the key here. Beyond the adjustability of the solution, we always enjoy providing Caldwell solutions because the products are backed by history, quality, and safety. Further, we know the equipment will be delivered with all the relevant paperwork needed to satisfy buying decision makers and supervisors at the modern-day jobsite."
In a recent case study (pictured), the beam was used beneath the hook of a National Crane boom truck. However, it can be rigged with any crane that suits the requirements of the site, reels, and specifics of the project. Detrick explained that in this instance, 28,000-lb. capacity, 10'-long wire rope slings were used at the recommended 45° angle to achieve the most efficient, safest lift. They were sourced from the Western Sling rigging store.
The beam and rigging configuration also saves the high voltage electrical transmission contractor time because only one rigger is required in addition to the crane operator. Detrick outlined the step-by-step rigging process. The crane hook lowers the wire rope slings that are already attached to the beam down to the reel. The rigger then utilizes the handle on the side of the adjustable portion of the beam and aligns it with a lip as it sets over the flange of the reel.
Detrick reported that this application is indicative of current trends that see a slowing of coal and oilfield work. He said: "Business remains steady because we are actively diversifying and moving into the electrical and wind farm sectors. Construction and re-power jobs are also driving demand; we continue to service oil and coal projects as the need arises."