Empire Tech Aces Crane Inspector Certification Course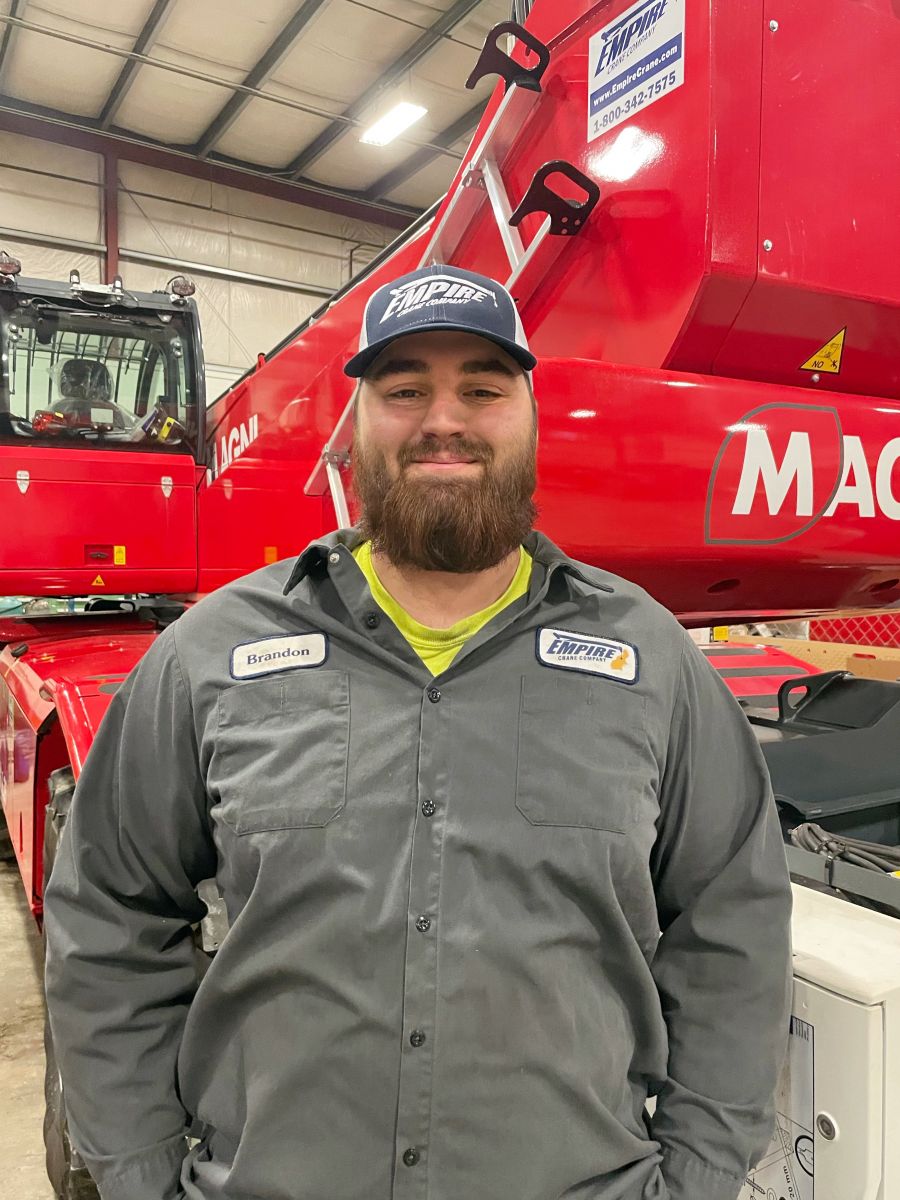 Feb. 17, 2022 - Empire Crane service technician Brandon Windey recently earned a perfect score in the Crane Institute of America's Mobile Crane Inspector Course.
Windey has been a crane service technician for almost two years at Empire.
No other technician has achieved a perfect score on the certification test in the Crane Institute program.
James Headley, president and CEO of Crane Institute of America, said, "The course has evolved over the years because of the changes in OSHA and ASME (American Society of Mechanical Engineers) getting more stringent, and because of the addition of safety devices and operational aids like load moment indicators. The average score on the test is in the eighties, and an eighty or above is needed to pass. "
Paul Lonergan, Empire Crane president, said, "Brandon is very attentive to detail, and that's what makes him a good technician. We always strive for perfection as a company, and to have one of our employees achieve a perfect score is something we're proud of. "
The four-day course is for companies performing in-house inspections, as well for as third-party inspectors who are looking to increase their knowledge and skill.
Course topics include:
Inspector's role in reducing crane accidents & liability exposure

OSHA and ASME inspection requirements

The three levels of inspection

Recognizing and understanding the differences between deficiencies and safety hazards

When to perform a non-destructive crack detection test

Basic rigging procedures

Performing load tests
"Brandon is a bright student who contributed a lot to the class. He's a hard worker, who takes his work very seriously and is very conscientious," Headley said.
Crane Institute of America provides management, operator, inspector, and train-the-trainer programs for these kinds of equipment: mobile cranes, overhead cranes, tower cranes, aerial lifts, forklifts, and rigging/signalperson.
Crane Institute's 5-acre facility near Orlando, Florida, accommodates hands-on training for mobile cranes, boom trucks, and rigging. In addition to training, Crane Institute offers support services and safety and training products which includes their acclaimed books - Mobile Cranes & Rigging handbooks. For more information, please visit: https://craneinstitute.com/