Felling Rolls Out Hauling Solution for Wide Undercarriage Construction Equipment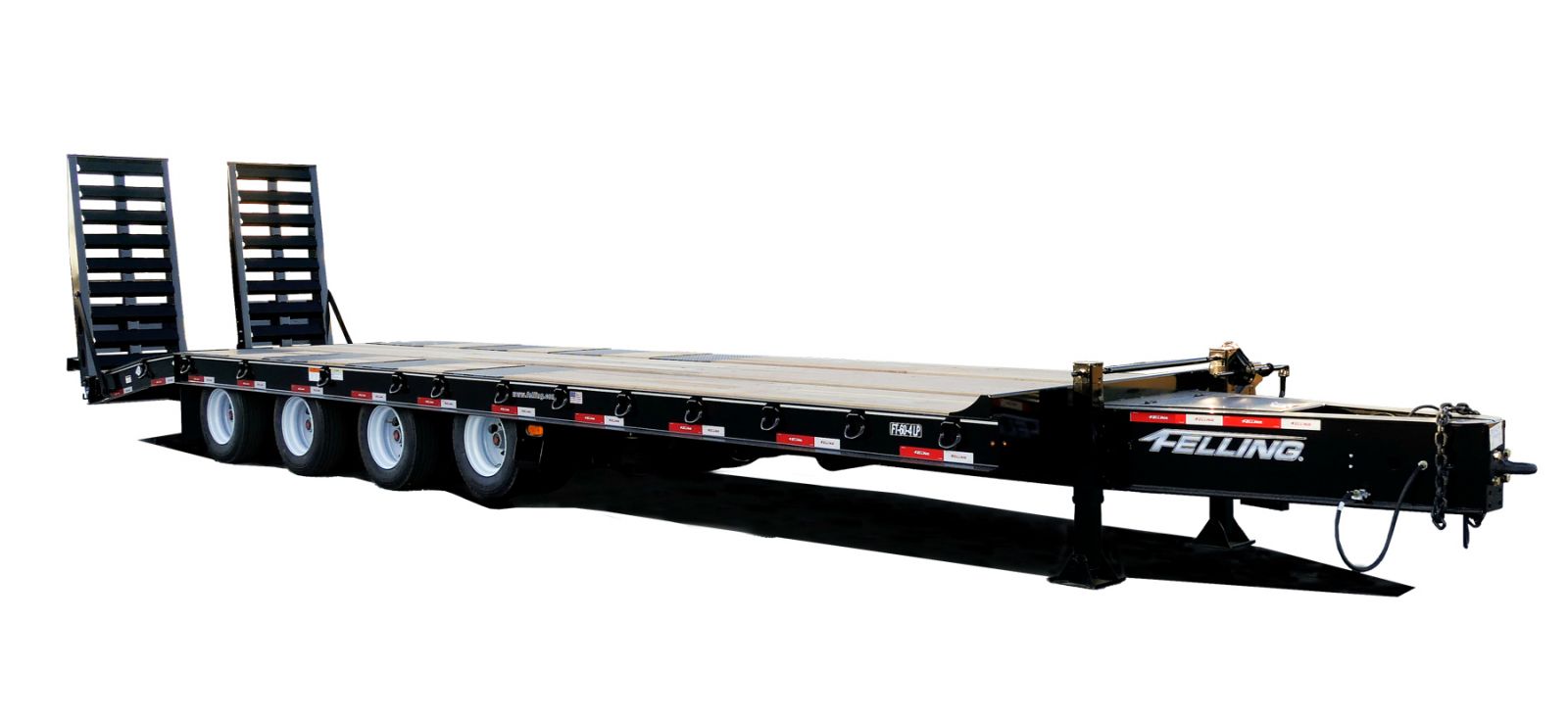 Jan. 16, 2023 - Felling Trailers Inc. has added Low Pro Heavy Duty (LP HD) models to its product line.
Wideset heavy construction equipment can be challenging to haul.

The equipment is typically oversized, heavy, and unique in shape.

The LP HD has been designed and engineered for transporting heavy wideset loads weighing up to 60,000 lbs.

"As equipment continues to get bigger and wider, how weight is distributed can make or break a trailer. Our LP HD series tag has been designed and engineered to accommodate equipment that has an 8'-8.5' wide track gauge (center to center of tracks), which will concentrate the machine's weight directly over the side rails, typically 10'+ overall width machines. This has been accomplished along with incorporating the standard features an operator wants and needs," said Nathan Uphus, Felling's sales manager.
The LP HD series currently consists of two models: the FT-50-3 LP HD triple axle 25-ton and the FT-60-4 LP HD quad axle 30-ton. Deck lengths for the triple axle are 24', 26', 28', and 30'. Deck lengths for the quad-axle are 28', 30', and 32'.

The Low Pro Heavy Duty (LP HD) series is constructed with a 10" structural channel full-length side rail (flanges out), Jr. I-Beam crossmembers 12" on center pierced through the heavy-duty, engineered, and fabricated 16" tall mainframe beams, and is standard with 1-3/8" apitong decking.
The LP HD design was driven by the needs of wide-set heavy loads, with the flange-out side rail construction it allows for optional outriggers to provide additional support and load distribution.

Apitong decking is an extremely durable wood, making it ideal for construction equipment applications.
The LP HDs are standard with a 6' long double incline beavertail providing 12° and 6° load angles, respectively.
The double incline feature eliminates the sharp break-over point, which substantially helps load/unload tracked equipment safely. The 6' double incline beavertail is constructed with 5" x 3" self-cleaning angles. The 6' x 20" ramps, like the beavertail, are built with a 5" x 3" self-cleaning angle, spring-assist construction, or optional air ramp configurations depending on the equipment/operator's needs.
Low Pro Heavy Duty Standard Specifications (triple & quad axle):
16" tall, fabricated Grade 80 main frame beams (stepped down in trunnion area)
0.5" thick main frame beam flange material
6" high tensile Jr I-beams Grade 80, spaced 12" on center
10" channel side rail (full length) rails turned out
Standard 1 3/8" thick apitong decking (white oak optional)
Standard 1" bent D-Rings – 16 on Triple, 20 on quad axle
235/75R17.5 J Tires and 25K heavy duty 3 leaf spring suspension
6' Double incline beavertail with 6' x 20" spring assist ramps
Optional 38" wide x 7' long air powered ramps (self-cleaning or wood or inlaid)
The photo shows an FT-60-4 LP HD with optional 7' x 38" air ramps and air ride first axle.