First Potain Igo T 99 Self-Erector in North America Goes to Bronson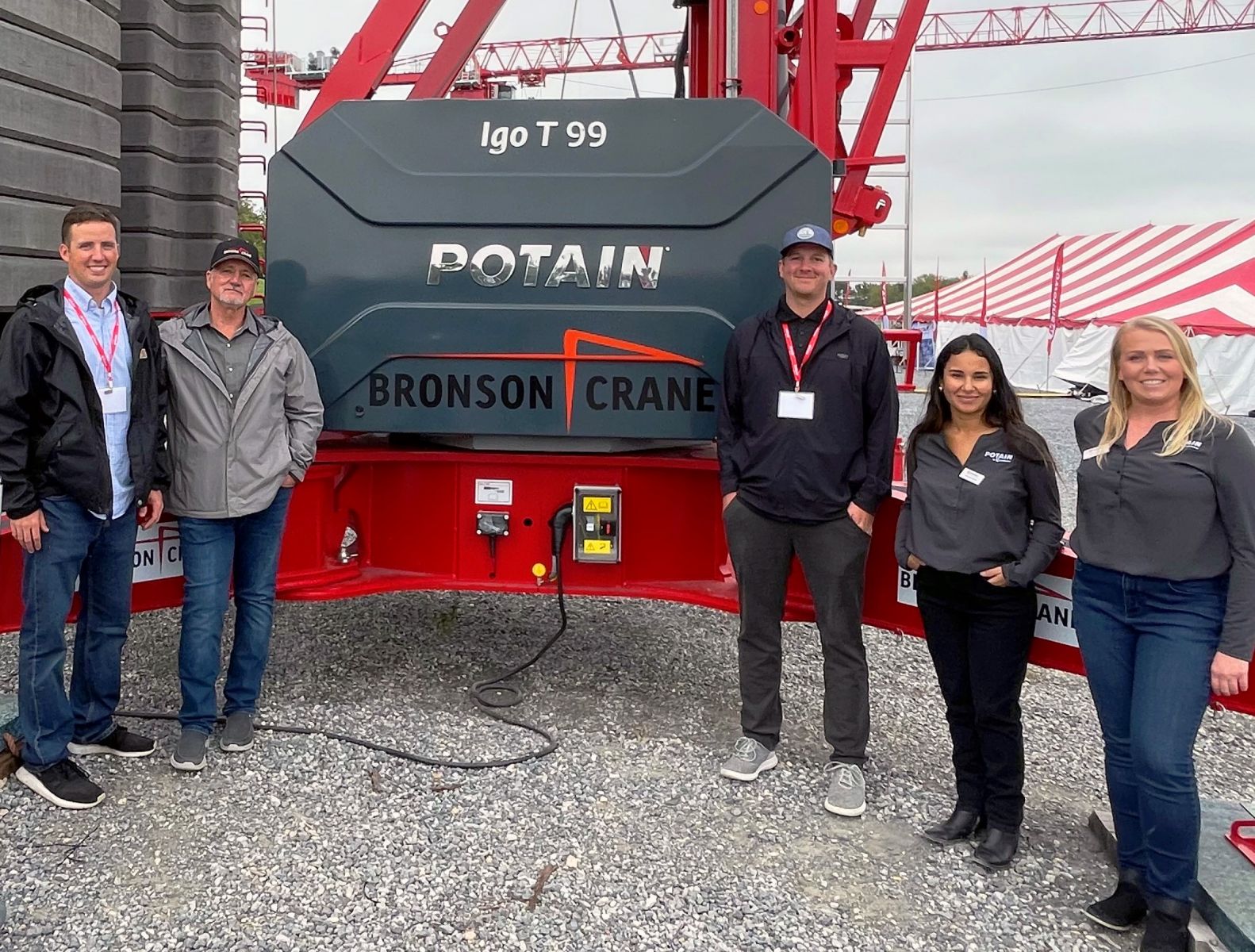 From left: Bronson Crane's manager Kevin Wagstaff, founder and operations manager Earl Bronson, and manager Judd Wagstaff; Manitowoc 's sales director for tower cranes in North America DaianeQuinlan, and Potain regional business manager Amy Marten.
Nov. 10, 2021 – Utah's Bronson Crane recently took delivery of the first Potain Igo T 99 self-erecting crane in North America.
The purchase underscores Bronson's reputation for being an early adopter of new Potain tower crane models. The company has been Potain's top self-erecting crane dealer in the U.S. since 2011.
Launched in June, the Igo T 99 expands Potain's self-erecting crane offering, with improved capacity and reach over previous models with the same compact footprint. It features a 6.6-USt maximum capacity and maximum reach of 157'.
Earl Bronson, founder of Bronson Crane, said, "We believe this crane will add to our fleet in significant ways. Many of our best customers have purchased our smaller Hup machines and are familiar with the technology. The Igo T 99 has most of the same technology as the Hup series, but with the performance of the industry-proven Igo T 85."
Bronson added, "The Igo T 99 will bring greater capacity and a larger radius, which are certain to help Utah construction move quickly and efficiently. We are grateful for our partnership with Manitowoc and the productive relationships we have built throughout the years."
Earl Bronson has built Bronson Crane from the ground up over the last two decades and has been largely responsible for promoting self-erecting cranes to the construction and masonry markets in the region. He will retire at the end of 2021, and current manager Judd Wagstaff will take over.
"We're excited for our next chapter in growing the Potain tower crane presence in Utah and the region," Wagstaff said.
Earlier this year, Bronson Crane was acquired by Wagstaff Crane. The two business joined forces and decades of accumulated experience to offer an expanded range of products and services.
"We're proud of the work Earl and his team at Bronson Crane have accomplished over the decades," said Daiane Quinlan, Manitowoc's sales director for tower cranes in North America. "We congratulate the company on the Igo T 99 purchase, and we wish Earl a happy and fulfilling retirement. His dedication to the business and to Potain have been nothing short of remarkable."