Goldhofer Expands North American Dealer Network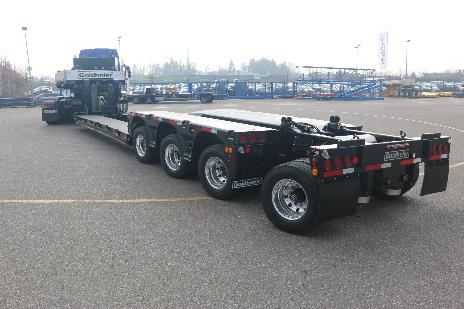 Sept. 15, 2021 - Goldhofer and its transportation solutions have moved even closer to its North American customers.
In addition to direct contact through Goldhofer Inc.'s US sales team, three dealerships are now in place for the company's multi-state highway transportation equipment. That includes the versatile, flexible semi-trailers in the STZ-V series, and the P9 and P12 PLUS highway models.
Goldhofer's new dealers include ILoca Services Inc., Aurora, Illinois; Lucky's Trailer Sales Inc., South Royalton, Vermont; and Pinnacle Trailer Sales Inc., Wilmington, North Carolina"We are delighted to have gained three stocking dealers with a proven track record. ILoca Services, Lucky's Trailer Sales and Pinnacle Trailer Sales are expanding their portfolios to include our highway trailers so that flexible and economical transportation solutions will now be available to their customers at even shorter notice," says Jerry Rothwell, sales manager at Goldhofer Inc.
In addition to contacting the team at Goldhofer Inc., transportation companies can now take the fast track to their closest dealer and purchase directly from the dealer in the relevant region.
ILoca Services, Inc.
ILoca Services, Inc. is headquartered in Aurora, Illinois, and has branch locations in Caledonia, Wisconsin, and Davenport, Iowa.
ILoca was established 30 years ago and has become a leader in the industry, offering sales of new and used equipment, equipment rental and leasing, a high-tech repair shop and an extensive parts store both at its brick-and-mortar locations and online. ILoca also has the distinction of being the only trailer repair shop in the state of Illinois to have a trailer rotator, allowing its factory certified technicians to create more thorough, accurate welds. "ILoca is proud to partner with Goldhofer to increase our extensive trailer offerings. The addition of Goldhofer's highway trailers will be a great benefit to our customers. We are also pleased to be able to offer a full line of Goldhofer parts," says Dan Thompson, president and CEO of ILoca Services, Inc.
Lucky's Trailer Sales Inc.
As a recognized specialist and experienced partner, the 35-year-old family-owned and operated business advises and supports transportation companies in New England in all matters relating to effective trailer solutions.
Since 2012, the full-service dealer has had an exclusive focus on trailers and semi-trailers, with the emphasis on the heavy haul industry. With their large service department, Lucky's Trailer Sales in South Royalton and Colchester deliver a fast response to customers' maintenance and servicing requirements so that their vehicles are soon back on the road.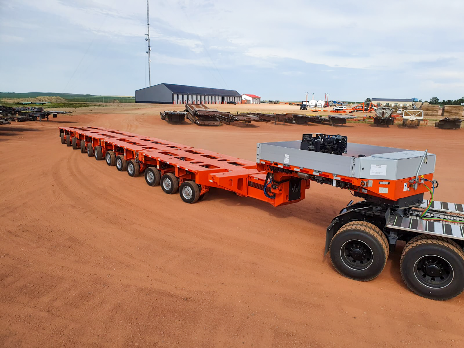 "We are always willing to go the extra mile for our customers. This makes us pleased to be able to add Goldhofer semi-trailers to our portfolio and offer our customers trailers combining flexible operation and long service life with excellent economical solutions," says the company's founder Russell "Lucky" Dimmick Jr.
Pinnacle Trailer Sales Inc.
For transportation and construction companies in North and South Carolina and next year in Virginia, the Wilmington, NC-based trailer vendor offers a wide range of transportation solutions that now include Goldhofer highway trailers.
At the company's headquarters and branch locations, employees with long years of experience in sales and service have a reputation for finding the best trailer solution in the individual case and ensuring prompt handling of maintenance and repair jobs. Each of the locations has its own service and repair facilities to get the trailers back on the road as soon as possible. In addition, the company maintains a huge stock of parts to ensure availability within one day.
"With Goldhofer's highway transportation solutions, we can now offer our customers even more advantages when it comes to moving loads from A to B quickly, flexibly and above all more economically," says Brett Tanner, president of Pinnacle Trailer Sales Inc.
Made for North America
With regard to the dedicated Goldhofer portfolio, Stefan Kohler, Director of Sales North America, says: "The STZ-VL, P9 and P12 Plus vehicles available from our new dealers meet the requirements of the North American transportation market and facilitate multi-state transportation operations."
The STZ-V series, for example, is designed primarily for fast loading and unloading of self-propelled machines, which can be driven onto the drop deck after removal of the hydraulic gooseneck. The drop deck also makes the trailer ideal for transporting high and heavy unit loads over long distances. Plus a flip axle is available for extra versatility and the flexibility to handle jobs on routes that cross state lines.
Goldhofer's P9 and P12 PLUS semi-trailers have been developed exclusively for the North American market. The P9 comes with 3 tridem axle groups with pendular axle technology and offers impressive maneuverability despite its impressive loading deck (up to 90.3 feet). Narrow roads with sharp curves can be handled just as easily as bumps, railroad crossings and potholes. The spacing between the axle groups can also be adjusted to ensure compliance with regulations as state lines are crossed.
"With the new P12 PLUS, Goldhofer offers a game-changing vehicle combination for the North American market that can be individually configured for a wide range of transportation jobs," says Jeff Bennett, Sales Manager at Goldhofer Inc. and he adds: "In a few simple steps using just a few accessories, the basic 12-axle version can be configured for various combinations – semi lowloader, drawbar combination, steerable dolly – e.g. for transporting extremely long concrete beams."
With its impressive flexibility, the P12 PLUS enables heavy haul companies to maximize their transportation portfolios and achieve a big PLUS in terms of transportation operations.
Local: Close to Customers
Through cooperative ventures, partnerships and its own facility, Goldhofer has had a presence on the North American continent for decades. Goldhofer's American affiliate Goldhofer Inc. and its subsidiary Flite Line, LLC, have their own headquarters in Miramar (Florida). Training courses are held there, and vehicles handed over to their new owners. There is also a workshop for repairs and maintenance work, and an on-site inventory of typical wear and spare parts guarantees the fastest possible deliveries in North America.