Grove GRT655's Helps on Riverwalk Project in Philadelphia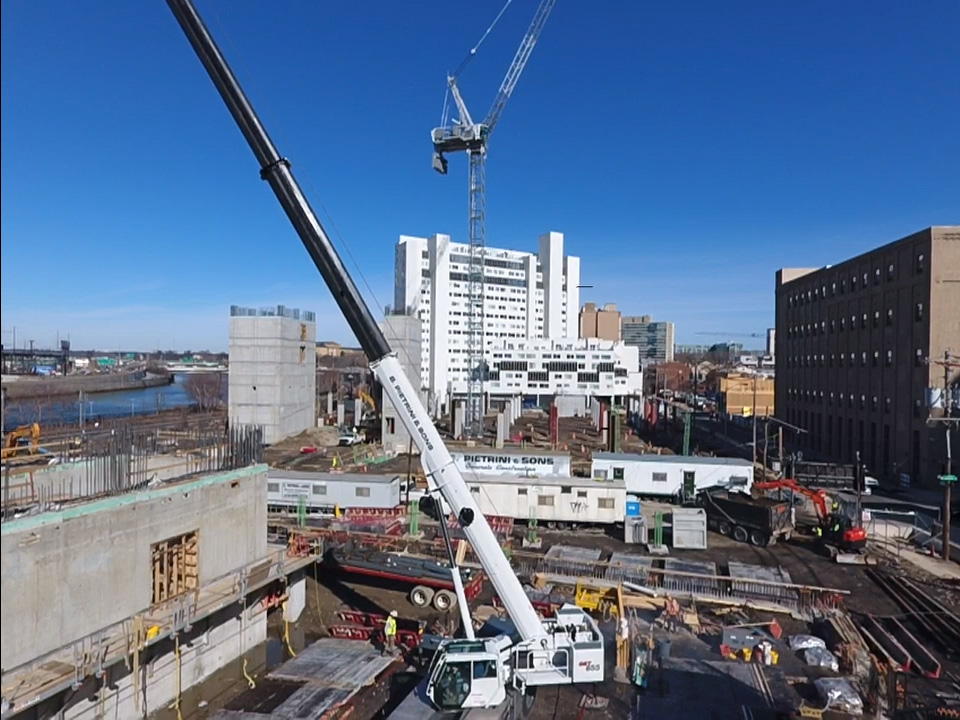 July 10, 2019 - B. Pietrini and Sons, based in King of Prussia, Pennsylvania, added a Grove GRT655 to its fleet to complete the Riverwalk Project in Philadelphia. The rough terrain crane is helping build the first few levels of a 28-story and a 32-story residential building. The GRT655 will be onsite through the completion of the first four floors of the two buildings.
Fran Pietrini, CEO of B. Pietrini and Sons, said that the compact footprint of the crane along with its maneuverability would enable the company to deploy the GRT655 on this and other jobsites in the future. He explained that the GRT655's compact size was a big selling point compared to other cranes in the class. Even with the outriggers fully extended, the compact footprint ensures that the crane can operate on narrow sites.

The small footprint wasn't the only selling point of the GRT655. "The crane operators love the tilt cab," Pietrini said. "It's a lot more comfortable and the 20° tilt enables them to see exactly where they are placing loads, especially when the boom is at a high angle, which helps improve our jobsite visibility."

The concrete construction company uses the crane to assist with the form work and set the reinforcing steel. It also utilizes the crane to lift the cement bucket to exactly where it is needed, making the jobsite more efficient. The GRT655 features a 114' boom and a 55 U.S. ton lifting capacity.

While the GRT655 will help build the base of the two buildings, B. Pietrini and Sons is deploying its Potain MR 608 luffing jib tower crane to help complete the upper levels of the two structures.

Pietrini credited Darin D'Ascanio, a sales representative with Stephenson Equipment Inc., Pennsylvania's Grove, Manitowoc, National Crane, and Potain dealer, with helping them purchase the crane for its fleet.

The project kicked off around October 2018 and is expected to be complete in 2020.