Grove's new GMK4090 all-terrain crane makes North American debut at Crane Days 2018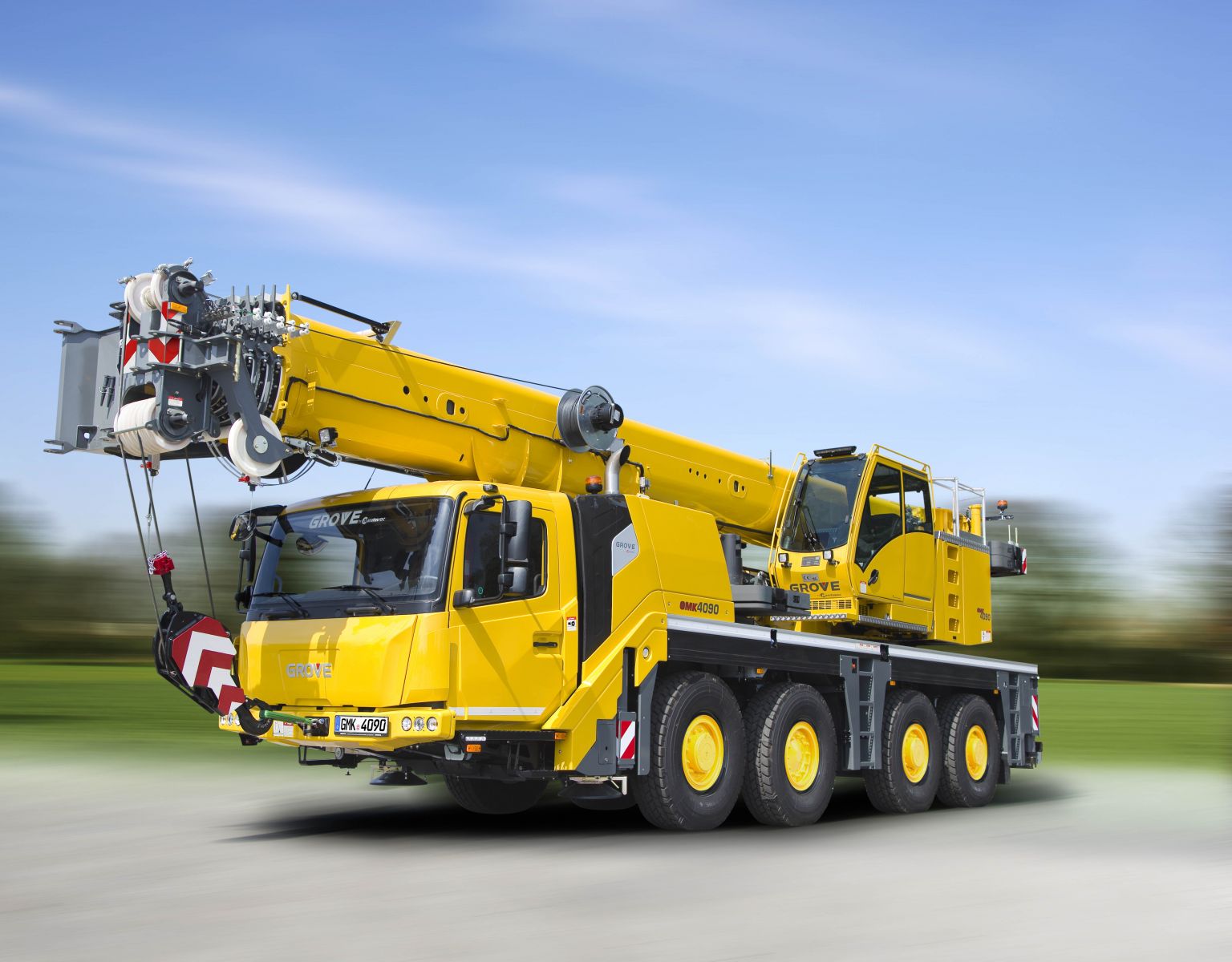 Groves New GMK4090
June 13, 2018 - Visitors to Manitowoc's Crane Days 2018 event are the first in North America to see the new, best-in-class Grove GMK4090 all-terrain crane. It's one of several cranes debuting at the Crane Days event, which highlights the innovation and velocity that comes with following The Manitowoc Way, and has resulted in several new crane models for 2018.
The new GMK4090 taxi crane features a modern, compact design that puts an emphasis on roadability and maneuverability. Manitowoc designed the crane using extensive Voice of Customer (VOC) research, which revealed demand for a lightweight, flexible taxi crane in the 90 t (100 USt) capacity class.
"The GMK4090 has been designed with flexibility and maneuverability as main focuses in accordance with our customers' needs," said Andreas Cremer, global product director of Grove all-terrain cranes. "With its best-in-class taxi load chart and compact footprint, this crane will be ideal for a variety of applications. Various counterweight options also give it versatility in roading, which can increase efficiency and return on investment for many owners."
The GMK4090 offers a 51 m (167 ft), six-section MEGAFORM boom that utilizes Grove's TWIN-LOCK pinning system. Boosting its overall reach is a 15 m (49 ft) bi-fold swing-away jib that can be extended with a 6 m (20 ft) boom extension for a total jib length of 21 m (69 ft). It can travel with a maximum 18.3 t (20.2 USt) counterweight, and within 12 t (13 USt) per axle, it can transport up to 9.1 t (10 USt) to the job site without the need for an additional transport truck. This feature enables high capacity while keeping transport costs low. Also, the distance between the front and rear axle groups was extended beyond the 2.4 m (8 ft) minimum requirement for U.S. bridge laws. This simplifies roading permits, making the Grove GMK4090 the ideal taxi crane.
The crane features compact dimensions, with a narrow width of 2.55 m (8.4 ft), so it can easily access and maneuver within the tightest of job sites. It has a minimum tail swing of only 3.5 m (11.6 ft), so it stays within the maximum outrigger width, unlike other cranes in this segment that require extended tail-swing clearance. The GMK4090 also offers the new MAXbase feature as an option—this variable outrigger setting gives the crane more setup flexibility on the job site, especially when erecting it on irregular job site grounds. MAXbase also offers greater capacity when compared with the 360° standard load chart.
The GMK4090 features Manitowoc's Crane Control System (CCS), an easy-to-use operating interface that has now been standardized across the company's crane offerings and is featured on every new model.
"When considering a new addition to our popular taxi crane line, we had to ensure that the GMK4090 would be extremely versatile in travel, set up and lifting options," Cremer explained. "This is The Manitowoc Way in action, and the result is a new crane that should help crane owners increase efficiency and utilization in their fleets."
North American customers looking to expand their taxi fleets now have more options than ever, with three innovation-packed GMK models to choose from. Manitowoc is also showing the 150 t (175 USt) GMK5150L and the 250 t (300 USt) GMK5250L at Crane Days to reinforce the point. Much like the GMK4090, these all-terrain cranes were brought to market with the velocity put forth by The Manitowoc Way.