Guay Takes Canada's First Two Liebherr LTM 1110-5.1 Cranes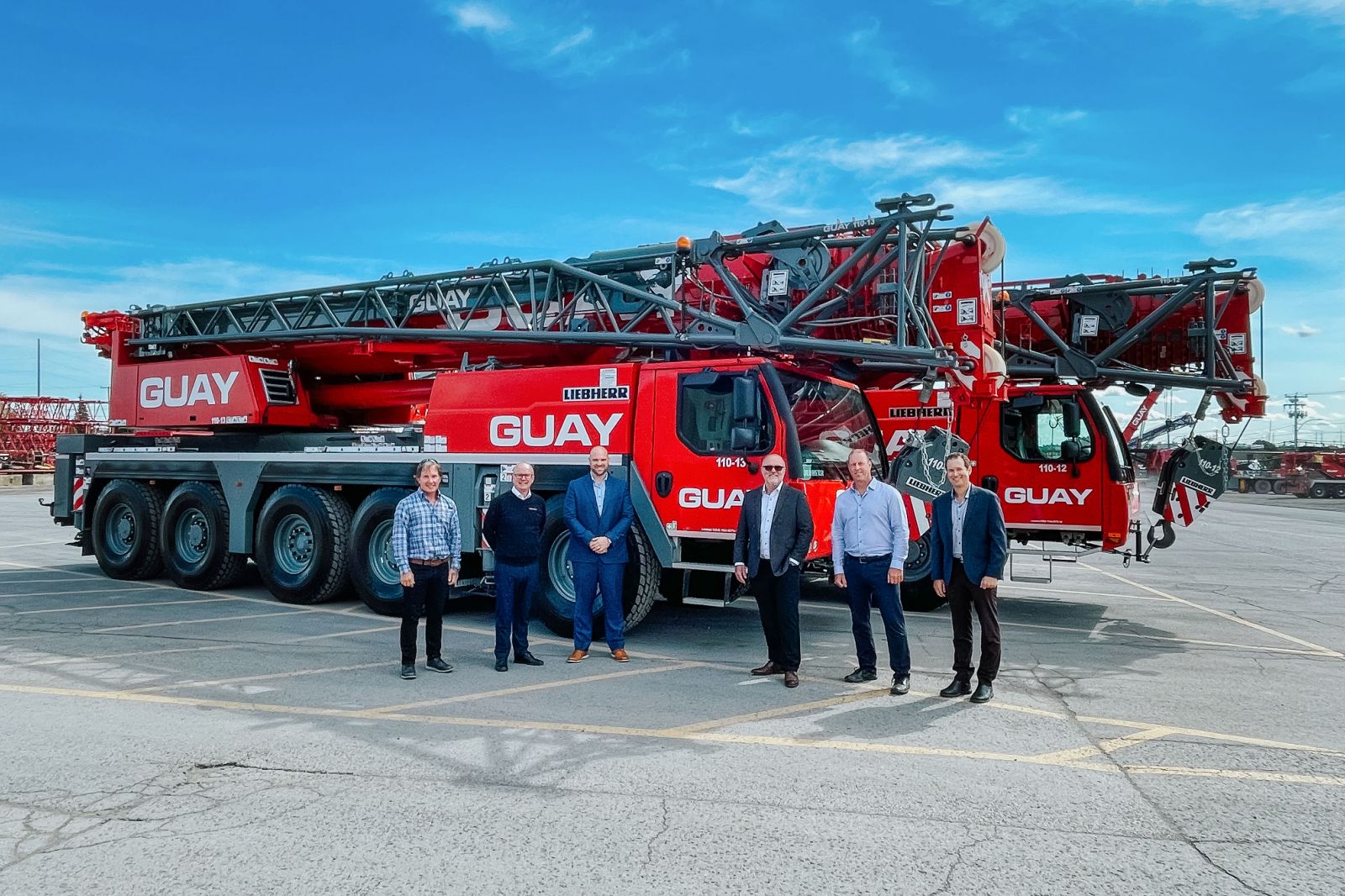 Nov. 10, 2021 - Crane and heavy-haul contractor Guay Inc. has taken delivery of two Liebherr LTM 1110-5.1 cranes.
They are the first cranes of this model in Canada.
The 197' telescopic boom and high lifting capacities of the 125-USt crane were important criteria behind the Québec company's buying of the cranes.
The new cranes replace aging 135-USt cranes in Guay's fleet, which comprises more than 500 cranes of different types.
The Liebherr LTM 1110-5.1 has some features that are perfect for the Quebec.
"In our market, a 125-USt crane is the largest mobile crane in which an apprentice can work as the second man in the crane alongside the operator," said Guillaume Gagnon, vice president at Guay. "In addition, the axle loads and weight distribution of the LTM 1110-5.1 are absolutely perfect, so we don't have to use a boom dolly."
A long boom system and high lifting capacities were also reasons for Guay to make the purchase. "We can cover a similar range of work with the LTM 1110-5.1 as with our 135-USt crane, and the LTM 1110-5.1's main boom is 197' long, which is normally one that only larger cranes can match," said Guillaume. "Its 125-USt capacity makes this the perfect crane for us to recruit new apprentices for our team."
Guay is planning to use the new crane, among other things, in the center of Montreal for hoisting work involving great heights and ranges. With the VarioBasePlus variable supporting base, it can be used on sites where space is limited. VarioBasePlus not only generates greater safety levels, but also allows higher lifting capacities, particularly when working above the outriggers.
The LTM 1110-5.1 in Figures
The LTM 1110-5.1 achieves axle loads of 26,400 lbs. with 29,500 lbs. of ballast, but can also be driven with a gross weight of less than 105,800 lbs. with a maximum axle load of 22,000 lbs.
Even with maximum ballast of 63,900 lbs., its axle load remains below 35,300 lbs.
A quick-change system for the ballast slabs ensures maximum flexibility for changing the crane's setup. Although the new LTM 1110-5.1 is so light that it can travel at a gross weight of 105,800 lbs., its 197' telescopic boom and maximum ballast of just 63,900 lbs. enable it to rival the performance of similar mobile cranes.
The telescopic boom on the LTM 1110- 5.1 is one of the longest in its crane class. In addition, it can be supplied with a 35' to 62' folding jib. Two 23' lattice sections can also be installed to reach the same system length as larger cranes.