Heaton Erecting Takes First Grove GMK6400-1 in North America
Dec. 11, 2022 – Heaton Erecting, Atlanta, Georgia, owns the first Grove GMK6400-1 all-terrain crane in North America.
Bought from Manitowoc dealer Ring Power Crane, the new 450-USt capacity six-axle all-terrain crane is the latest addition to Heaton's growing fleet of Grove cranes.
"A lot of the work we do is building data centers, and the GMK6400-1 will be a great fit with that type of mechanical work," said Billy Hancock Jr., vice president at Heaton Erecting. "We'll be installing 72 cooling units on the roof of one data center soon, as well as providing a hook for pipes, lights, and other components. This crane will also give us the ability to assist in the assembly and disassembly of tower cranes across Atlanta."
Grove says the GMK6400-1 outperforms its competitors in every important measure. It delivers a maximum jib-tip height of 448' yet can travel at just 9.8' wide and 57.5' long with a boom overhang of 5.9'. That makes it an ideal fit for bridge construction, wind farm work, and other energy and infrastructure applications.
Heaton ordered the crane with the optional, self-rigging MegaWingLift attachment, which can increase lift capacity on the 197' five-section main boom by up to 70% — for example, from 84,000 lbs. to 141,000 lbs. at a 40' radius.
The MegaWingLift attachment also boosts the lifting capacity of the 82'-259.2' luffing jib by up to 400%, positioning Heaton to take on jobs that would usually require a much larger crane.
As the successor to the GMK6400, the new GMK6400-1 makes operation even easier, thanks to Manitowoc's Crane Control System (CCS).
"With the MegaWingLift, the luffing jib, and the combinations that we'll be using the most, the GMK 6400-1 will give us a huge competitive advantage," Hancock said. "Just look at how great its load chart is, even compared with seven-axle cranes!"
Hancock added, "Another reason it's such a good fit for us is the crane control system. We have a large GMK fleet, so our operators and mechanics are very knowledgeable in using CCS for optimum results. So, whenever manpower is low, we can reposition operators and they're immediately comfortable with it. We're also expecting to reduce our assembly time even further so that we're quickly in and out of the job site."
One tool to enable this quicker setup is Maxbase variable outrigger positioning. It lets outriggers be extended in a symmetric or asymmetric lengths when obstacles prevent full extension.
The system works in conjunction with Boom Configurator mode to achieve longer working radii and higher main-boom capacities in less-than-ideal environments.
Smooth Drive
Heaton's fleet of mobile cranes includes GMK5250L, GMK5240, and GMK5150L all-terrains, TMS9000E and TMS800 truck cranes, and a National Crane NBT45 boom truck.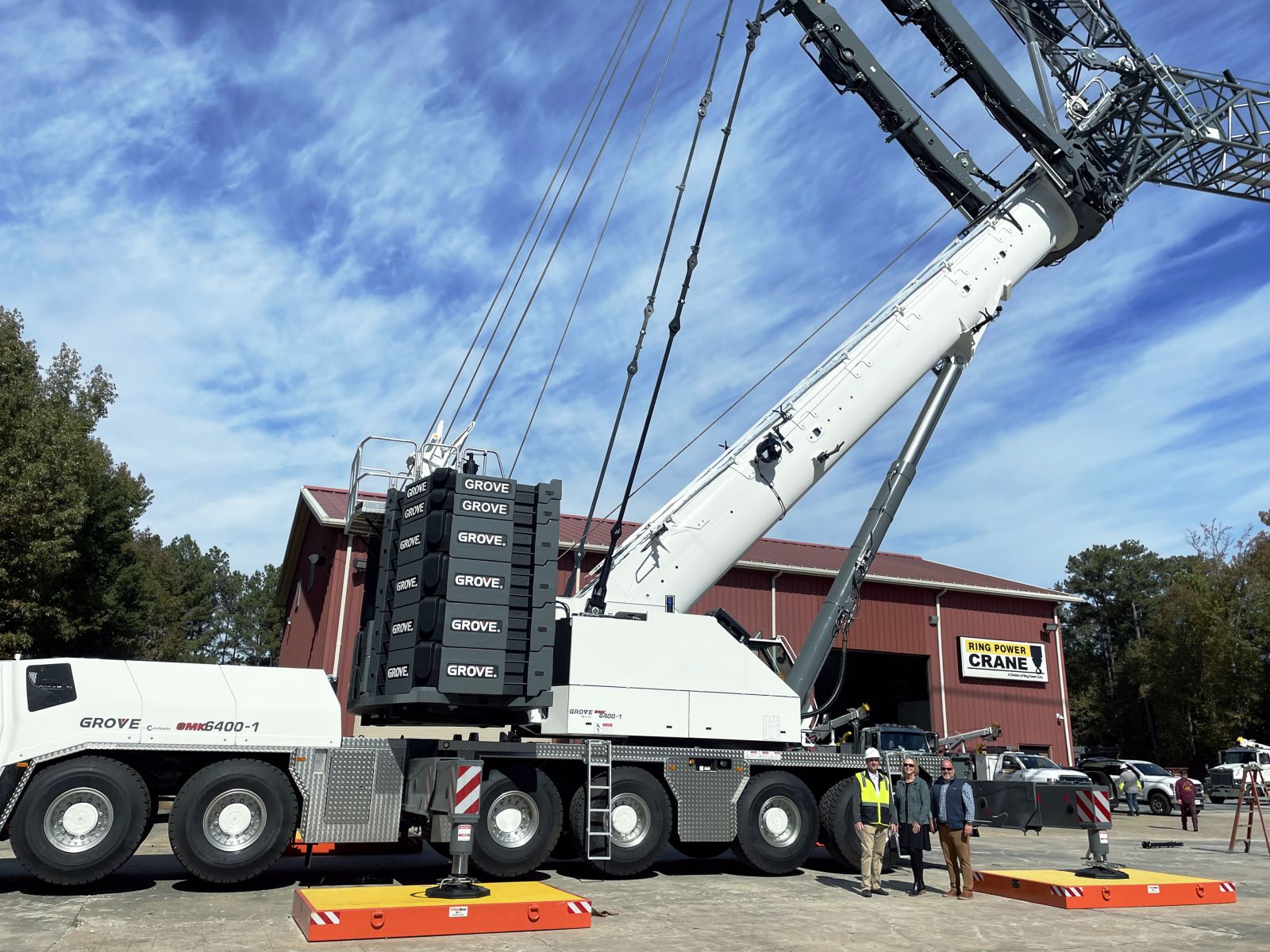 "Over the years, we've transitioned to become more of a taxi fleet relying on our all-terrain cranes," said Hancock. "Now that every job seems to require more and more capacity, it's always best to have the largest-possible roadable crane. We can legally drive this with the boom trailing behind in a three-axle dolly, but without the need for another crane assisting assembly on the job site."
The crane's 577 hp Tier 4 Final/Stage V Mercedes-Benz OM473LA engine, 12-speed ZF transmission, and MegaTrak suspension with automatic leveling system, make it a smooth on-road drive.
At a job site, its MegaDrive 12x8x12 hybrid driveline, with axles 4 and 5 driven hydrostatically, assumes control for easy and precise positioning.
When the GMK6400-1 was delivered, Manitowoc engineers trained Heaton Erecting and Ring Power on site.
Ring Power and Heaton have forged a close relationship since 2009. "We are very excited about the impact the new GroveGMK6400-1 will make in our territory," said Andrew Kurz, vice president of sales - utility, crane, and truck divisions at Ring Power. "Our team is extremely fortunate and proud to partner with Heaton and Manitowoc to bring this impressive crane to our market."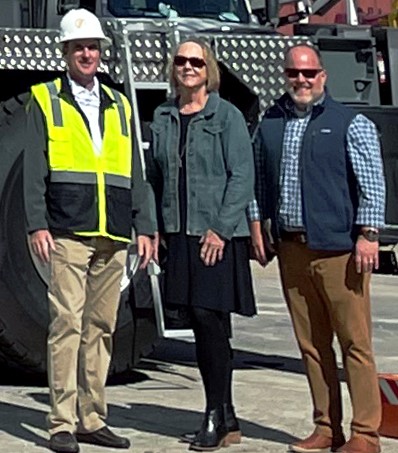 From left: Grant Larlee, Georgia and South Carolina account manager, Ring Power Crane; Carol Heaton, president and CEO, Heaton Erecting; Billy Hancock Jr., vice president and general manager, Heaton Erecting.
Hancock echoed Ring Power's sentiment. "Being able to build such strong relationships with our partners and customers is what keeps us in our unique position after 56 years in the industry," he said. "I've always been very impressed with Ring Power, especially their support on the service side."
Hancock added, "They recently sold us our GMK5250L, which we bought to take some of the workload off our GMK5240. It didn't though — it just brought in more work, which was great! So, we're extremely excited to see what our newest Grove has to offer."
The GMK6400-1 is available for order worldwide.