Hiab Launches the MOFFETT M5 NX Truck Mounted Forklift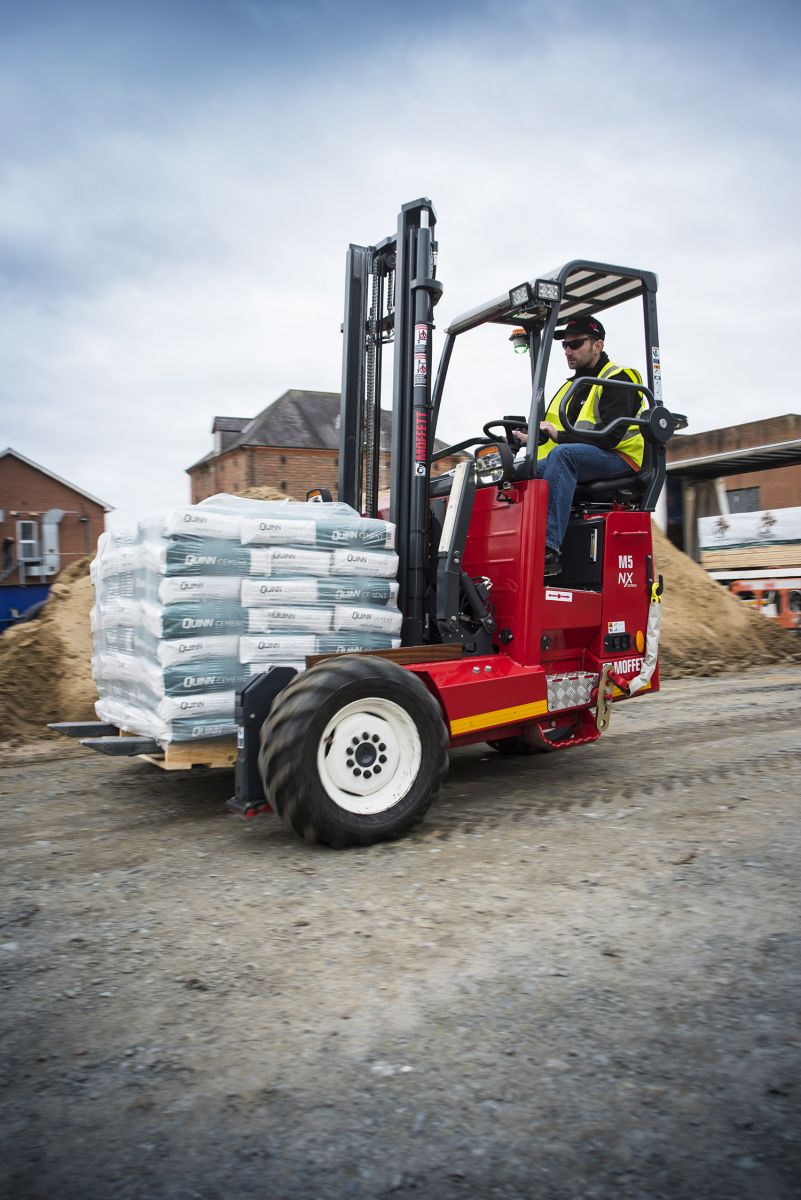 April 18, 2018 - Hiab, part of Cargotec, is launching the new MOFFETT M5 NX truck mounted forklift - the latest model in its exciting NX series of next-generation machines - at the Commercial Vehicle Show in Birmingham, UK, on April 24-26, 2018.
The MOFFETT M5 NX is the ideal machine for medium to heavy-duty tasks, with an efficient power to weight ratio. "The M5 NX is the newest addition to our NX range of truck mounted forklifts, featuring improved operator safety and comfort, easier maintenance and enhanced styling, all combined with the great performance and trusted reliability that is expected from a MOFFETT," says Keith Quigley, Senior Vice President, Truck Mounted Forklifts, Hiab.
The M5 NX is light enough to be carried on almost any truck or trailer, yet it can lift up to 2,500kg, giving it a highly efficient power to weight ratio. It is available with the option of the Lift AssistTM system, enabling it to safely unload from one side, which gives it supreme flexibility in confined spaces and situations where a normal front-loading forklift simply could not operate. So, whether there is a need to unload in busy streets, congested urban environments, or simply on a building site, the M5 NX is capable of delivering a wide range of products, from building supplies and industrial gasses, to animal feeds and turf, quickly and safely.
"We constantly strive to improve our products, based on customer feedback, and we have developed some great new features for the M5 NX as a result," says Nigel Brook, Product Business Manager, Truck Mounted Forklifts, Hiab.
With MOFFETT, safety always comes first. "With Ground StartTM as standard, the operator can mount and dismount the machine from the ground, and the M5 NX can be dismounted from the truck in less than 60 seconds," continues Brook. "The bonnet has been redesigned to give extra visibility, and together with the new LED lights and beacon, interlocking seat belt, a larger enclosure, and new pedal positions, these features give maximum safety and comfort to the operator. And the redesigned bonnet and rear doors make access for daily maintenance checks incredibly easy and fast."
A wide range of options and attachments allow the M5 NX to be specifically customised to suit differing needs. They include varied lift heights, four-way steering, a choice of forks, and various tyre options.
MOFFETT offers a wide range of flexible maintenance solutions under the ProCareTM programme, ranging from scheduled preventative care, to full repair and maintenance-as-required contracts. Its global service network means that fully-trained MOFFETT technicians are always available to keep your equipment up and running using genuine MOFFETT parts, to ensure it retains the reliability and performance designed into it.
Packed with improvements both inside and out, the new MOFFETT NX series of truck mounted forklifts offers enhanced safety, durability, quality, and improved versatility and performance. They unload trucks quickly and safely, and enable operators to get the maximum payload on their vehicle. No matter what the application, there is a MOFFETT to meet every need.
To learn more about MOFFETT M5 NX visit the Commercial Vehicle Show in Birmingham, UK, on April 24-26, 2018 at Hiab stand 4D10.