Hill Crane & Rigging Uses Hydra-Slide System for Stacked Heat Exchanger Change-Out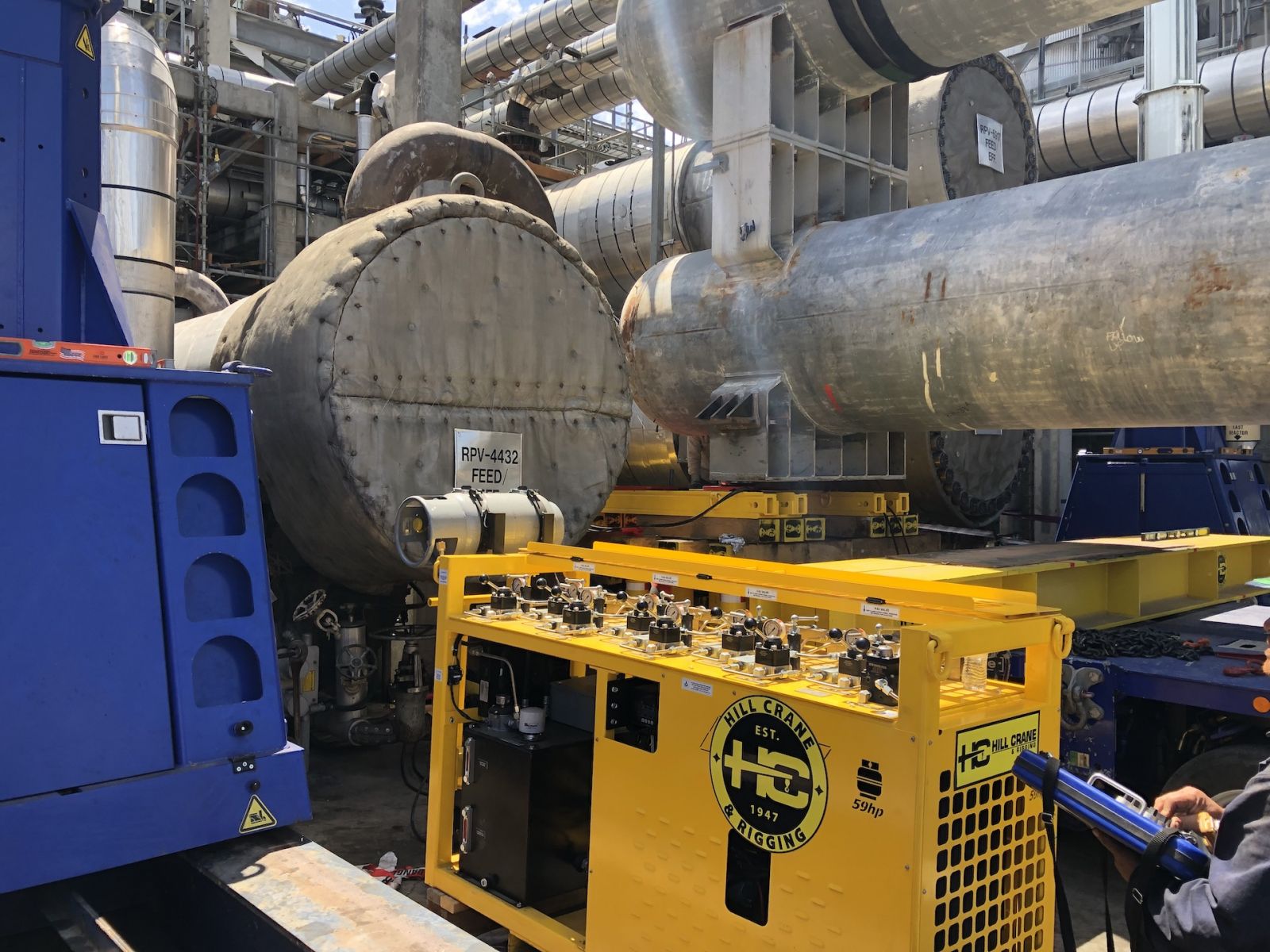 HCR utilized a 59-8-8P Hydra-Pac synchronous hydraulic power unit to operate the HT500 system.
August 29, 2019 - Hill Crane & Rigging (HCR) used a 500-U.S.-ton capacity heavy-track HT500 hydraulic skidding system from Hydra-Slide to change-out a stacked heat exchanger at a Carson refinery in its home state of California.
HCR accepted a scope of work that covered the emergency removal of a 260,000-lb. stacked heat exchanger and its replacement with a new 279,000-lb. unit. The principle complications were caused by major obstructions onsite, a tight schedule, and project delays inherited from other contractors. The HT500, engineered 100-ton capacity modular support stands, and Hydra-Pac synchronous hydraulic power unit — all from Hydra-Slide — were chosen alongside additional equipment from HCR's diverse fleet.
Hydra-Slide heavy track skidding systems are cost-effective and accurate for moving, loading, or unloading heavy loads where a rigid, load carrying track is required. The HT500 has a total height of only 8", saving jacking time and suiting the product for use in confined spaces. It is engineered for pushing 500 tons and pulling 250 tons with a standard double track layout.
Darren Scruggs, senior account manger at HCR, said, "The slide system was one of the major components of the heavily engineered concept that we pitched to the refinery. Without removing overhead structure beams, a jack-and-slide solution was the only viable option. We worked closely with Hydra-Slide to put together a robust proposal and upon winning the contract, we placed orders for the necessary equipment, which remains in our fleet."
The full scope of work included transportation of the old exchanger to its manufacturer, transportation of the new 27', 6" by 7', 6" by 15' exchanger to the refinery, and final installation in the same position as the original. HCR also employed a 500-ton capacity Enerpac gantry to load and offload the exchangers on a dual lane, eight-line trailer. The project took five days to complete and was delivered on schedule.
Michael Barry, general rigging superintendent at HCR, said, "The [existing] stacked exchanger was sitting on 4' high concrete pedestals; we used crib stacks and pipe stands to support the slide track at 4' elevation. We slid the exchangers a total of 29', 10" Throughout the preparation and execution of the project, Hydra-Slide remained available to take questions and provide application support, which was always delivered in a timely fashion."
Ron Hill, vice president at HCR, said, "We are planning to order additional Hydra-Slide products for upcoming projects. We are very pleased with our purchases, and the after-sales service and consultancy we continue to receive from the team."