Hold a Holiday Party in VR Conflux Virtual Meeting Platform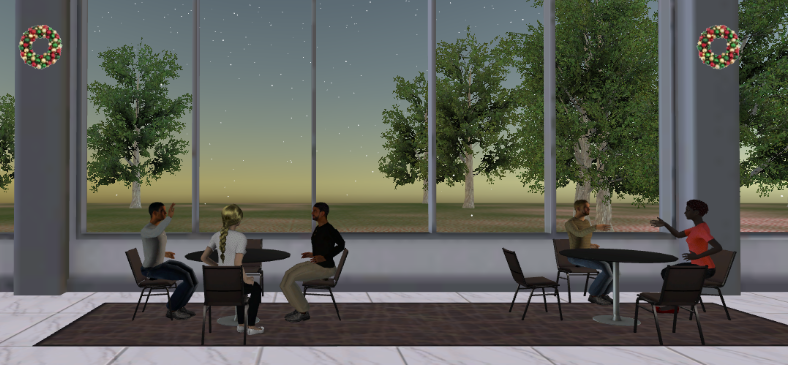 Dec. 2, 2020 – The new Holiday Party version of VR Conflux from A1A Software LLC, is a virtual meeting platform for large groups. It provides a unique experience for conferences, trade shows, and networking by letting attendees create personalized avatars, direct their avatar's movement, and speak to each other in the simulated environment.
VR Conflux-Holiday Party offers an interesting option for companies that won't be able to meet in person for their annual end-of-year celebrations.
"The experience is designed to enable more organic networking and socializing than is possible in a traditional tele-video conference format," said Tawnia Weiss, president of A1A Software.
Participants can either launch a computer desktop version or download the VR Conflux app from Google Play or Apple's App Store to launch on a phone or tablet. VR headsets are optional, not required. VR Conflux-Holiday Party is available for $10 per person, with a minimum total price of $500 plus customization.
Able to accommodate up to 150 guests per room, the virtual reality platform includes a gathering place for socializing where guests will mingle upon logging in. When dinner is ready, corporate meeting planners can choose a single large ballroom or multiple smaller dining rooms for more intimate conversation, divided by company department or business unit. Once guests enter the dining room(s), a video screen enables you to stream a live or pre-recorded message.
"Team-building is more important than ever. VR Conflux-Holiday Party gives employers a way to engage with employees who are separated by distance," said Weiss. "We are planning to use VR Conflux-Holiday Party for our own company gathering. For an added personal touch, we will be ordering meals to be delivered to our employees' homes so that when we sit down for our virtual holiday dinner, we will actually get to break bread together," said Weiss.
Just for fun, VR Conflux-Holiday Party also includes an outdoor setting where guests can have a cyber-simulated snowball fight after dinner.