Ideal Crane Rental Becomes NiftyLift Dealer, Adds Boom Lifts to Rental Fleet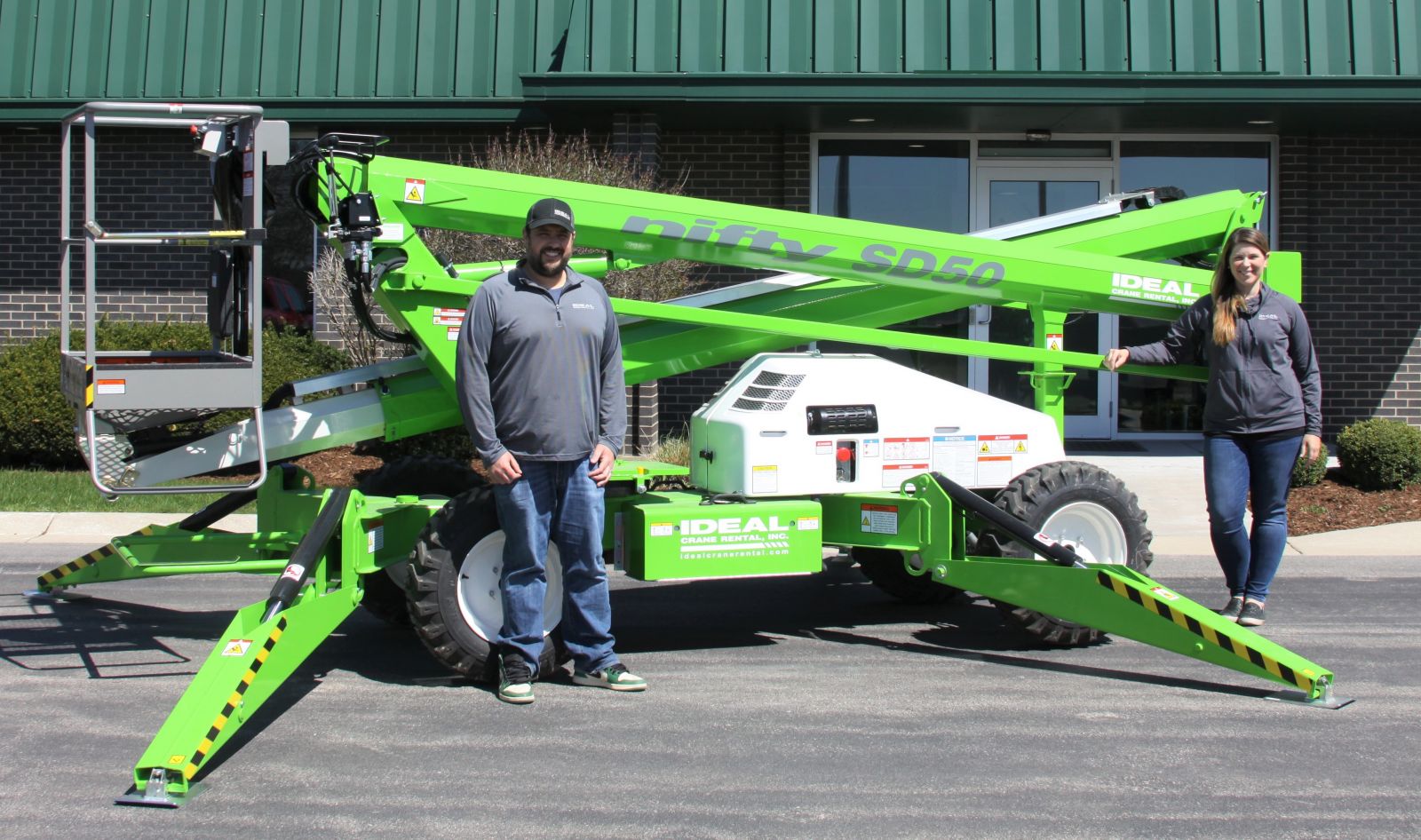 May 4, 2020 - Ideal Crane Rental Inc. now offers NiftyLift boom lifts as part of its fleet of rental equipment.
In addition to renting NiftyLift aerials, the family-owned equipment rental and lifting-services company headquartered in Madison, Wisconsin, has also become a NiftyLift dealer.
Ideal decided to take on NiftyLifts after seeing them at the 2020 American Rental Association trade show in February.
"We'd been thinking about NiftyLifts for some time. Looking them over at the ARA show and talking with NiftyLift Vice President of Sales Jon Hedlund, proved that they are as good as we expected," said Kristin Chose, Ideal's director of business.
"All of the major manufacturers of aerial lifts exhibited at the ARA show, so it was helpful to compare all the brands in one place at the same time," said Chose. "After reviewing their line with Jon, we decided to become a distributor and to add NiftyLift aerials to our rental fleet, too."
Ideal chose to start with the NiftyLift Model SD50, a self-propelled articulating boom lift that offers 50' maximum platform height, 500-lb. platform capacity, and 28'6" of horizontal outreach. Though the SD50 is self propelled for onsite travel, it can be towed to a jobsite by a standard pickup truck on a tandem-axle trailer. Stowed for transport, it measures 18'4" long, 6'11" high, 5'3" wide, and weighs 6,000 lbs.
"The SD50s we purchased are bi-energy, so they can run on their internal-combustion engine or their batteries," said Chose. "That optimizes utilization because they can work both outdoors and indoors. The bi-energy also improves sustainability."
Rough terrain tires and 4WD let users maneuver over a wide range of site conditions and climb a 30% grade, and the hydraulic outriggers make setup easy on uneven terrain.
"We also found the fully proportional hydraulic controls easy to use and maintain," said Chose. "Customers will benefit from this lift in several applications, from tree care, painting, and facility maintenance, to outdoor light maintenance, gutter installation, building restoration, and more."
Ideal Crane Rental Inc. offers an inventory of rental equipment that includes cranes, forklifts, scissor lifts, boom lifts, and attachments, all backed by sales, parts, service and trucking. In addition to its Madison headquarters, the company has offices in Milwaukee, Oshkosh, La Crosse, Green Bay, and Tomahawk, Wisconsin.