Imperial Crane Rescues Chicago Fire Truck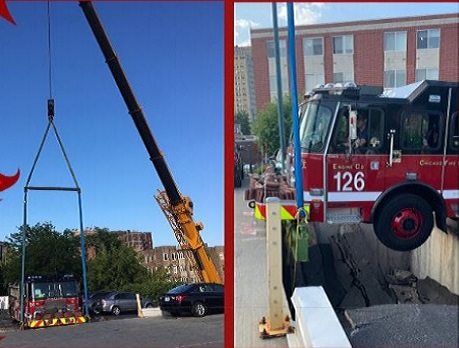 August 27, 2019 - Imperial Crane Services was called for an emergency job when a Chicago fire truck became trapped in a 2nd story parking garage when the floor beneath the vehicle collapsed. The engine's front bumper was the only thing holding the truck in place.
In order to begin the job, the Chicago Fire Department had to remove 500 gal. of water from the truck to ensure the floor wouldn't collapse any further. Due to the engine's remaining weight of 38,000 lbs., a crane was needed to lift the engine out of the hole.
After just a few short hours, the Imperial Crane team saved the city $500,000 by removing the engine, which was capable of driving to a repair shop for minor repairs. The team performed the job safely with no added injury to personnel or damage to surrounding property.