IMT Unveils its Largest Loader Crane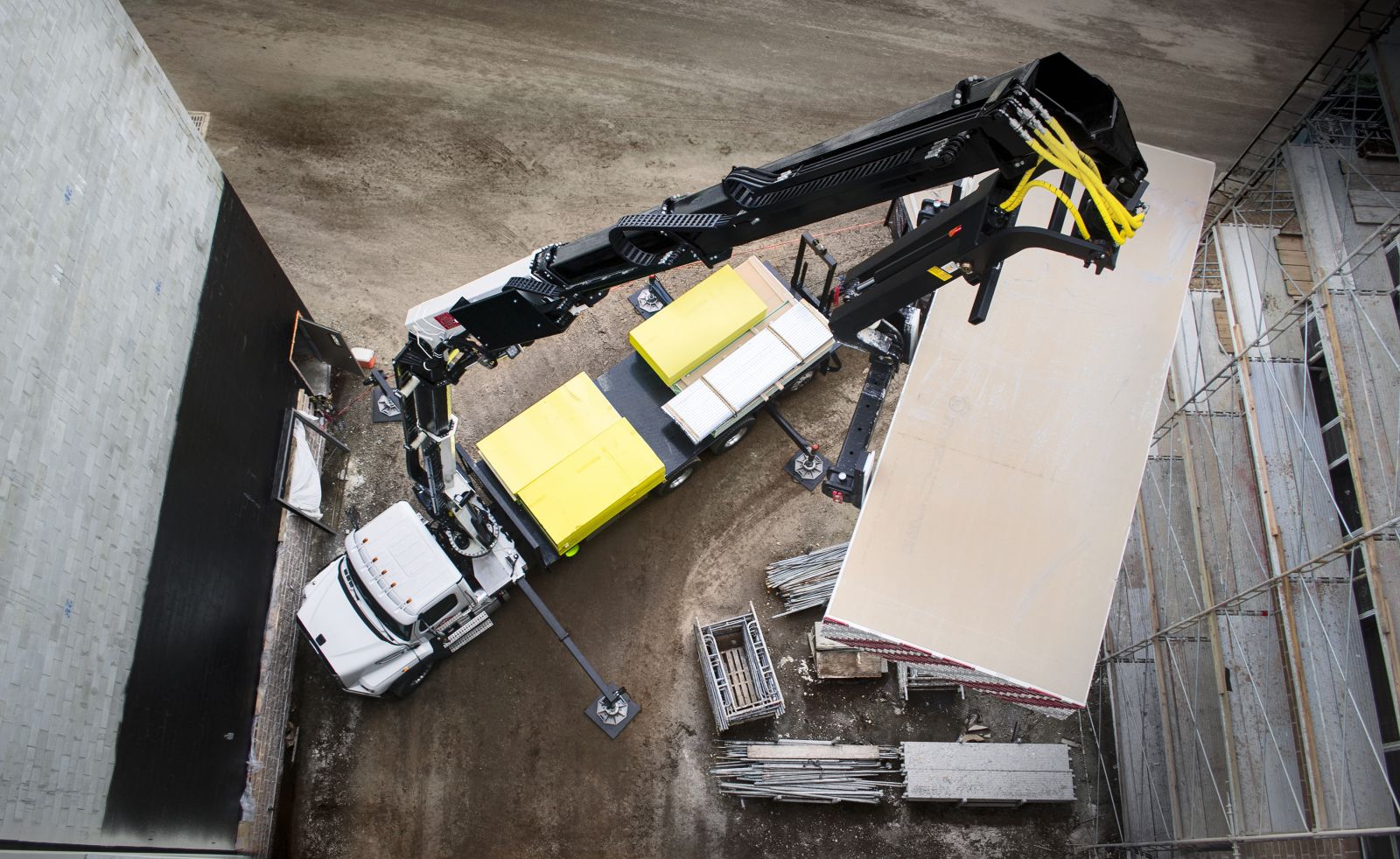 October 24, 2018 - Iowa Mold Tooling Co. Inc. (IMT), Garner, Iowa, has introduced its 42684 hydraulic loader.
Launched at the 2018 Gypsum Management Supply (GMS) Expo in Charlotte, North Carolina, the 42684 is the newest and largest addition to IMT's line of durable loader cranes.
"Our newest hydraulic loader crane offers customers another option for precise handling and expert maneuverability of palletized materials in the building supply construction industries," said John Field, product manager at IMT. "IMT designs our loaders to lift more, reach farther and last longer."
The 42684 features the highest rating in the IMT lineup at 305,580 foot-pounds. It has a maximum lifting capacity of 10,500 lbs., up to 84' of horizontal reach, and a maximum vertical reach of 95'.
Hydraulic out-and-down stabilizers provide excellent stability for loading and unloading palletized goods, while a high lift-to-weight ratio allows for maximum payload on the truck.
"At IMT, we're committed to helping our customers achieve improved productivity, profitability and efficiency with our products. The new 42684 provides the strength, reach and precision to quickly and easily load and unload materials," said Field. "The 42684 offers the longest and highest lift capacity of any IMT loader crane currently in the market."
IMT hydraulic loaders are manufactured with an Environmentally-Friendly Quality Coating (EQC) Surface Treatment that provides maximum resistance to impact and corrosion for improved lifetime productivity. The 42684 comes optional with an Electronic Vehicle Stability (EVS) system to increase the working area of the crane by calculating improved stability conditions and is backed by a three-year warranty on all IMT crane structural parts.
Additional features include:
Radio Remote with InfoCenter (standard), which features a two-line monochrome LED display for real-time loader conditions.

Progressive Crane Control (PCC) ensures smooth crane movement and improves operator efficiency.

Priority Flow Control (PFC) ensures maximum performance by optimizing crane movements during operation of multiple functions.

420° turntable with dual planetary gear drive

Standard oil cooler to extend hydraulic system longevity.