Kobelco Rolls Out 330-Ton Crawler Crane for North America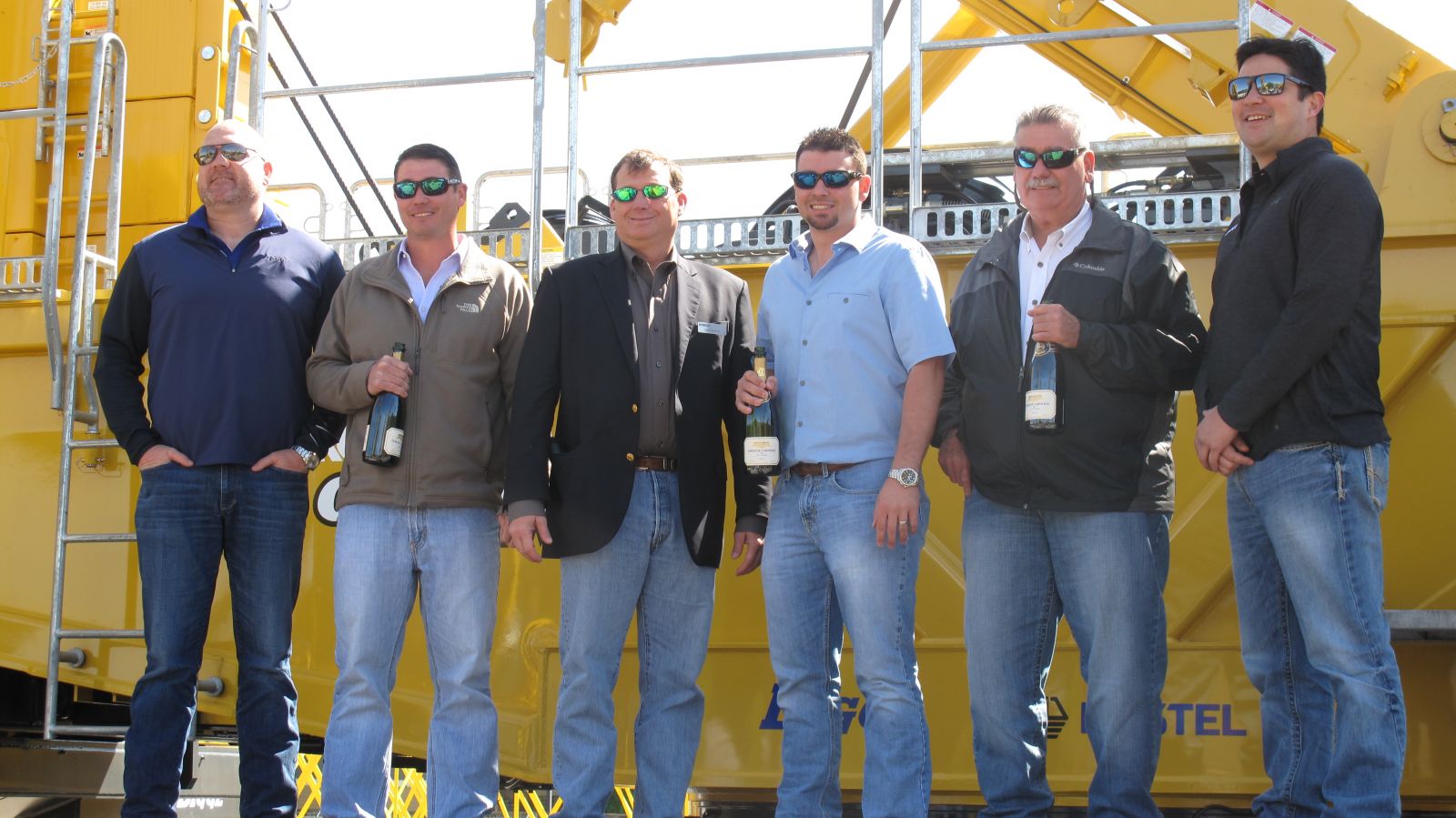 From left: Brian Noga (Bigge), Matt Postel (Postel), Jack Fendrick (Kobelco), Jeff Postel (Postel), Mike Postel (Postel), and Robert Apo (Bigge) celebrate. Enlarge Image
April 11, 2018 - Kobelco Construction Machinery USA has rolled out the first unit of its new CK3300G-2, a new lattice-boom crawler crane that offers 330-ton capacity and can be equipped with a fixed jib, heavy fixed jib, luffing jib, and heavy-lift or super-heavy-lift attachments.
Kobelco introduced the new model to customers last week at its facility in Houston, Texas. The first unit was on display. It was in the midst of pre-delivery preparation before being delivered to Postel, a steel fabrication, erection, and crane-and-rigging company headquartered in nearby Porter, Texas.
Representatives of Postel were on hand for the unveiling, as were representatives from Kobelco dealer Bigge Crane and Rigging Co., which sold the crane, and representatives from Kobelco's headquarters in Japan.
The CK3300G-2 is scheduled to shortly begin work on its first project, lifting concrete tilt wall panels in the Houston area.
Jack Fendrick, vice president of the crane division of Kobelco Construction Machinery, USA, said that the CK3300G-2 offers exceptional versatility, excellent lifting capacity, a comfortable operator cabin, Kobelco's typical built-in reliability, and easy transportation and assembly.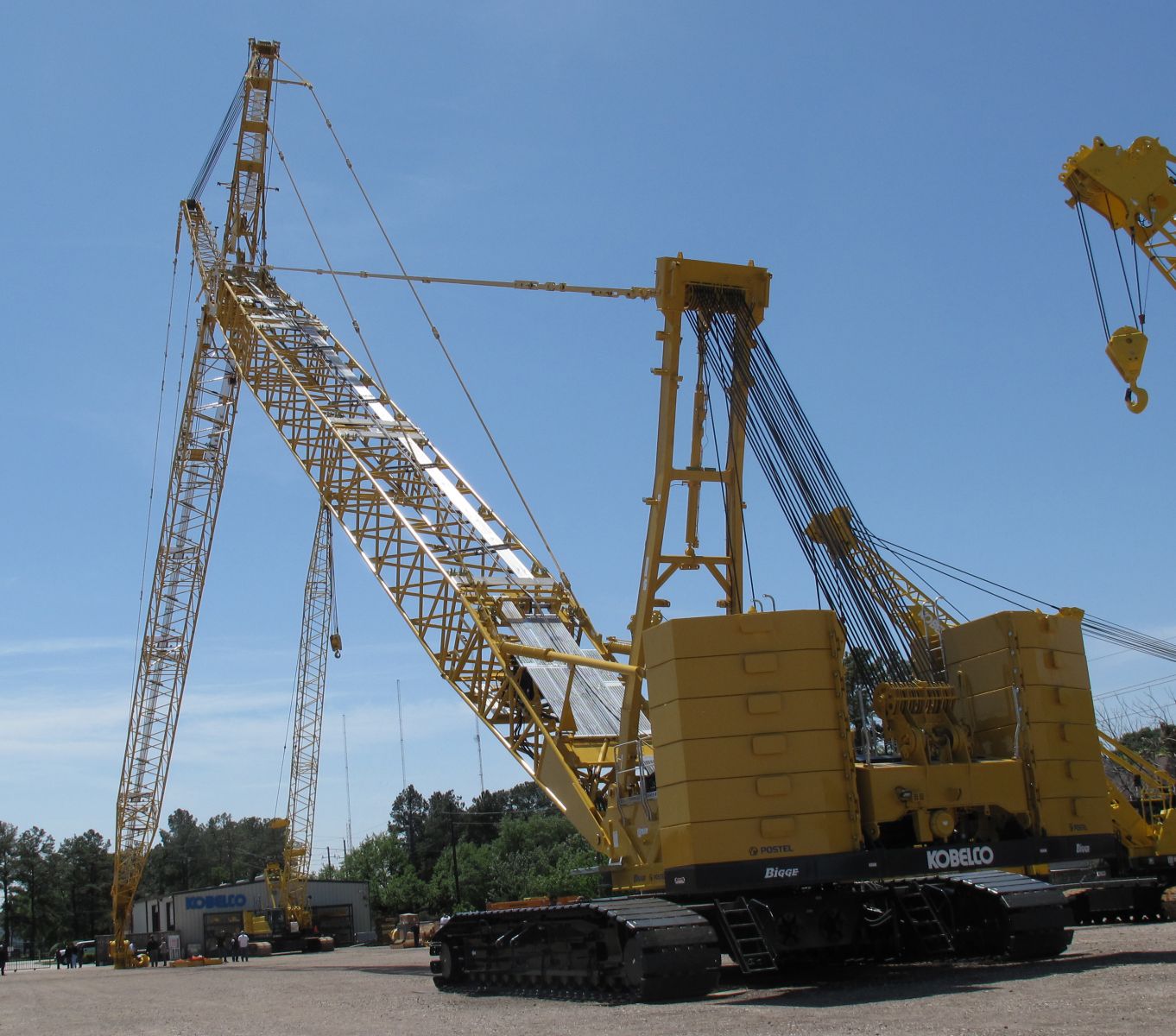 The basic crane can lift 330 tons at an 18.1' radius on 78' of boom. Maximum boom length is 295', and maximum capacity on the long boom is 187,300 lbs. at radii from 39.7' to 55'.
The maximum boom-and-fixed-jib combination is 256'+100'.
In addition to the normal fixed jib, the CK3300G-2 can be equipped with a heavy fixed jib that is made from the top, butt, and one 40' insert from the luffing jib, for a maximum length of 98'. The total combination is 236'+98', and the jib's maximum capacity is 88,200 lbs.
The luffing jib can lift up to 132 tons and has a maximum length of 217'. The maximum combination is 197' of boom plus 217' of luffing jib.
Kobelco's Super Heavy Lift attachment can be used with the main boom or the luffing jib for excellent capacities on longer boom lengths and longer radii.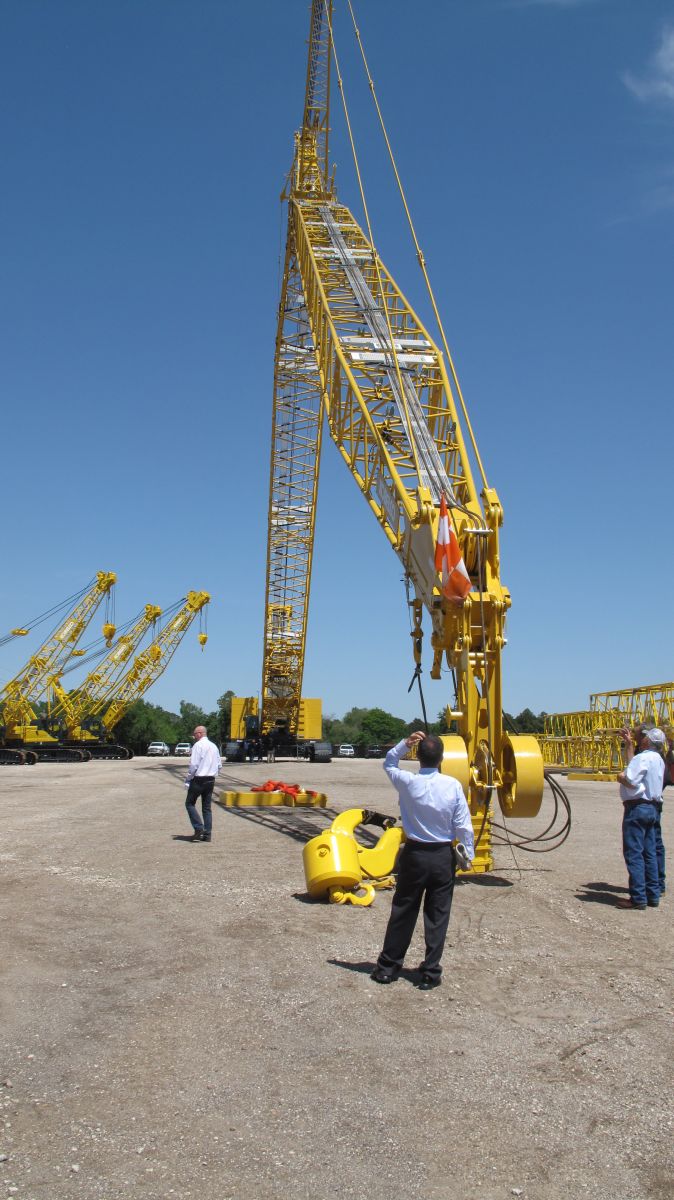 The cab is designed for operator comfort, easy operation, and excellent visibility. Extra-wide windows and cab tilting offer excellent visibility. The load-moment limiter features a 12" touch panel that is intuitive, easy to use, easy to understand, and delivers a full display of essential data. The pilot-pressure controls are responsive and reliable, and the cab layout and controls are similar to those of Kobelco's other lattice-boom crawler cranes, so the new CK3300G-2 will feel familiar to operators.
All transportation modules are no more than 10' wide, and the base machine's main shipping module weighs 93,615 lbs., and the machine can self assemble. To minimize the number of loads, jib sections can nest inside boom sections, and the counterweights are designed for shipment with boom sections to optimize trucking efficiency.
Look for more information and photos about the CK3300G-2 in the May edition of Crane Hot Line.
.