Learning Curve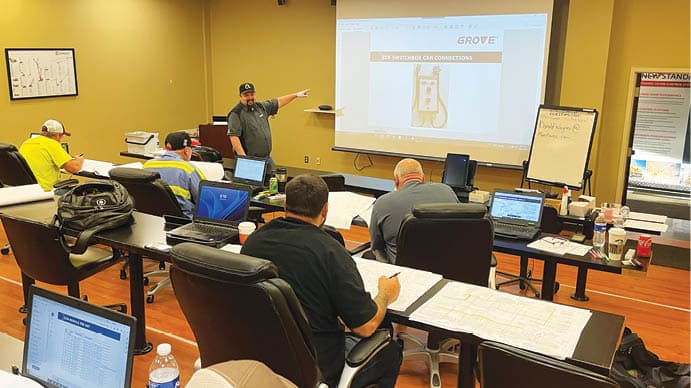 Crane manufacturers cite several challenges when it comes to training service technicians.
Chief among them is a shortage of new technicians entering the workforce.
"The average age of technicians in the industry is rising, and many of those people are retiring," said Josh Garrington, global training manager at Manitowoc Cranes. "Today, the pool of new technicians isn't what it was 10 or 20 years ago.
"We're also finding that new technicians don't always have the level of basic knowledge they need," Garrington continued. "We have to adjust how we approach training, starting with core entry level material on subjects like electrical, hydraulic, and pneumatic systems."
Equipment complexity and the make-up of many crane fleets present hurdles to overcome, as well. "Technicians are expected to deal with more technology," said Jere Woolcock, training manager, Tadano Pan-American Operations. "There are now more electronics on cranes so there's a lot for technicians to understand.
"All cranes are designed and built differently, and crane owners often have different types and makes of equipment, so they need to know about a range of products," Woolcock added.
Chris Perry, training manager at Link-Belt, pointed out that the shift in technology on cranes makes a foundation in diagnostics important. "While the fundamentals of electrical and hydraulic systems are the same in many ways, on-board and shop diagnostics tools have advanced considerably," he said.
"Diagnostic tools lead to effective troubleshooting but it's on manufacturers to explain how cranes work," said Jere Woolcock. "Technicians need training in crane operation so they understand how the machines are supposed to work from an operator's standpoint."
Thomas Williams, technical training manager at the mobile and crawler cranes division of Liebherr USA Co., said there is a need for crane manufacturers to offer comprehensive training. "The industry needs people who can both work on cranes and know how they operate," he said. "And training teams have to work closely with the factory to ensure all machine and technology information in a course is up to date."
One part of the training approach at Link-Belt is to offer information online in advance of in-person courses. "That helps technicians be better prepared and helps us target training needs," Perry related. "The information can also serve as a resource for technicians afterward."
Manitowoc also offers elearning modules to prepare technicians for classes, but Josh Garrington was quick as well to stress that training needs to be hands on. "Technicians learn by doing, that's what locks knowledge in place," he said.
"With the need to retain technicians, there is a strong correlation between training and job satisfaction," Garrington added. "Training can be a competitive advantage so it should be looked at as an investment, not a cost."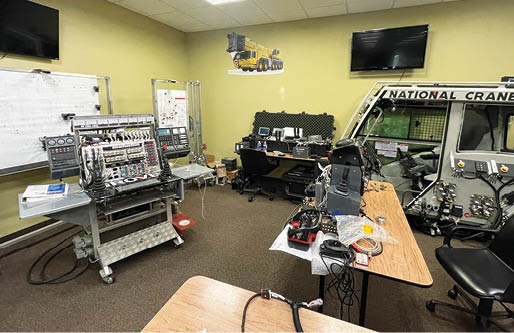 Training Services
Manufacturers are offering a wide range of training for customer and dealer technicians and are continuously improving and expanding the training they offer.
Liebherr Mobile and Crawler Cranes Division
At Liebherr facilities in Houston, Texas, and Newport News, Virginia, training is offered in person to service technicians of current customers. Courses typically have six to eight students and last one week.
Attendees receive technical training for the cranes they will be working on, learning how to service specific models. Courses covering electrical and hydraulic schematics, crane control systems, and diesel engines consist of hands-on and classroom training. Students also use several simulators to learn about the lubricant, hydraulic, and control systems on the cranes.
Link-Belt
The Link-Belt Training and Quality Assurance Center offers multiple courses weekly for its distributor service personnel along with crane owners. The majority of the courses focus on the operation and maintenance of the manufacturer's product line and include hands-on activities.
The Link-Belt Preferred Technician Training program, provided to technicians who work for a company that owns at least one of the manufacturer's cranes, is grouped into two levels.
Level 1: Basics covers electrical, hydraulic and mechanical systems, and crane fundamentals.
Level 2: General Knowledge & Skills focuses on different types of machines, including telescopic, rough terrain, all terrain, teleboom and lattice boom crawler cranes.
Manitowoc
Grove, Manitowoc, National Crane, and Potain crane classes are provided by the manufacturer in Manitowoc, Wisconsin, and Shady Grove, Pennsylvania.
The facilities feature classrooms, simulators of multiple generations of cranes and operating systems, and a training building to accommodate products. Training can also be provided at customer locations.
Manitowoc service training courses include the construction, operation, and maintenance of all generations of operating systems and components on the manufacturer's products.
The curriculum is designed for beginner to advanced crane technicians.
Included is the new Quick Start Learning Plan, an 18-month training program designed to give inexperienced technicians a broad knowledge base.
There is also a Master Tech Learning Plan, which typically takes three to five years to complete. It covers a single product line from oldest to newest control systems, including generational variations.
Tadano Pan-American Operations
The different levels of training at Tadano are designed to help technicians understand and recognize differences between progressive generations of technology on the manufacturer's cranes.
All levels of training include machine familiarization, proper safety, crane setup and operation, maintenance, diagnostic procedures, and system fault analysis, including electrical, electronics, and hydraulic components.
Each course focuses on reinforcing a technician's knowledge as they advance to the next level.
Courses at Tadano America in Houston, Texas, cover legacy models up to the latest technology found on GR, GT, GTC, Faun AT, and Demag AC series cranes.
Customized training can be provided at customer locations, with content that can be general or machine specific.
Is Investing in Training Worth it?
CICB, a provider of training for the crane and lifting industry, offers more than 50 training programs on-site at customer locations and at facilities in Houston, Texas, Orlando, Florida, and Phoenix, Arizona.
Proper training not only saves costs by reducing the chance of accidents, it also increases the lifespan of equipment, CICB noted in an online article that illustrated
the point:
Trent, a senior instructor/inspector at CICB, has seen improperly trained employees break equipment from incorrect use.
On one occasion, he was conducting an inspection and noticed the crane's rope was significantly deteriorated.
After educating the crane operator on how lubricating ropes increases their life, the company created a spreadsheet to track the data. They reported that their ropes' lifespan increased by an average of 30%.
"The best way to stop an accident from happening is to prevent it all together with proper training," CICB related. "It can be difficult to estimate a cost for an accident that has not happened, but it is important to note that when an accident does happen, you may severely regret not spending the money
on training."
CICB's site added that investing in training employees is one of the best ROI decisions. "The upfront cost greatly outweighs the potential cost saved on fines, accidents, and repairing or replacing equipment," it said.
CICB noted that although not spending on training may seem like a way to cut costs, it could cost a company more in the long run. "Investing in training will elevate your employees' expertise and provide them with knowledge to perform their work more thoroughly and safely," CICB said.
Training can be costly, but inefficient operations and accidents are even more expensive, CICB noted. Here's an example:
In 2019, a tower crane collapsed in Seattle.
The crane was being dismantled, and the accident caused four fatalities, several injuries, severe damage to multiple cars, and extensive property damage to a building under construction.
It all came from two improper practices on the part of management.