Liebherr's New 470 EC-B Flat-Top Tower Crane is Largest in "Tough Ones" Series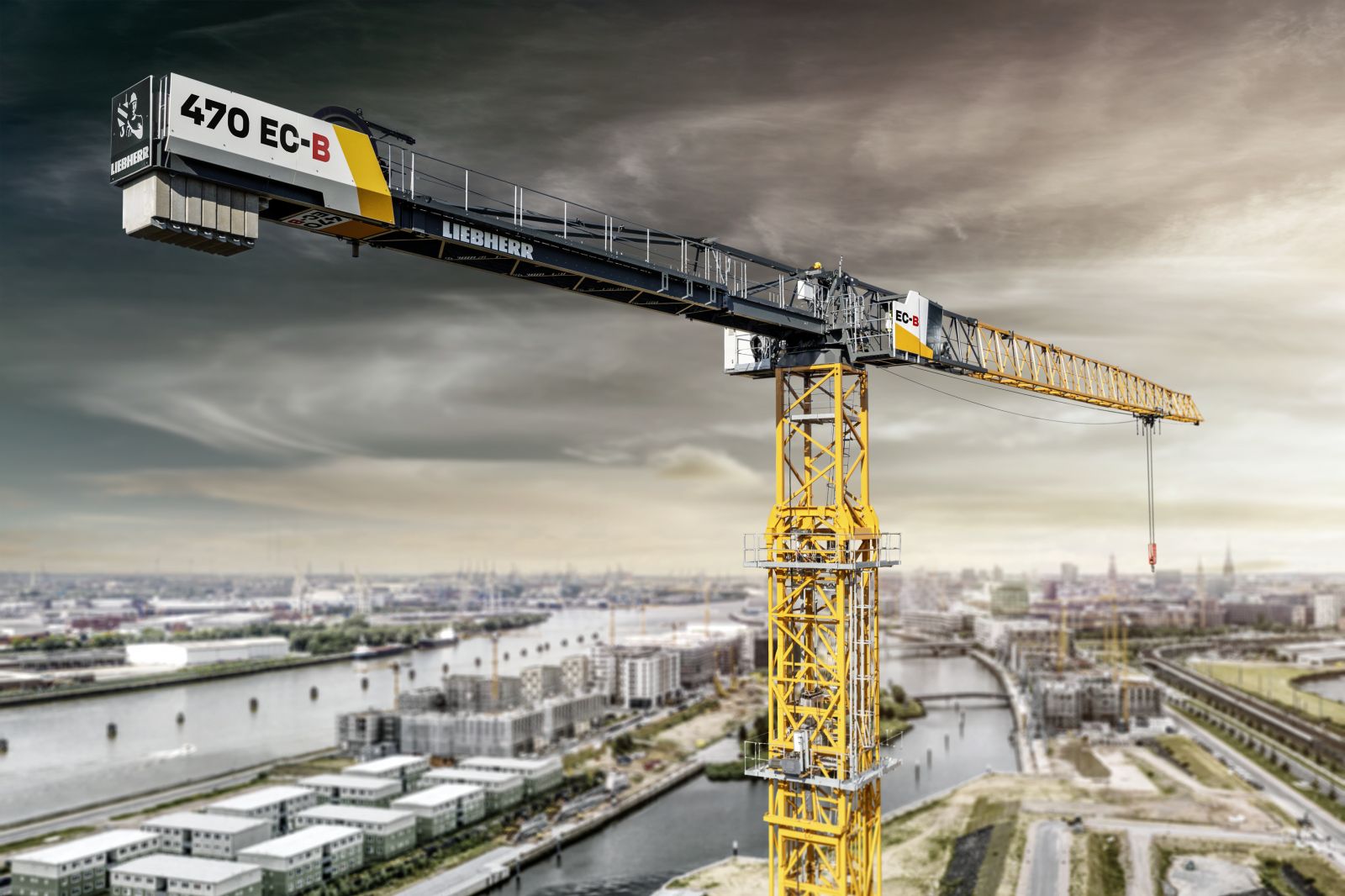 Feb. 16, 2022 – The flagship crane with intelligent assistance systems offers a jib length of 262'. That reach can be increased to 272' with a jib extension.
At a jib length of 262', the 17.6-USt version of the 470 EC-B has a jib-tip capacity of up to 4,800 lbs., and the 22-USt version has a jib-tip capacity of 6,600 lbs.
The jib lengths can be set in 8.2' increments so that it can be perfectly adapted to meet a variety of operational requirements.
The 470 EC-B went on sale in January of this year.
Optimized Transport and Assembly
One key focus during development was easy assembly and transport. As a result, the jib and counter jib can be attached to the slewing platform easily, conveniently, and safely. Liebherr's proven quick assembly connections make it all possible. Only five trucks are needed to transport the slewing part with jib, including counter ballast. That saves time and money. It also helps reduce emissions.
The 470 EC-B features a connection for both 24 HC 420 and 24 HC 630 tower systems. The 24 HC tower system is a perfect match for large cranes with high lifting capacities. Its compact dimensions allow individual elements to be moved cost-efficiently.
The 470 EC-B has been optimized for the 24 HC 420 tower system; together they are the most cost-effective combination for free-standing hook heights to 222'. The maximum freestanding hook height of up to 315' is achieved with the 24 HC 630 tower.
Excellent View of Site
The top-slewing crane is available with one of three versions of the sophisticated LiCAB crane operator's cab: LiCAB Basic, LiCAB Air, or LiCAB AirPlus.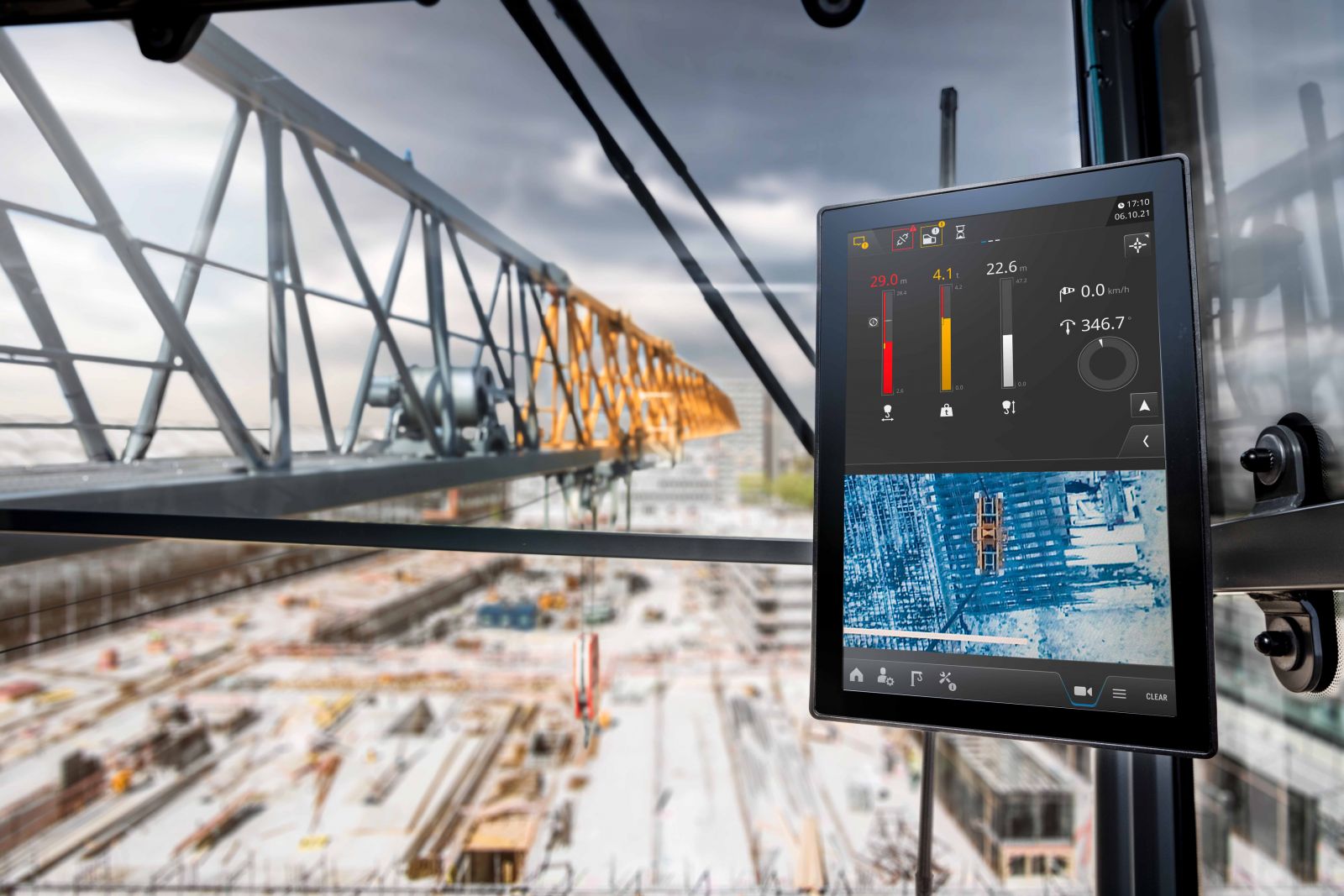 All three offer more than a floor space of more than 21.5 sq. ft., an unrestricted view for precision lifting, and an ergonomic control stand.
Those and other comfort features help the crane operator stay fully focused on the job. Thanks to the cab's extensive field of vision, the crane operator has a clear view of the site and the load.
The cab also includes a new 12" display screen with intuitive operation. The Tower Crane Operating System (TC-OS) gives crane operators and assemblers specific menus, an extensive choice of languages, and user-friendly units of measurement. Every user should be able to use it without difficulty. Users navigate their way through the streamlined menu via touchscreen. To maintain an overview during crane operation or scaling, display masks can be combined in various ways. The exceptional usability of the TC-OS reduces training and familiarization times.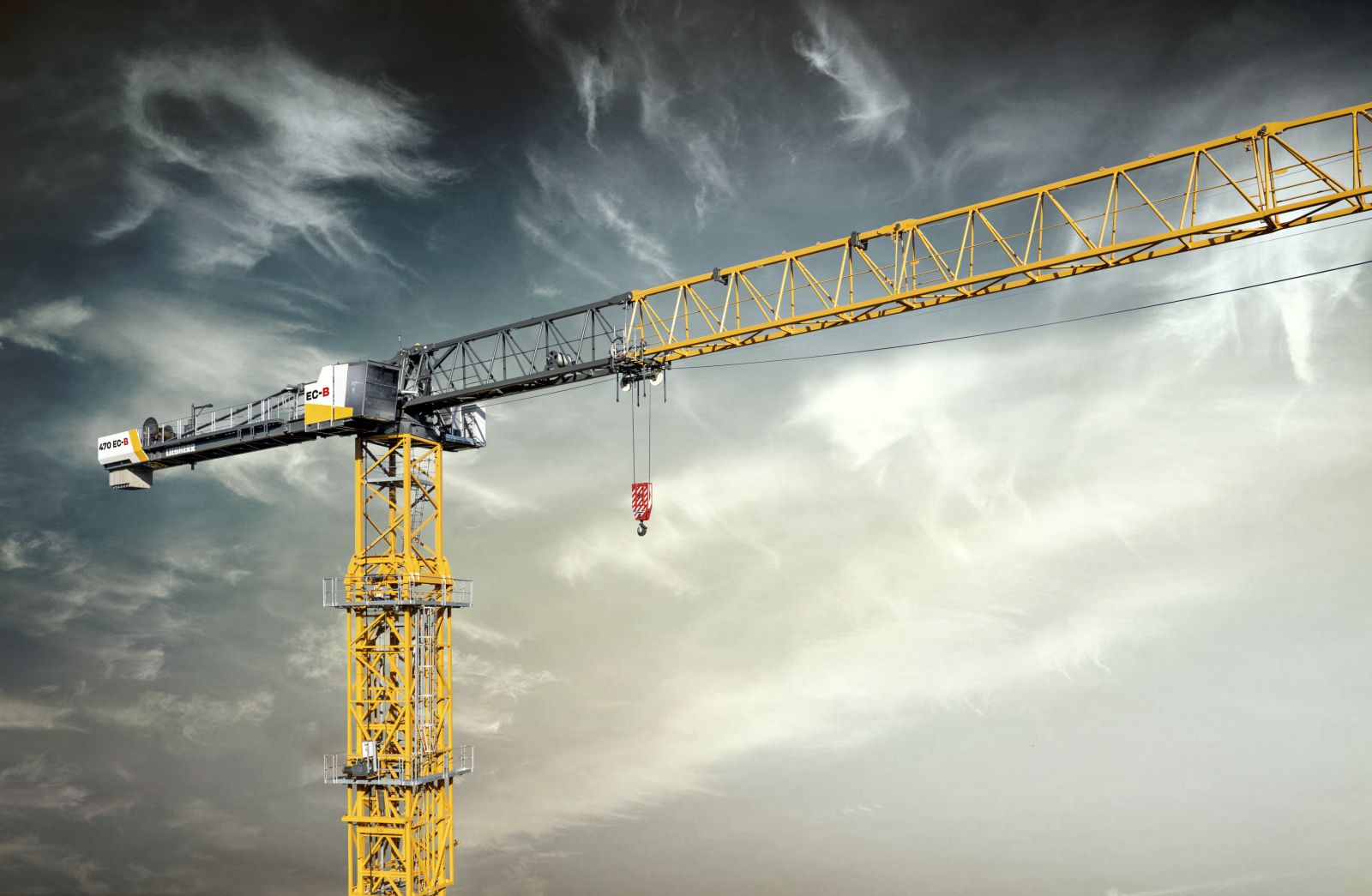 LED Lighting Delivers Powerful Promotional Impact
LED advertising panel lighting can be configured to ensure a substantial long-distance effect and visibility, particularly at night. With a total area of 92.5 sq. ft., the lighting can deliver a powerful and effective impact. The panels can remain in place on the counter-jib end during transport.
Variety of Applications
As they don't have a tower head structure, several EC-B series flat-top cranes can work together safely on the same site, even in tight conditions.
They are designed to meet the requirements of modern construction sites and cover a wide performance spectrum, ranging from small city to large handling cranes.
The new 470 EC-B completes the top end of Liebherr's successful series, with the crane reflecting the construction industry's trend towards ever heavier components.