Link-Belt 248 HSL Tackles Winston-Salem Bridge Construction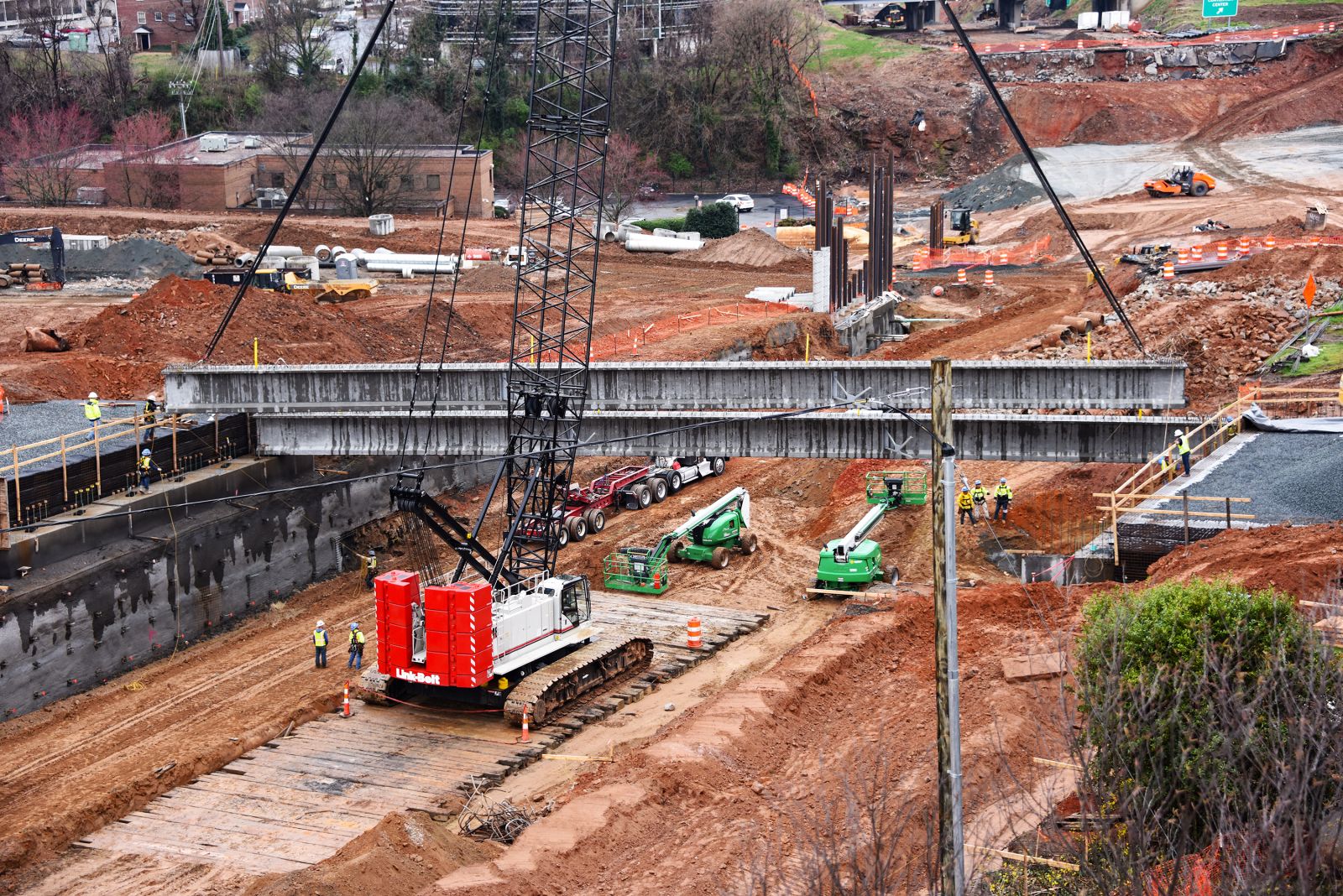 August 21, 2019 – In November 2018, a 1-mile stretch of major highway in Winston-Salem, North Carolina, was closed for demolition and resurfacing. The stretch of road will reopen in early 2020, complete with new bridge overpasses, modernizing on and off ramps, and straightening its path (with fewer curves) through the city.
In order to accommodate a demanding, fast-track schedule, a Link-Belt 200-ton 248 HSL was purchased for eight traffic and two pedestrian bridges for the project. All but three of the bridges are single span, with 65 in. (1.65 m.) bulb tee pre-stressed concrete beams measuring as long as 124' (37.7 m.) and weighing up to 113,000 lbs. (51 255 kg.). Three of the bridge crossings are single-span (all three within a half-mile of each other), each with six concrete girders placed 8' apart.

As of May 2019, the pace of bridge construction is maybe the most impressive aspect with a new bridge being constructed every six weeks.

"We've accomplished four completed bridges, on schedule, each one in six weeks, and are setting another now," said a construction manager for the project. "We knew we would be breaking down this 248 HSL a couple of times on this project. So we wanted a crane that could be broken down and built back up quickly and easily without the need of another crane. Since there really isn't enough room for an assist crane, we wanted it to be self-erecting."

The 248 HSL is positioned on a 100 ft. (30.4 m.) stretch of timber mats to lift the girders off transport trailers and into position. This length of timber matting was used to accommodate the 14-month schedule that will see construction all hours of the day in all four seasons.

The new bridge overpasses will have a minimum clearance of 17' (5.1 m.) to accommodate the varying freight traffic that travels through the area.

Bridge and abutment foundations have been reinforced with 24 in. (60.9 cm.) H-pile. Most of those have been driven with a diesel hammer with 110' (33.5 m.) long leads attached to the 248 HSL with 165' (50.2 m.) of boom, enabling the pile to be longer.

The 248 HSL travels between each bridge location in the heart of the city. Since most bridges are single span, the 248 HSL is able to place the beams by itself.

Complete crane specifications are available at www.linkbelt.com.