Link-Belt All-Terrain Travels 1,000 Miles and Makes 50 Lifts in 96 Hours
May 30, 2018 - Bar-S Services, Cheyenne, Wyo., specializes in erecting and dismantling oil rigs to support the oil and gas industry in Wyoming and northeastern Colorado. The company also operates their new 275-ton ATC-3275 all-terrain crane. The ATC-3275 from Link-Belt distributor Strong's Crane Service helps BAR-S cover a 300-mile working radius.
"Our primary work is moving drilling rigs, but we also work with other transportation and production facilities moving large equipment," said co-founder of BAR-S, Patty Smith.

Bar-S uses the Link-Belt all-terrain crane to perform tandem lifts up to 240,000 lbs. and solo lifts up to 100,000 lbs. on rig moves. A drilling rig may take 50 lifts to disassemble. Once Bar-S has the rig loaded on semi-trailers and moved, the process is reversed for assembly at a new location.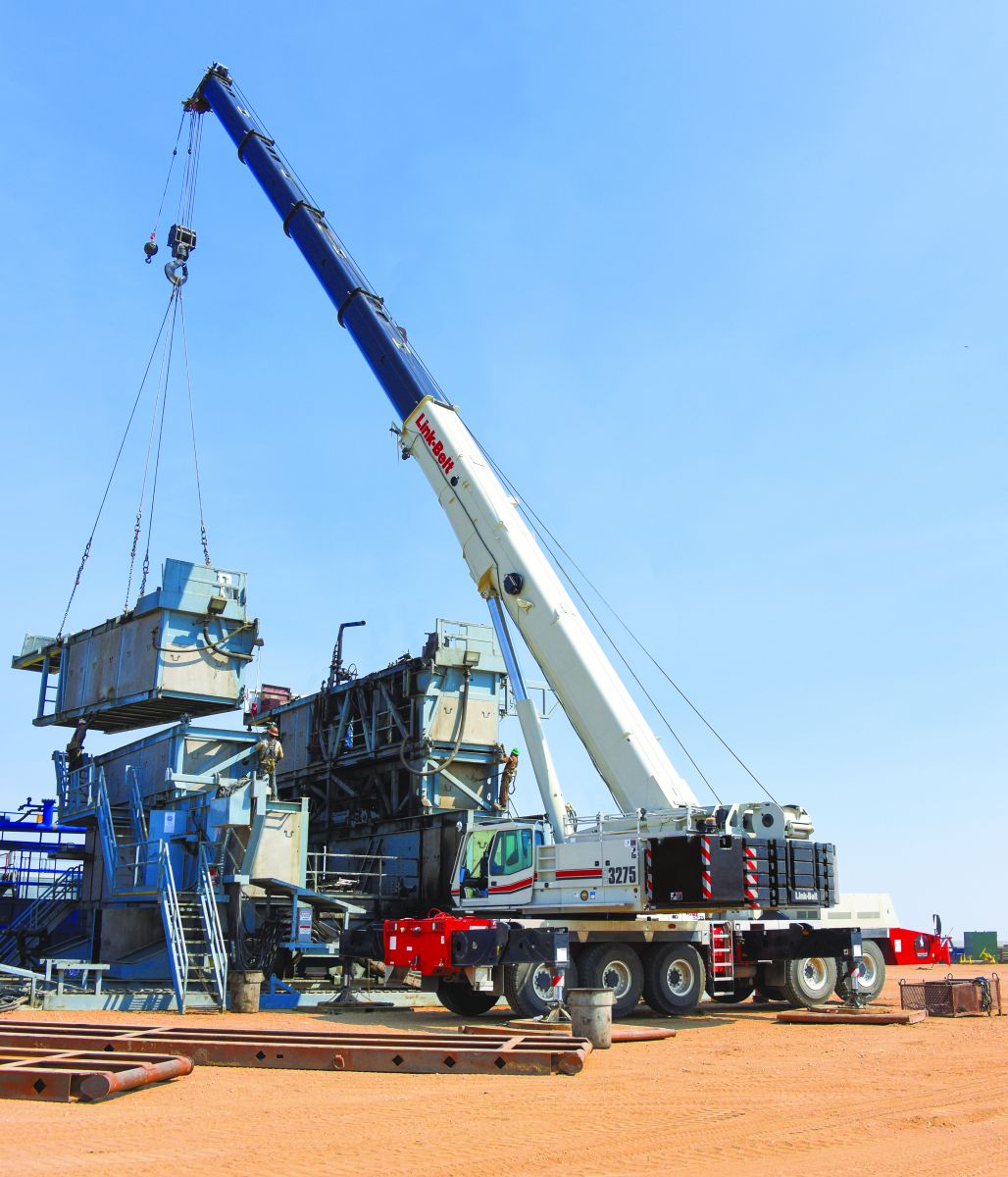 In late 2017, Bar-S used their ATC-3275 to complete a rig move in Greeley, Colo., The following day the ATC-3275 traveled 175 miles to Casper, Wyo., to lift a 145,000-lb. transformer. The ATC-3275 lifted and placed the transformer on a long-haul truck using eight-part line while keeping the load inside a 25-ft. radius.

On day three, the ATC-3275 was dispatched with minimal counterweight to Laramie, Wyo., to lift multiple 20,000- to 30,000-gal. fuel tanks for a new Love's Travel Center. Remote controlled directional floodlights on the crane boom eased the process of rigging the load in the dark, as well as placing the 37- to 57-ft. long cylindrical tanks.
Over the course of 96 hours, the ATC-3275 made more than 50 lifts, in three towns, travelling more than 1,000 miles to get the work done.