Load King 60-Ton Lowboy Named a Top-100 New Product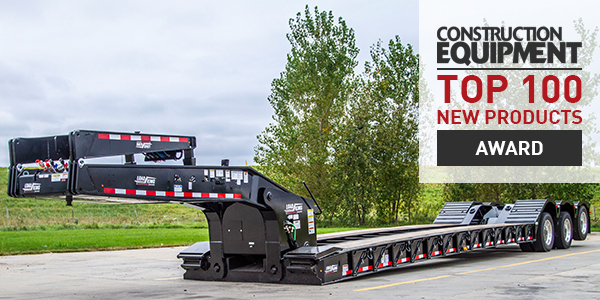 December 5, 2018 - Construction Equipment Magazine (CEM) has named Load King's 60-Ton lowboy trailer as one of the Top 100 New Products of 2018.
Each year since 1991, CEM editors have evaluated products that demonstrate innovation, productivity, efficiency, and safety.
The Load King, LK503-605 SS SFF 60-ton lowboy features a 20" loaded deck height and a distinguished range of innovative features and options.
Rated at 60 tons in 12', the trailer has a 20" loaded deck height paired with the ability to add both a 24" and 36" flip extension on the gooseneck. Combined with the ability to run two additional axles in either close-coupled or as a separate axle group, these features ensure operators have the right combination of axles and spacing to haul legally.
New features include spring-assist front ramps, dual-intensity marker lights, a manual raise-and-lower valve that reduces the risk of suspension damage, and the industry's lowest bucket well.
"This trailer is a great addition to the Signature Series and demonstrates our continued commitment to delivering trailers designed around customer feedback and then responding with innovative solutions," said Tom Norcross, president of Load King. "Our customers are the real experts, and they will continue to drive us to develop premium products that set us apart from our competition."
"Since joining Custom Truck in 2015, we've deliberately expanded Load King's product offering outside of trailers to further position the company as the single-source equipment provider in the industry," said Ben Link, executive vice president of Production and Supply Chain for Load King. "By leveraging Custom Truck's leadership in the vocational realm and its proximity to operators, and merging Load King's manufacturing expertise and innovative design, we are able to efficiently penetrate and influence the equipment markets, with superior offerings," added Link.