Mammoet Completes Five Critical Lifts with Llittle Space to Move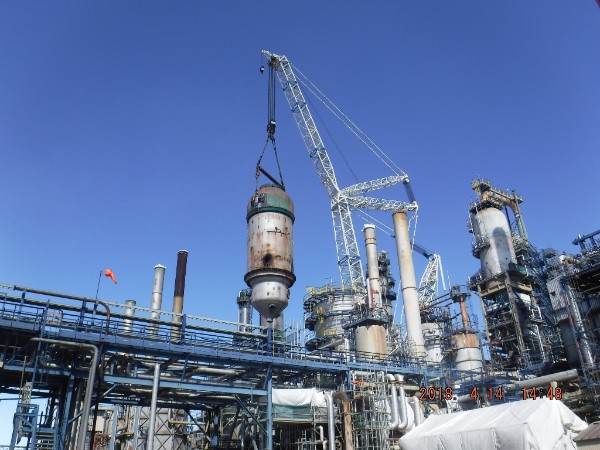 Removal of the Regenerator
June 27, 2018 - During a recent shutdown project Mammoet safely completed five critical lifts utilizing a LR11350 to replace a 473-ton regenerator at a refinery. The congestion in the refinery made the assembly of this high capacity crane challenging. Due to the narrow passages and tight spaces, transporting all of the crane components through to the designated area proved difficult and posed a potential delay to the project.

In order to accommodate the weight of the crane components and maneuver them through the refinery Mammoet utilized its
SPMTs. With their ability to rotate 360 degrees and carry extensive weight, the SPMTs made it easier to maneuver the loads in the confined spaces. As a result, three days were saved on the transport of the crane's counterweight alone.

Furthermore, Mammoet worked closely with the customer in the planning phase to ensure that once the crane was assembled, it could also operate within the confines of the refinery. Once the LR11350 was up, Mammoet safely completed the five critical lifts, removing the old regenerator and installing the new one on-time.