Mammoet Converts Demag CC2800-1 to Narrow Track Stance for Wind Farm Work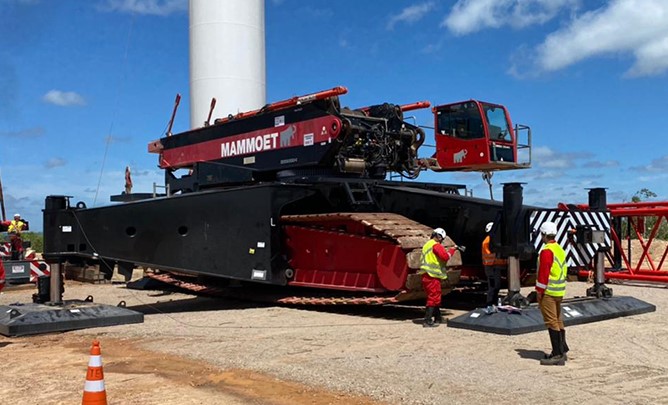 June 9, 2021 - Many wind farms in several countries, including Brazil, have narrow internal roads that are only about 20'-23' wide.
That restricts the use of conventional crawler cranes. Cranes that are big enough to do the work are often too wide to travel the roads between turbines.
However, narrow-track cranes can crawl those roads without being disassembled or only partially disassembled. That saves money in civil work, dismantling, transport, and reassembly of the crane.
Mammoet, the world's largest engineered heavy lifting and transport service provider, has introduced a narrow-track Demag CC2800-1 to its fleet in Brazil in order to support the country's wind sector.
The updated machine will strengthen Mammoet's position in the local wind market, one of the fastest-growing markets in South America.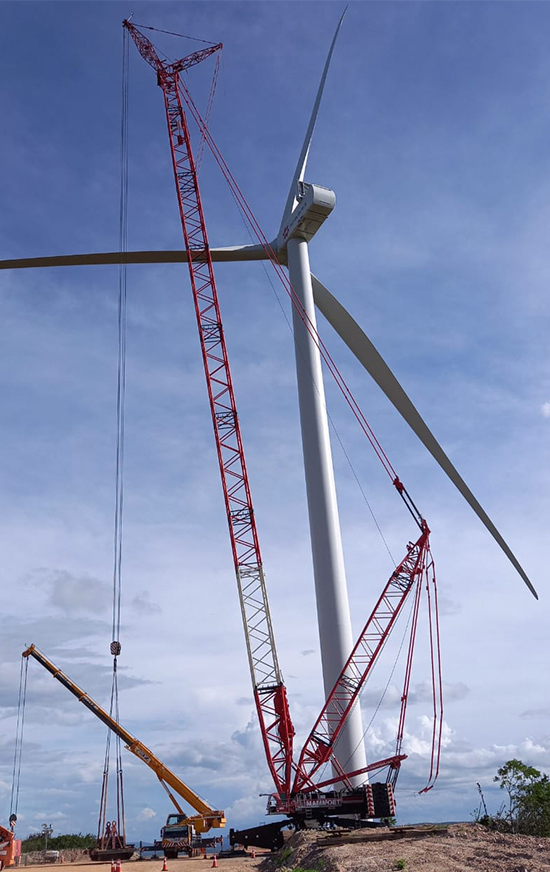 The 660-USt CC2800-1 crane was originally located in Texas, but wasn't being used.
Teams in Brazil and Texas recognized that converting the CC2800-1 to a narrow track configuration would make the crane usable in Brazilian wind farms, giving the crane new life as a much-needed addition to the Brazilian fleet.
While still in Texas, the crane underwent a full conversion from the standard 32.5'-wide track stance to a 17.4' narrow track stance. The crane's software was also upgraded and thoroughly checked by internal teams as well as Demag factory technicians.
Along with converting the tracks stance, Mammoet's team invested in additional boom sections and a fixed jib, which equipped the crane for wind work.
The modifications enable the CC2800-1 to lift turbine components with hub heights to 410'. The fleet extension increases Mammoet's capacity in Brazil and adds flexibility.
Once the upgrade was complete, team members from the United States and Latin America collaborated on the logistics and safe relocation of the crane.
Mammoet says that the narrow-track-stance work was completed with full involvement of the manufacturer and was done in accordance with all of the applicable US and European standards