Mammoet Leads the Way for New European Crane Operator Standards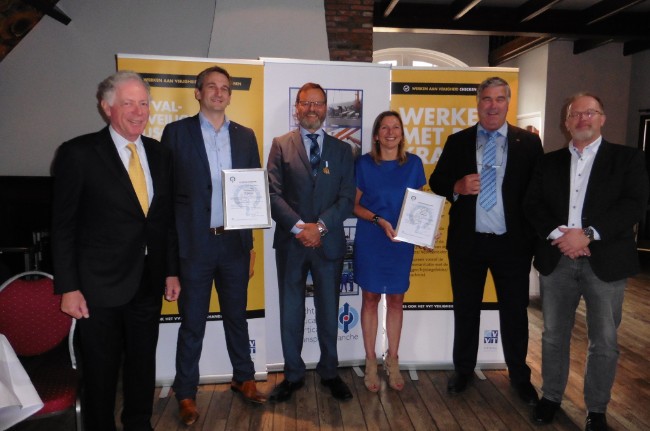 Managing Director Mammoet Netherlands, Erik Kroes (second from left) receives certificate recognizing Mammoet as ECOL certified at an ESTA and VVT meeting in June.
June 27, 2018 - Mammoet is the first organization in Europe to acquire certification for a European Crane Operators License (ECOL) after the Mammoet Academy was recently audited and certified by Lloyd's register. ECOL was initiated by the European Association of Abnormal Road Transport and Mobile Cranes (ESTA) to establish a European standard of certification for crane operators. Mammoet is part of a large ESTA working group committed to developing ECOL to support the delivery of safe and qualified crane operators across Europe. Currently, crane operator certification standards differ from country to country, leading to confusion in the industry and a negative impact on safety. It also prevents crane operators from moving around Europe for work, and consequently restricts companies from sending personnel abroad.

Mammoet has been involved in the initiative since its inception five years ago and has played an instrumental role in building a pilot training program along with other partners. Mammoet provided four participants to attend the pilot training at the company's training facility at the Mammoet Academy. The pilot training had a 100% success rate, which ensures the system is working effectively. Philip Grootenboer, Training and Development Manager Mammoet Europe, is a member of the ECOL working group and says the program's accreditation is a positive step towards establishing a stronger and safer industry.

"Safety is our top priority here at Mammoet and we are continuously looking for ways to improve the safety of our operations," he said. "This new industry standard ensures a high international training quality, which will raise the minimum safety standards and the joint safety level within European countries," he said. "We believe it is an important initiative for the industry, which will also provide companies with the flexibility to move personnel abroad, and we are proud to be the first to offer ECOL training to our professionals," he continued. Furthermore, Mammoet Academy will also offer the certified ECOL training to external participants.

On top of the international training quality, there are numerous advantages to ECOL that will make the European crane industry more effective and competitive. It will enable companies to take their own personnel abroad as well as obtain personnel from other countries. In turn, this will reduce costs in training personnel for a project carried out in a country other than their own. Furthermore, it will simplify the recruitment process and ensure only qualified, licensed personnel are hired and deployed.

With the accredited certification, ESTA is now in a position to request the Dutch qualifications framework NLQF to have the ECOL registered and recognized within the European Qualifications Framework. This will clarify which level ECOL will be classified and recognized as across all of Europe.