Mammoet Moves 248.6-USt Emergency Replacement Stator in Alberta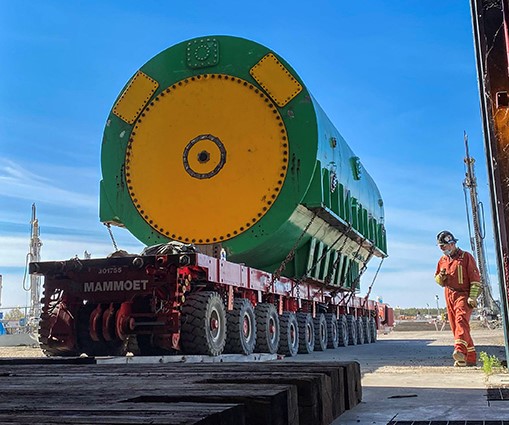 Dec. 6, 2021 - Mammoet helped its customer, Capital Power, by quickly delivering an emergency replacement stator to the Genesee Generating Station southwest of Edmonton, Alberta.
As minimizing the time to get the Genesee 2 facility back up and running, Mammoet's engineering team used its experience to quickly develop lift plans plus transport and jacking drawings.
The first challenge the project team faced was removing the 230-USt existing stator from the building. To ensure the facility's overhead cranes could safely handle the lift, Mammoet used steel weights to perform a test lift, which ensuring the cranes' functionality.
After the load test and checks were complete, the existing stator was removed and hauled to a maintenance shop for future repairs.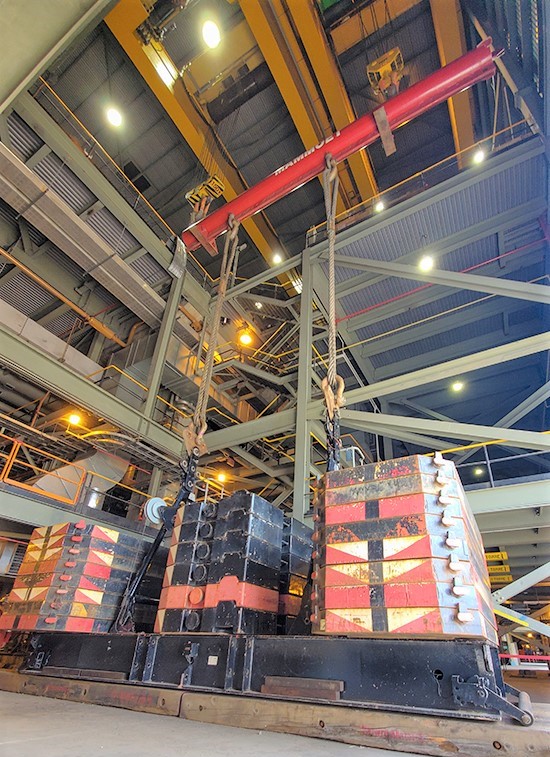 Test Lift
As the existing stator was being removed, Mammoet was planning how to transport a replacement stator weighing 248.6 USt from the Sundance Generating Station to Genesee.
Mammoet's long-standing relationships with Alberta Transportation, Geometrix, and various utility providers expedited approvals and helped develop a safe means of transport for Capital Power's replacement stator.
The travel route that met Alberta Transportation's bridge requirements was 83.9 mi. long. To keep road pressure within required limits, the replacement stator had to be transported on a single trailer made up of four axle lines with a total of 288 tires.
At the Sundance site, the stator was transported by self-propelled modular transporter (SPMT) to an area where it could be transloaded to the road transport arrangement.
Once the stator arrived at Genesee, another transload to SPMT was required to allow the stator to make its way to its new home. Through a week of long hours and multiple loading and unloading, the replacement stator was picked up, delivered, and installed in the Genesee plant.