Manitowoc Displays Full Range of Services at Bauma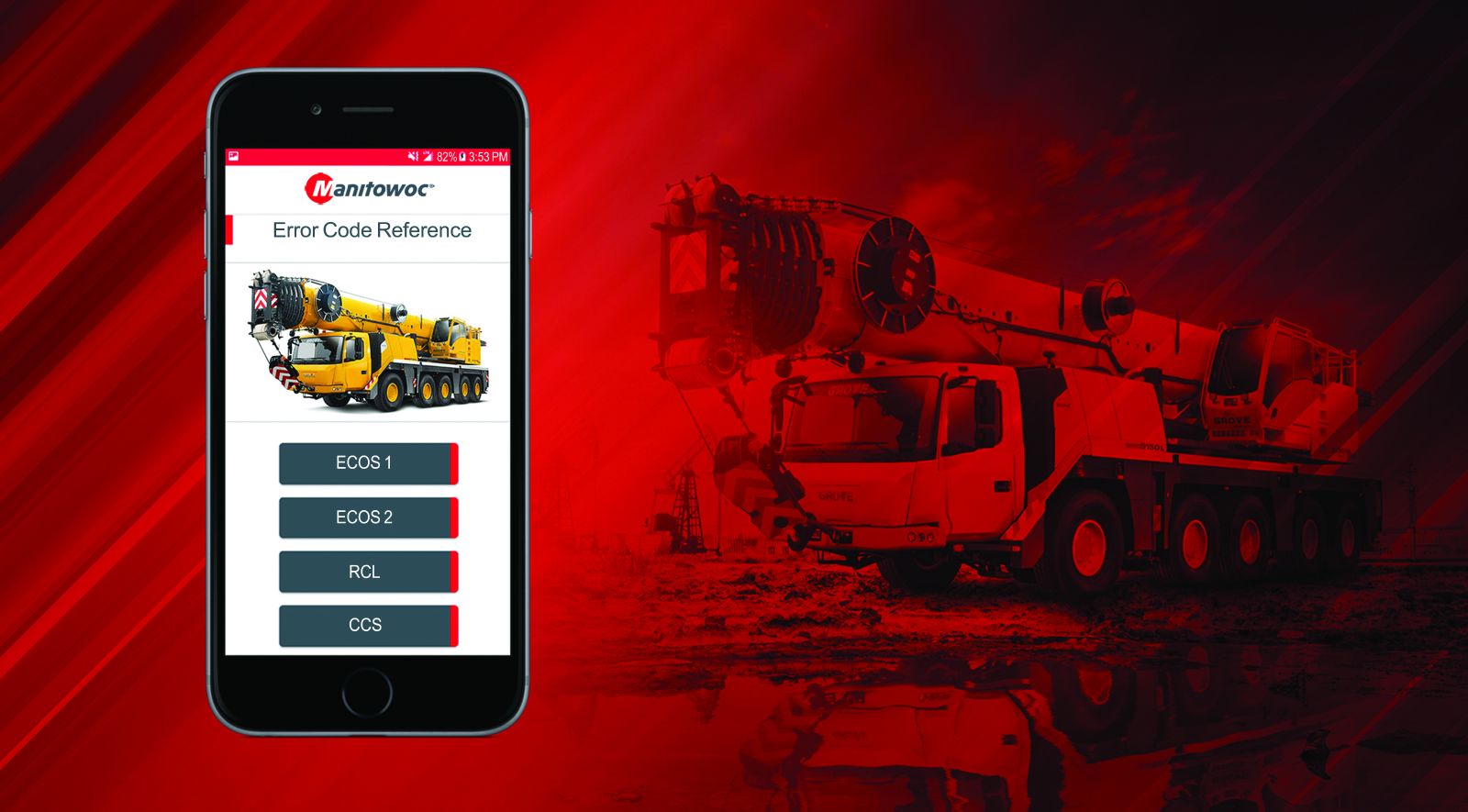 Manitowoc released two new apps at Bauma 2019.
May 1, 2019 - Manitowoc has greatly expanded its service and support offerings, and featured them at bauma 2019.
In the digital arena, the company released two apps that help crane owners on the jobsite. The first is the "Manitowoc Diagnostic Code App" that helps users diagnose technical issues with their cranes. In the past, Manitowoc customers had no way to interpret the diagnostic codes that would appear on the main display of the crane's cab. Specialized technicians would have to be called to the jobsite with proprietary equipment, and any time spent waiting affected the project schedule.

Now, the smartphone app instantly tells users what codes mean. In addition to diagnostic codes for Grove and Manitowoc branded cranes that run on Manitowoc's Crane Control System (CCS) and GMK cranes with ECOS systems, the app provides diagnostic codes for several National Crane NBT models and for select Rated Capacity Limiter Systems on certain Grove and National Crane models.

The second app is a free "Manitowoc Boom Length Selector App" that helps crane operators and owners determine the overall boom and jib length combination required for a lift. The Manitowoc Boom Length Selector App allows users to select specific boom and jib length combinations, building heights, boom radii, and other crane parameters using an easy sliding scale to determine the basic crane setup for a specific lift. Both apps are available in the Apple App Store and Google Play Store (iOS and Android).

Additionally, Manitowoc has been increasing its telematics capabilities for Potain users. With the Crane Star Diag service, tower crane customers can now access vital crane data from laptops or smartphones. Furthermore, crane technicians can access and upload maintenance data on cranes, and service managers can conduct real-time remote diagnostics to optimize technicians' work times and crane uptimes.

The company also displayed Grove's new CCS simulator at Bauma. The crane operator training simulator features the same CCS operating controls and displays used on newer crane models. It features a 40 t. rough-terrain crane equipped with 102' power boom and offsettable swingaway. Six interactive jobsite scenarios displayed on multiple screens and a CCO practical exam course teach the operator fundamental load control skills.

Grove also featured a simulator used for all-terrain crane training by the company's GMK Training department. This simulator is also equipped with CCS functionality, and users of the simulator operate a virtual GMK5250, while technicians can also practice diagnostics. The simulator highlighted Manitowoc's training progression program — which trains people from novice to master technician — and also includes testing and certification for master technicians.

Manitowoc's also showed its long-running EnCORE program. This service remanufactures and refurbishes cranes for customers, many of which are tied to a particular crane or feature that specifically helps their business. Manitowoc's EnCORE program provides complete project support from consultation and refurbishment through transportation and after-sales care.

Two additional advantages of EnCORE's refurbishment program include a 12-month warranty on the crane and its parts, and the provision of proper technical documentation.

"Manitowoc aims to support the lifting industry with the most comprehensive lineup of service and support options on the market," said Barry Pennypacker, president and CEO of The Manitowoc Company. "From building digital tools to expanding our training and support offerings, we want to help our customers get the most return on investment from their cranes. This is The Manitowoc Way in action."