Manitowoc Releases Three Grove All-Terrain Cranes at Bauma 2019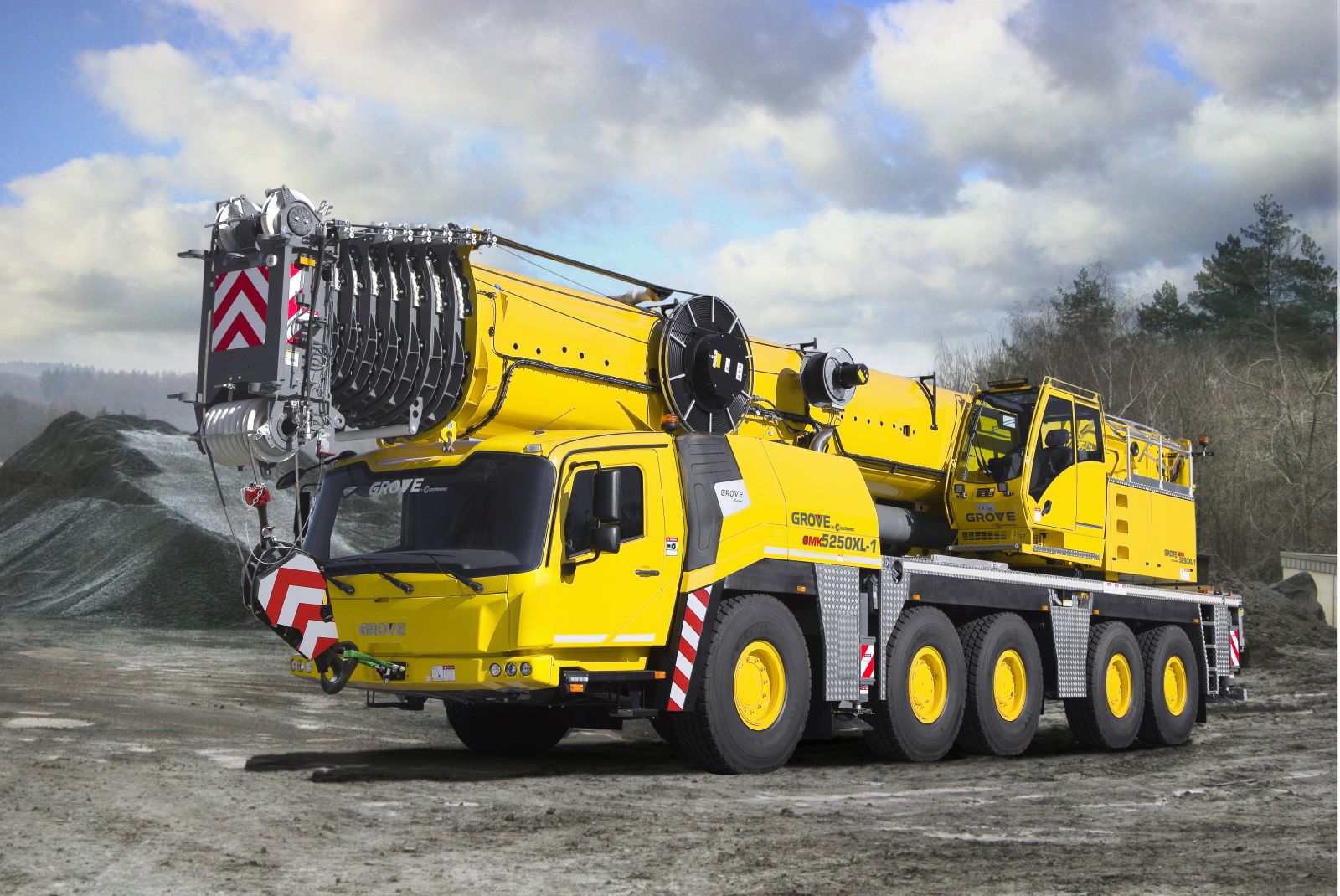 GMK5250XL-1.
April 9, 2019 - Manitowoc has launched a new unit in the five-axle category, the GMK5250XL-1 and two new three-axle models, the GMK3050-2 and GMK3060L, at Bauma 2019.
With its 78.5 m (257'6") boom, the GMK5250XL-1 has one of the longest main booms of any five-axle all-terrain crane and, according to the company, combines that with some of the best lifting capabilities in the industry. Its maximum capacity is 175 U.S. tons. As with all Grove all-terrain cranes, it features Megatrak suspension and the twin-lock boom pinning system. It is also available with the Maxbase variable outrigger function for added versatility.
Options for the GMK5250XL-1 include the VIAB turbo retarder clutch, which enables wear-free starting and braking for enhanced maneuverability and operator comfort. In addition to its high-performance features, the crane delivers a compact footprint, making it ideal for use in crowded or urban areas.
In the three-axle category, the GMK3060L includes a powerful, seven-section Megaform boom with 48 m (157'6") of main boom and a maximum tip height of 65 m (213'3") when working with its full jib.
For consistency and control, the 60-ton (65-U.S.-ton) crane features Manitowoc's Crane Control System with boom configurator for fast and efficient set-up. With its compact carrier, the GMK3060L can squeeze into tight locations, again making it a great option for downtown jobsites or congested projects.
The GMK3050-2 offers a 40 m (131'3") main boom, fast operating speeds, and a single-counterweight configuration for ease of use. Its engine and design have been updated to meet the latest requirements of Euromot 5, which covers both Tier 4 Final and Tier 3 regulations in the U.S. and the rest of the world.
Both the GMK5250XL-1 and GMK3060L offer the most compact footprint in their class, and have best-in-class load charts when configured in taxi-mode at 12 tons (26,455 lbs.) per axle.
"We believe in developing cranes our customers can use in a wider variety of projects for better return on investment," said Andreas Cremer, global product director for all-terrain cranes at Manitowoc. "The GMK5250XL-1 is a great example of how we do that. It's an update to our existing GMK5250L, but we've added 8.5 m (27'11") of boom for more reach, so it can take on more jobs. At the same time, we've maintained the class-leading lift performance, maneuverability, and fast set-up of the GMK5250L, which make it such a popular choice with our customers."
Besides the three new all-terrain crane models, Manitowoc showed the GMK4090 and GMK6300L-1 models, which launched within the past 18 months.