Manitowoc Successfully Manufactures First Grove GRT8100 in Italy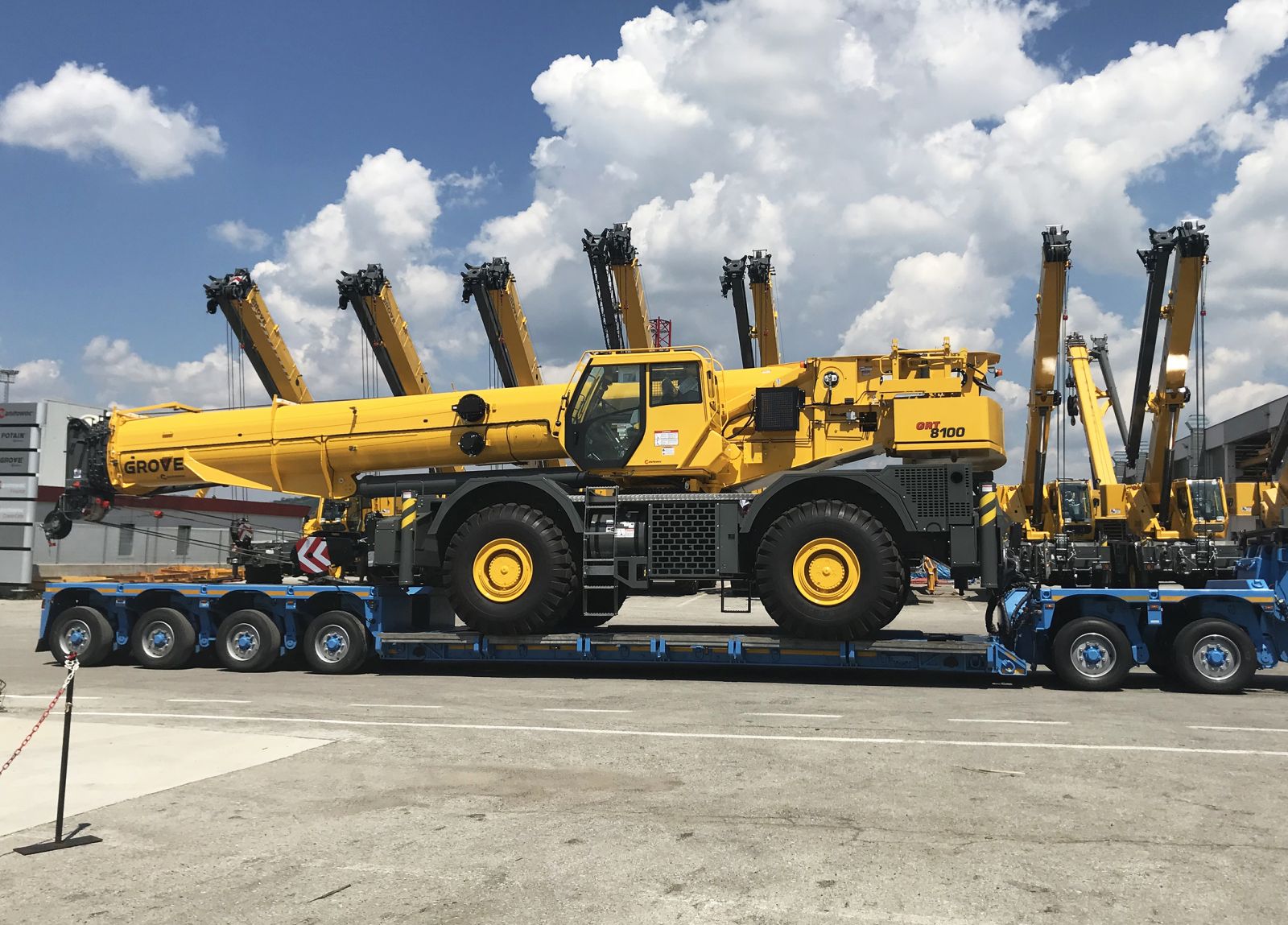 The first Grove GRT8100 manufactured outside the USA has left the production line in Niella Tanaro, Italy.
July 11, 2018 - The first Grove GRT8100 manufactured outside the USA has left the production line in Niella Tanaro, Italy. Until now, the production of this crane model was exclusive to Manitowoc's factory in Shady Grove, Pennsylvania, USA.
Since 2005, Manitowoc's Niella Tanaro factory has manufactured other popular rough-terrain crane models RT530E-2, RT540E and RT550E. An additional model, the 80 t Grove GRT880, will also be manufactured in both Italy and Shady Grove by the end of the year.
The strategic decision to broaden Italy's production capabilities is a direct result of Voice of the Customer input, as Jens Ennen, senior vice president for mobile cranes in Europe and Africa, explained:
"We are confident that our customers in Europe, Africa, Middle East and Asia Pacific will benefit greatly from this decision," he said. "Benefits will include shorter lead times, lower shipping costs and preferential import duties in certain countries that recognize the EUR1 certificate of origin, with the specifications and quality level being as high as the rough-terrain cranes manufactured in Shady Grove."
The Manitowoc Way in action
"This project was made possible thanks to the successful and effective collaboration between the teams in Shady Grove and Niella Tanaro; it's a true testament to the spirit of The Manitowoc Way, and innovation and velocity," Ennen added. "The team in Niella Tanaro in particular has done a tremendous job; they managed to utilize the factory for GRT8100 production in only a few months. This resembles a further example of The Manitowoc Way in practice. Manitowoc employs very passionate and talented people, as well as skilled workers on the assembly line. Furthermore, the company can rely on a well-established network of qualified suppliers in Europe. These conditions have made the success of this project possible."
The GRT8100 is a 100 t capacity crane with a 47 m five-section boom and features class-leading capabilities and Manitowoc's Crane Control System (CCS). With a full complement of boom extension and insert options, the crane has best-in-class reach of up to 77 m. Both 10 m and 17 m manual and hydraulic offsettable extensions are available, as well as a heavy-duty 3 m jib that is offsettable to 40°.
The GRT8100 and GRT880 models made their debuts at Bauma 2016 as the first Grove cranes named GRT: Grove rough-terrain. They reflect the latest improvements brought about by the Product Verification Center (PVC), where components are tested far beyond their lifecycle to ensure quality and durability.
The first Italian-made GRT8100 was shipped to the Middle East at the end of June.